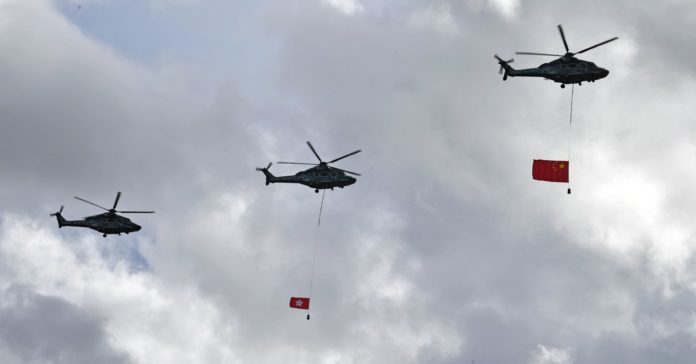 China's state security apparatus has largely worked in the shadows while the Communist Party leader, Xi Jinping, expanded it over recent years into a bulwark against threats to party rule, public order and national unity.
Hong Kong could change that low profile.
Under a national security law that went into force this week, China will openly station security officials in Hong Kong to subdue opposition to the party's rule. The law authorizes these agents to investigate cases, collect intelligence and help oversee enforcement of the rules across schools, news outlets and social organizations. Until now, Chinese agents operated covertly in Hong Kong.
"When I was abducted to China, it was done in secret. Now it can be done openly," said Lam Wing-kee, a Hong Kong book store owner who was snatched in 2015 and spirited to mainland China. He said that security officials placed him in solitary confinement for five months and interrogated him about publishing gossip-laden books about Mr. Xi and other party leaders.
"Now that the Chinese national security agencies have official protection in Hong Kong, essentially Hong Kong will be no different from any part of China," said Mr. Lam, who now lives in Taiwan.
The new law for Hong Kong has drawn criticism for introducing ambiguously defined crimes such as separatism and collusion that can be used to stifle protest. On Wednesday, the first full day that the law took effect, the city's police flexed the new muscle by arresting mostly peaceful demonstrators over behavior deemed to challenge Chinese rule over the territory.
But the law also extends China's security state into Hong Kong, where it will operate beyond the scrutiny of local laws and courts. The open yet untouchable nature of these forces signals a drastic shift for the territory, which has promoted itself as an oasis for the rule of law.
For Mr. Xi, Hong Kong represents a logical next step for his expansion of the party's grip over society. Since coming to power in 2012, Mr. Xi has overseen a crackdown that has extinguished political dissent, worker protests, student activism, and ethnic unrest in Tibet and Xinjiang, several experts said.
"There's a lot of parallels between what China has domestically and what they're imposing on Hong Kong," said Ryan Hass, a fellow at the Brookings Institution. When Mr. Hass was a director for China at the White House National Security Council from 2013 to 2017, he dealt with members of China's national security apparatus.
"They're like clouds that hang over society," Mr. Hass said. "They can decide when the sun is allowed to come through, and they can decide when to block it."
Communist Party leaders see Hong Kong, a former British colony, as a dangerous enclave of Western influence, anti-party sentiment and treasonous separatists on the tip of southern China. After its handover to China in 1997, Hong Kong retained its own legal system and civil liberties.
Chinese leaders grew increasingly alarmed and frustrated last year when pro-democracy demonstrations buffeted Hong Kong for months, sometimes bursting into violent standoffs with the police.
"Hong Kong is perceived as a vulnerable link in internal security of all China," said Yun Sun, the director of the China Program at the Stimson Center, who has studied China's national security system. "When Hong Kong people protest on the street, it immediately makes Beijing look bad, because these people are raising questions about China's authoritarian regime."
A Communist Party meeting in October floated a vague proposal to create a national security system for the territory, leaving outsiders to wonder what Mr. Xi had in mind. The law released this week revealed a broadening of China's security presence in Hong Kong that astonished many for its scope.
The law lays out a plethora of new bodies in Hong Kong to enforce the rules against challenging Chinese rule, even peacefully.
They include a national security committee in the Hong Kong government, and units in the local police and prosecutors' office to handle cases under the new law. Beijing will also assign an adviser to the Hong Kong committee, and establish its own security office in the territory, made up of mainland Chinese staff.
"They will have the effect of intimidating activities by NGOs and other social groups," said Willy Wo-Lap Lam, a scholar of Chinese politics at the Chinese University of Hong Kong. "Just knowing they are there will have its own effect."
Beijing has brusquely dismissed criticism, more or less telling Hong Kong people to get used to much more forceful and intrusive policing to maintain order after the unrest last year.
The new law also allows the authorities to prosecute people over political offenses committed abroad, raising the intimidating possibility that migrants from the territory living in, say, Britain or Canada, could be arrested if they returned to Hong Kong after peacefully protesting in their adopted countries.
"The central authorities have the power and responsibility to take all the measures necessary to protect national security," Zhang Xiaoming, a deputy director of the Chinese government office for Hong Kong, told reporters in Beijing this week. Asked about sanctions imposed by Western countries, he said: "What's this got to do with you? This is entirely our domestic affair."
The Chinese conception of "national security," however, differs from the standard Western idea that focuses on terrorism, external threats and diplomatic rivalry. In Chinese, the very term for it, guojia anquan, also means "state security," and official policy is more focused on domestic threats and protecting the Communist Party.
China's Central National Security Commission, which Mr. Xi first convened in 2014 to steer policymaking, is controlled by the Communist Party leadership, rather than the civilian administration, making it — like the People's Liberation Army — a direct arm of the party.
"The Chinese conception of national security goes way beyond what normal foreign policy would cover," said Ms. Sun of the Stimson Center. "The pivotal starting point is regime security."
Even by China's tight-lipped standards, its security agencies are strikingly secretive.
The Ministry of State Security, which investigates serious national security cases and gathers intelligence at home and abroad, rarely makes public comments and does not have a phone number to answer questions from journalists. The National Security Commission rarely surfaces in public, and clues about its activities must be found scattered on local government websites, which sometimes mention its meetings and directives.
The Commission last met a few months ago, when China was struggling to manage its coronavirus crisis. Mr. Xi called a meeting that focused on the threats facing the country in a pandemic-stricken world, according to brief reports on Chinese government websites.
"We are confronted with more and more nontraditional security threats," Chen Wenqing, the Chinese minister of state security wrote in an article for a Communist Party journal in April, one of his rare public statements. "Faced with the schemes of hostile forces at home and abroad to challenge our core interests, we have to make a clear stand and be unafraid of showing our hand."
The Hong Kong law also calls for stricter oversight of schools, news media, internet outlets and associations. Advisers from Beijing may help bring in — probably in a more muted form — some of the monitoring and pressure tactics used in China to stifle potential troublemakers, opponents of the law said.
"We used to think of 'secret police' as something abstract," Nathan Law, a prominent leader of the Hong Kong protests, said in a statement issued by the Hong Kong Democracy Council. "Now it is a very real fear."
Mr. Law later indicated in a Facebook post that he had fled Hong Kong out of fear of the security law. He did not disclose his destination.


Source : Nytimes