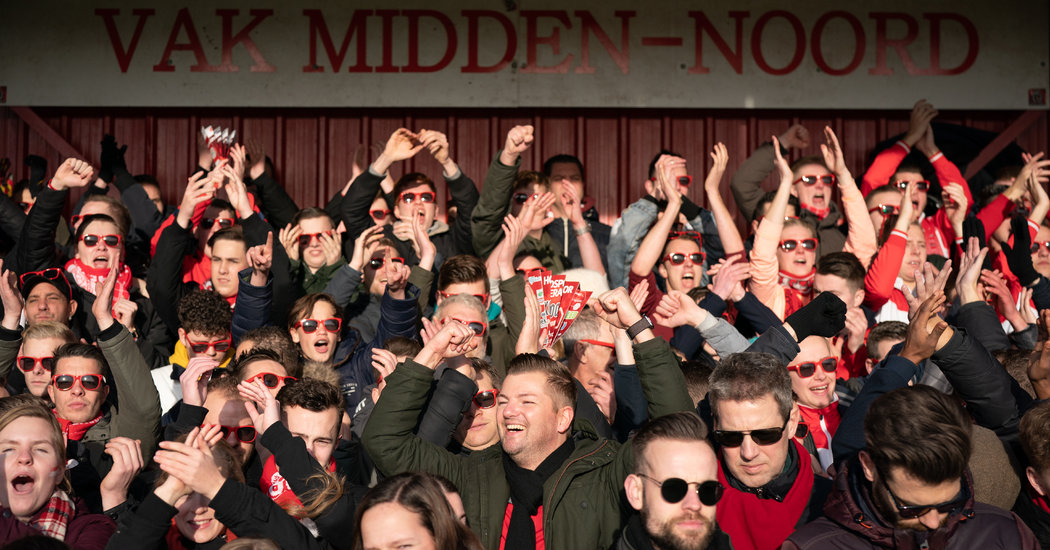 In the Netherlands, it is now what puts Spakenburg on the map. "I travel a lot for work, to Amsterdam, to Utrecht," van Dierman said. "When people ask you where you are from, the first thing they say is: 'Oh, Spakenburg. Are you a red, or are you a blue?'"
That fame, though, has spread well beyond the Dutch border. "We have had requests from fans from Belgium, Germany, Austria, everywhere," said Henk van de Groep, IJsselmeervogels's communications manager.
Muijs, too, has been inundated with requests. "There have been a lot of things on social media," he said. "A few years ago, there was a list of the top 20 derbies in the world. Boca Juniors against River Plate was first. We were 19th. It's not even a professional game!"
The game's appeal is not the standard of play, but the theater that surrounds it. "It is a strong rivalry, but in a good way," said Reinie van de Groep (no relation to Henk); she grew up here, but regards herself as a "purple." "It is very humorous, very creative," she said.
Fans of both clubs have, in the past, staged eye-catching stunts before the game. IJsselmeervogels fans released a live pig on Spakenburg's field, a nod to their rivals' reputation as the farmers' team; Spakenburg responded by hiring a plane to release hundreds of inflatable toilet brushes over enemy territory. There have been banners depicting warlike Smurfs, and enormous, inflatable Vikings.
This edition's efforts center on "La Casa de Papel," a Spanish Netflix series about a heist at the Royal Mint in Madrid. Before the game, the home fans unveil a huge mural depicting several of their players in the show's red hoodies, above the slogan "La Casa de los Pájaros": the Bird Cage. On the field, six men, their faces concealed by Guy Fawkes masks — another nod to the series — fire toy machine guns into the air. Fans are handed masks as they enter. Even the away section, clad in blue, has them, though nobody can quite explain the significance of the reference.


Source : NYtimes