Juice isn't what it used to be.
In 2012, American shoppers bought about 4 billion gallons of juice. By 2017, that figure had fallen by about 530 million gallons, according to market research provider Euromonitor International.
Consumers have been scared off by juice's high calorie count and sugar content, and they've been lured away by beverages that offer health benefits or a caffeine boost. But that doesn't mean people are ditching juice altogether.
"Juice is very much alive," said Duane Stanford, executive editor of Beverage Digest. "It's still a big, profitable category."
In 2016, American shoppers spent $10 billion on juice out of a total $133.6 billion on refreshment beverages, according to Beverage Digest's most recent data. That put juice ahead of sports drinks, ready-to-drink teas and dairy-based drinks.
Big companies, including Coca-Cola (KO), PepsiCo (PEP) and Dr Pepper Snapple (DPS), each have a number of juice brands: Coca-Cola owns Minute Maid, Simply and Odwalla. Pepsi has Tropicana and Naked, and Dr Pepper Snapple sells Mott's and Nantucket Nectars.
But consumer tastes are evolving quickly. To continue to take advantage of that market, juice companies are going to have to get creative.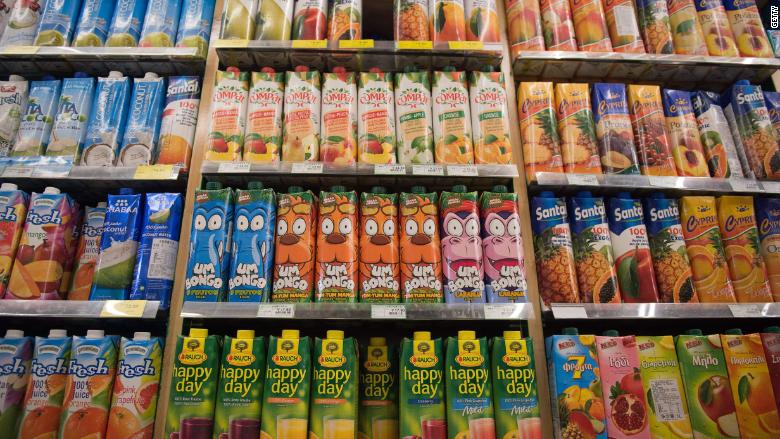 Too much sugar
For a long time, companies successfully marketed juice — orange juice in particular — as a refreshing breakfast drink. A "100% juice" label was enough to bring health-conscious consumers to the table.
Tropicana ads from the 1980s and 1990s show families passing around orange juice during breakfast, and highlight the company's signature image: A straw stuck into an orange, to show how fresh the juice is. Minute Maid's commercials also advertised orange juice as a breakfast staple.
That changed when people started paying closer attention to sugar.
"There's a huge trend towards healthier options, and the definition of 'healthy' also has changed," said Tulin Erdem, a professor of marketing at NYU's Stern business school.
"What the juice industry has to adapt to is sugar," she added.
Juice companies noticed, and started to introduce lower-calorie, lower-sugar drinks.
In 2009, PepsiCo launched Trop50, a new line of stevia-sweetened juices that serve half the calories and half the sugar of traditional Tropicana orange juice. Since then, the Trop50 line has grown to include raspberry açai, pineapple mango and other flavors. In 2011, Coca-Cola added light Minute Maid orange juice to its line of light juices — which already included lemonade and other flavors.
But sugar wasn't the only problem.
Related: Is fruit juice healthy?
Beyond breakfast
"Breakfast was what drove 100% juice sales for a long time," Stanford said. "The marketing was about that morning pick-me-up."
As consumers moved away from juice, they moved toward what Stanford calls "functional" drinks -— beverages that offer specific health benefits or a boost of caffeine. Companies started to market those options as appropriate for any time of day.
"Iced tea has been growing, ready-to-drink coffee has been growing even faster," Stanford said.
In addition to iced caffeinated beverages, some consumers started turning to cold-pressed juices as a more nutritious alternative to pasteurized juice.
Over the past decade, pressed juice boutiques have been popping up across the country. The drinks, often packed with trendy ingredients like kale, spinach, turmeric, ginger and activated charcoal, are marketed as meal replacements, cleanses and immunity boosters.
For now, cold-pressed juices serve a niche audience because of their short shelf-life and high price, among other things. But juice makers are trying to make them appeal to a mass market.
Hayden Slater, who co-founded Pressed Juicery in 2010, said in January that he wants to lower the price of his juices from an already relatively low $6.50 to about $5 each. Slater told CNNMoney that if people are willing to pay $5 for a coffee from Starbucks, they might pay $5 for cold pressed juice. "You essentially can open [a Pressed Juicery] anywhere a Starbucks is," he said. Since then, Pressed Juicery has introduced a membership program that lets members pay $5 for juice.
If Big Juice wants to keep up, said Erdem, it'll have to innovate.
Related: Pressed Juicery founder wants to make healthy options more affordable
The future
Aware of the changing market, juice makers have been hopping on healthy beverage trends like coconut water.
Coca-Cola fully acquired Zico coconut water in 2013. Last month, Tropicana launched a new line of juices blended with coconut water called Coco Blends.
"Tropicana has continued to innovate to secure our spot not only at the breakfast table, but throughout the daily lives of on-the-go Americans," said Becca Kerr, senior vice president for Tropicana's nutrition fruit and vegetable portfolio in North America. "Tropicana Coco Blends introduces a delicious way to enjoy the coconut water craze in a great-tasting juice drink."
But according to Euromonitor, "coconut water is fading from the limelight as the trendiest beverage in the US."
In addition to exploring how to scale pressed juices, Stanford said companies should think about using fruit juice to naturally sweeten sparkling water and other beverages.
Matt Quint, director of Columbia Business School's Center on Global Brand Leadership, said companies could benefit from the pressed juice trend by selling fruits and vegetables directly to consumers, like Ocean Spray does with cranberries.
"You don't go and buy a bag of Tropicana oranges," he said. "Possibly there's an opportunity there."
Euromonitor pointed to Ocean Spray as an example of one brand that's thinking ahead with its new line of mocktails, which come in flavors like Cranberry Sangria and Cranberry Peach Bellini.
Ultimately, it's about "seeing the trends early and acting early," Erdem said. "Those companies that can foresee the change in consumer taste and respond relatively quickly … will be the winners of this game."
CNNMoney (New York) First published April 20, 2018: 6:42 AM ET




Source : CNN