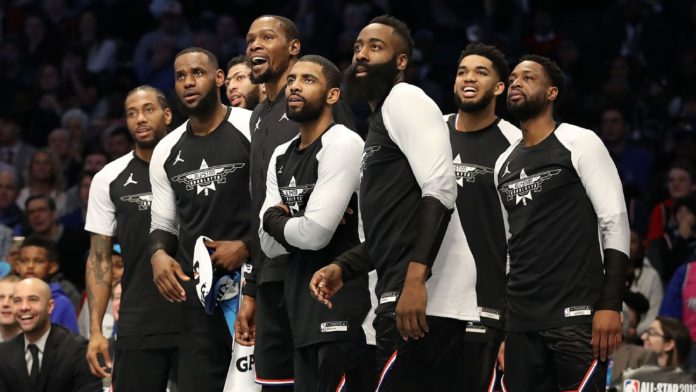 CHARLOTTE, N.C. — You know the picture.
Dwyane Wade in a Miami Heat jersey, having thrown an alley-oop to teammate LeBron James, holding his arms out wide as James tries to rip the rim off the basket behind him.
This decade began with James and Wade teaming up in Miami, ushering in a new era of player empowerment and creating one of the most iconic pairings in the history of the sport.
Fast forward to Sunday night in Charlotte, where the two old friends and teammates found themselves on the same side for one last time in this year's NBA All-Star Game. Playing together on Team LeBron, they got one last chance for a highlight reel moment when Kevin Durant stole a pass early in the third quarter and threw it ahead to Wade.
Wade threw the ball off the backboard. It ricocheted into the hands of a streaking James, who slammed the ball threw the hoop.
A brilliant replica of the picture.
LeBron James lobs one up to Dwyane Wade, then Wade returns the favor off the backboard for a big LeBron slam.
It was a small moment within a meaningless exhibition game, but it's one that encapsulates the challenge that lies ahead for James when he goes back to his day job with the Los Angeles Lakers.
Nine years ago, he chose to leave Cleveland and team up with Wade and Chris Bosh on the shores of Biscayne Bay, creating a team that won two championships and reached four straight NBA Finals. This summer, James needs to find someone to do what he did back then: choose to come play with him and turn his team into a championship contender.
He needs to find his next Dwyane Wade.
That was what made this weekend so compelling. James drafted a team littered with players who have been linked to playing alongside him — either joining his Lakers as free agents this summer or via trade (in the case of Anthony Davis, as recently as within the last two weeks).
By virtue of his selections, the name Team LeBron was quickly, and sarcastically, replaced by "Team Tampering."
Throughout this weekend — as well as 48 minutes of action that took place at Spectrum Center here in the Queen City — every word, conversation and highlight between James and one of the myriad soon-to-be free agent stars on his squad were analyzed for clues about their collective future.
From Davis to Kevin Durant, Kyrie Irving to Kawhi Leonard, Klay Thompson to Damian Lillard — no matter who was on the floor with James, fans at home could spend the game dreaming about what they'd look like playing alongside him in a Laker uniform.
And, no matter how dismissive James attempted to be about the topic, it's hard to believe he didn't do the same thing. After all, the Lakers are 28-29 heading into the final 25 games of the season, a brutal closing stretch featuring 18 games against current playoff teams. Making matters worse is the lingering fallout within the franchise thanks to its failed pursuit of Davis.
Scottie Pippen says if the Lakers don't land a big free agent in the summer, then LeBron James coming to LA was a bad move.
It is one thing, though, for James to be able to pick from a pool of All-Stars to play with him in an exhibition game. It is quite another to get one — or more — of them to play with him in Los Angeles. And, if anything, this weekend served as another reminder of just how big a challenge James and the Lakers have in front of them to do just that.
Going through the other members of Team Tampering — along with other free agents-to-be — and examining where their basketball futures may lie quickly underscores the potential difficulties ahead for James in Los Angeles.
Kevin Durant
Kevin Durant explains how Team LeBron turned it on after halftime and appreciates all the great players competing on the floor together.
We'll start with Durant, James' first pick and one of the few people on the planet who can credibly challenge him for the title of Best Player in the World.
But Durant himself was rather vocal on the subject of playing with James in a Bleacher Report article back in December.
"So much hype comes from being around LeBron from other people," Durant said. "He has so many fanboys in the media. Even the beat writers just fawn over him. I'm like, we're playing basketball here, and it's not even about basketball at certain points. So I get why anyone wouldn't want to be in that environment because it's toxic. Especially when the attention is bulls— attention, fluff. It's not LeBron's fault at all; it's just the fact you have so many groupies in the media that love to hang on every word. Just get out of the way and let us play basketball."
Setting aside Durant's critiques of the media — something he's done plenty since, including this weekend — it is still hard to see his path to Los Angeles. If Durant does leave the Golden State Warriors this summer — something more people around the league are convinced is going to happen — the strong belief within the league is he'll be joining the New York Knicks.
Kyrie Irving
Kyrie Irving and LeBron James connect like they used to on the emphatic alley-oop late in the All-Star Game.
So what about Irving?
He and James mended fences in a phone call recently, news Irving stunned a crowd of reporters with in Boston last month after a dramatic win over the Toronto Raptors.
That, in concert with rumblings that Irving is no longer as happy in Boston as he was back in October when he declared he planned on re-signing with the Celtics, has led to chatter that Irving could wind up playing elsewhere next season.
Still, the Celtics believe Irving will return — especially if the Celtics can strike a deal with New Orleans to get Davis. The biggest roadblock to a deal happening — Davis not wanting to stay in Boston — disappeared Saturday when he declared the Celtics were, in fact, on his list of preferred destinations.
But if Boston doesn't get Davis — or Irving simply decides to leave — the Knicks are considered a much more likely destination than a reunion with James.
Anthony Davis
Anthony Davis speaks about his desire to play and explains that he never said the Celtics weren't on his list of teams that he wanted to be traded to.
When New Orleans didn't trade Davis this season, the window for the Lakers get him decreased dramatically. Now Boston can offer a far more appealing package than Los Angeles is capable of putting together. And if the Celtics get him, Boston can offer him a chance to win — which he says is his main priority — on a team alongside Irving well into the next decade.
The one team that could possibly outbid the Celtics are the Knicks — but only if they manage to win the top pick in the lottery, and with it the chance to draft Duke superstar Zion Williamson. If that happens, perhaps Durant, Irving and Davis will all find their way to the Knicks — a scenario that, at this point, can only be classified as a fever dream for The Big Apple's long-suffering hoops fans.
Kawhi Leonard
Kawhi Leonard, meanwhile, is far from certain to be in Toronto past this season.
But while Leonard is intrigued by the possibility of going back closer to home in Southern California, it is the other team at Staples Center — the LA Clippers — that remain heavy favorites to secure his services if he chooses to leave the Raptors.
The Field
Then there are the guys who are seen as all but certain to remain with their current teams — barring some unforeseen change in the landscape.
Klay Thompson has long been seen as an ideal fit to play with James — not to mention his father, Mychal, is the Lakers' radio color analyst. But as long as the Warriors don't lowball Thompson this summer — and, given the uncertainty around Durant's future, they aren't expected to mess around with him — Thompson is widely expected to remain in Golden State.
Given how bleak it appears the chances of the Charlotte Hornets are to be a real contender anytime soon, it would make sense if Kemba Walker would want to head elsewhere. But he's given no indication he wants to, and with Charlotte almost certainly having the ability to offer him the supermax this summer — a five-year deal with well over $200 million — Walker seems destined to stick around North Carolina.
The same goes for Milwaukee Bucks small forward Khris Middleton (Team Giannis) and Philadelphia 76ers power forward Tobias Harris (All-Star snub). The Bucks are headed toward their best season in decades and need to keep Giannis Antetokounmpo happy, as he will have his own decision to make about his future next summer. That makes it hard to see a scenario in which the Bucks would let Middleton walk, given there are few — if any — pathways to finding an upgrade for him this summer.
Philadelphia, meanwhile, gave up two first round picks and a promising rookie in Landry Shamet to get Harris from the Clippers at the trade deadline — a move seen across the league as not only the Sixers going for it this season, but also insurance with regard to the future of small forward Jimmy Butler (2018 All-Star).
76ers general manager Elton Brand declared ownership has greenlit re-signing both Harris and Butler this summer. That said, doing so (likely on max deals), along with Joel Embiid's current max contract and an impending max contract extension for Ben Simmons, would send Philadelphia soaring deep into the luxury tax.
If the Sixers don't keep both of them, Butler is seen as the more likely to leave. Harris is a better fit stylistically thanks to his elite shooting ability — not to mention Butler's short time in Philadelphia since the trade has, at times, been bumpy. But when Butler made his initial list of preferred destinations last fall before being traded to Philadelphia, the Lakers weren't on it.
Meanwhile, the teams that were — the Clippers, Knicks and Brooklyn Nets — all will still have max cap space available to sign him.
Still, Butler is seen as arguably the most realistic option that could wind up in Los Angeles. The same goes for Golden State Warriors center DeMarcus Cousins (2018 All-Star), though he comes with his own set of risks — most notably the torn left Achilles' tendon he's only recently returned from.
Committing a long-term, big-money deal to him is, to put it mildly, a risky proposition. That said, it could wind up being the best option the Lakers have.
And if the Lakers choose to repeat what they did this summer — rolling over their cap space to 2020 — they run into multiple issues. The first is that one of those young players, Brandon Ingram, would become a restricted free agent, and become significantly more expensive. The other is that if Davis does remain with whatever team trades for him — which, assuming he lands in a good situation, would have to be considered a real possibility — the rest of that year's free agent class is nowhere near as appealing as this year's class.
Team LeBron overcomes a double-digit deficit led by Kevin Durant's MVP performance to beat Team Giannis 178-164.
The Lakers, and LeBron, will be hoping how the game played out for Team Tampering Team LeBron will prove to be a metaphor for what will happen in July. After starting the game seemingly asleep and falling behind by 20 in the third quarter, James and his band of stars stormed back into the game in the second half by making 21 3s in the last 21 minutes of the game, eventually emerging victorious.
"You put me on the floor, I love to compete," James said afterward. "I'm a competitor, no matter what it is.
"I'm competing to see if I can get to this table first."
James then asked the moderator if anyone had given an interview before him.
When the answer was no, James said, "See what I'm talking about?
"See you all the second half of the season."


Source : ESPN