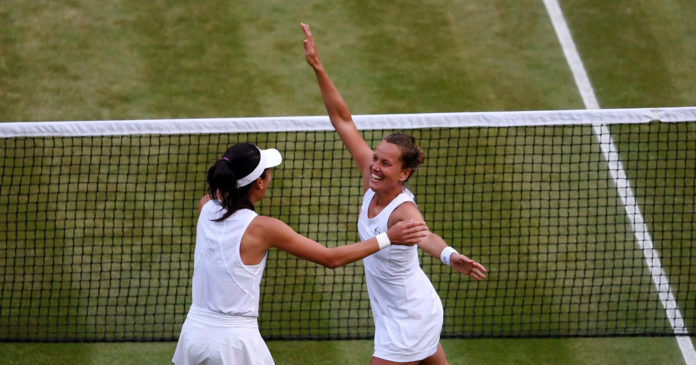 WIMBLEDON, England — Hsieh Su-wei and Barbora Strycova were ready hours before the scheduled start of the Wimbledon women's doubles final, which was planned as the third match on Centre Court on Saturday.
After Simona Halep needed just 56 minutes to beat Serena Williams in the first match on Centre Court, it looked like they might get on earlier than expected.
Then, the men's doubles final lasted four hours and 57 minutes. As it reached a fifth set, tournament supervisors told Hsieh and Strycova their match was being postponed.
"I was feeling good yesterday in my practice," Hsieh lamented.
"Me too," Strycova agreed.
They were rescheduled for Sunday evening after the men's singles final, a spot normally reserved for the mixed doubles final. Mixed doubles was, in turn, relegated to No. 1 Court.
Again, Hsieh and Strycova waited. The men's match, between Novak Djokovic and Roger Federer, lasted four hours and 55 minutes, with Djokovic beating Federer in the first final-set tiebreak in a singles match at Wimbledon.
Hsieh coped with the waiting Sunday by nervously eating: bananas, chocolate cookies, two potatoes, a plate of vegetables.
"She was eating all the time," Strycova said of Hsieh.
Hsieh said she was "glad Wimbledon changed the rules" and brought a final-set tiebreak, at 12-12, to this year's tournament.
"Otherwise I will keep eating and I will get fat," she said.
Hsieh and Strycova, both strong singles players, were the first Wimbledon pairing not to drop a set en route to the women's doubles title since Venus and Serena Williams did it 10 years ago.
Though their timing was impeccable, and their 6-2, 6-4 win over Gabriela Dabrowski and Xu Yifan was efficient, they still found themselves late to the ball on Sunday — the champions' ball, that is, to which guests had already begun to arrive while the doubles champions were still on site.
Normally players pick their formal outfits for the soiree after winning a title; Strycova and Hsieh made sure to get theirs in the morning.
Strycova said she made her choice with consultation from "a little helper": Halep, the women's singles champion, who was also there to pick out her dress on Sunday morning.
For Hsieh, the process was easy. "You know the girls love pink gowns," she said.
Strycova will accessorize her look with a new crown: the No. 1 WTA ranking in doubles, which she clinched with the victory, capping off a career-redefining tournament that also saw her reach her first major singles semifinal. She called it "two weeks of amazing moments I will never forget."
Strycova said achieving the top doubles ranking had been a "really big goal" from the beginning of the season.
"Especially here at this moment, this tournament, my favorite place — yes, it's a fairy tale," Strycova said.
Fittingly, that fairy tale now finishes at the ball. At midnight, rather than a pumpkin, she will turn into the official top player in women's doubles.


Source : NYtimes