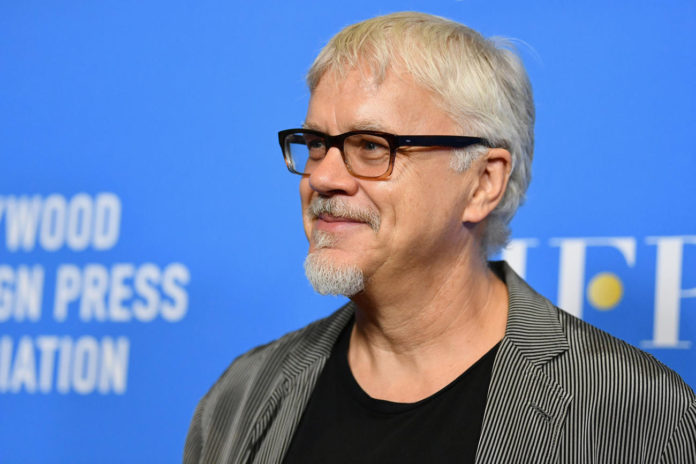 Now Playing
Castle Rock Teaser Trailer
Next Up
Watch Killing Eve Season 2 Trailer
Details are finally coming out about Castle Rock Season 2, which will come to Hulu at some yet-to-be-determined time. Season 1 premiered last summer, and told a story about mysterious, supernatural occurrences in the titular Stephen King-created town after a young man (Bill Skarsgård) was found in a cage in an abandoned wing of Shawshank Prison. Season 2 will tell an entirely new story from the "Stephen King multiverse," revolving around one of King's most iconic characters, Annie Wilkes from Misery. Here's everything we know so far about Castle Rock Season 2.
The Season 1 creative team is back. Unlike some spooky anthologies (we're looking at you, The Terror), showrunners Dustin Thomason and Sam Shaw will return for Season 2 and expand the universe in a way that sounds inspired by FX's American Horror Story and especially Fargo. "The basic idea is that it is an anthology in the sense that we're going to tell a new story that gives you a different lens into Castle Rock and into Stephen King each season," Thomason told Den of Geek last year. "The thing we've always been really excited about, in the same way that the Stephen King universe operates, is that each story will stand alone, but that we will be circling back to characters whose stories intersect with the new stories." J.J. Abrams and King himself get executive producer credits.
The official synopsis: "In Season 2, a feud between warring clans comes to a boil when budding psychopath Annie Wilkes, Stephen King's nurse from hell, gets waylaid in Castle Rock."
All the Stephen King Easter Eggs in Castle Rock Season 1
The cast is stacked. Lizzy Caplan rejoins the Bad Robot-verse (she starred in Cloverfield, remember?) as Annie Wilkes, the ankle-smashing nurse played by Oscar winner Kathy Bates in the movie Misery. Other cast members include Triple Frontier's Garrett Hedlund as John "Ace" Merrill, the infamous bully from "The Body"/Stand By Me (played by Kiefer Sutherland in the movie) and Needful Things, who's taking over his uncle's businesses and causing problems with the Somali community in nearby Jerusalem's Lot; Yusra Warsam as a Somali-born, Harvard-educated director of a hospital in 'Salem's Lot, and Academy Award nominee Barkhad Abdi as her brother, whose push to build a Somali community center will put him in conflict with Ace (it seems like the treatment of refugees will be explored in Season 2 much like how the private prison industry was a theme in Season 1). 13 Reasons Why's Matthew Alan will play Ace's brother Chris Merrill, who tries to keep the peace between Castle Rock and 'Salem's Lot. Elsie Fisher will follow up her breakout performance in Eighth Grade by playing Anne Wilkes' teenage daughter Joy, who's starting to realize how crazy her mother is.
And Tim Robbins will play Reginald "Pop" Merrill, the patriarch of a local crime family (definite shades of Fargo Season 2). Pop is dying of cancer and at a reckoning with his family. Pop will be familiar to King fans, having first appeared in the 1990 novella "The Sun Dog" from Four Past Midnight, but this is obviously a different version of Pop Merrill, since that Pop didn't die of cancer. Robbins being on Castle Rock is meta-referential in the way that Bill Skarsgård and especially Sissy Spacek on Season 1 was meta, since Robbins' most famous role is Andy Dufresne in the Stephen King adaptation The Shawshank Redemption.
So we have a bunch of King connections already. For those keeping track at home, we already know Season 2 will have links to Misery, "The Body"/Stand By Me, Needful Things, 'Salem's Lot, and "The Sun Dog," and peripherally The Shawshank Redemption, though book Ace has spent plenty of time incarcerated in Shawshank and show Ace probably has, too.
There's no premiere date yet. We don't know when Season 2 will arrive on Hulu, but if we're just getting casting news now, don't expect it to hit Season 1's summer premiere date. Some of the castings for Season 1 were announced more than a year before the show came out. If Season 2 arrives in 2019 at all, it'll probably be late in the year.
Castle Rock Season 1 is available to stream on Hulu.
PHOTOS: The Most Shocking TV Show Moments of 2018
Sissy Spacek and Bill Skarsgard, Castle RockPhoto: Dana Starbard, Hulu




Source : TVGuide