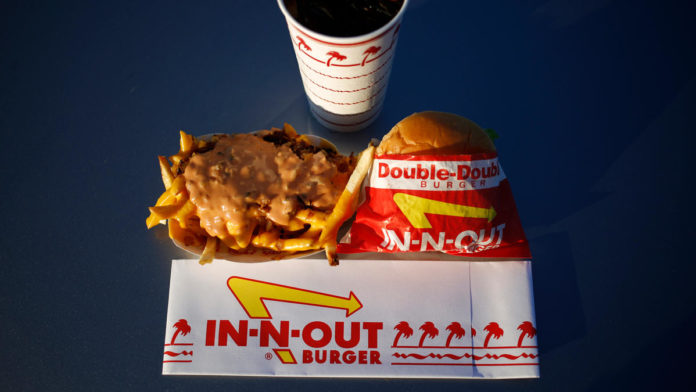 In-N-Out Burger's recent $25,000 donation to the California Republican Party has tested the loyalty among some of the burger chain's many fans in the Golden State. 
According to a public filing on the California Secretary of State's website, In-N-Out made the donation Monday.
The donation made its way to thousands of people's Twitter feeds on Wednesday and, shortly after, the hashtag #BoycottInNOut was born.
California Democratic Party Chairman Eric Bauman called for the boycott, writing on Twitter: "It's time to #BoycottInNOut — let Trump and his cronies support these creeps … perhaps animal style!"
As news stories about the boycott spread, the California Democratic Party's communications director, John Vigna, said that Bauman's tweet was his own personal view and didn't reflect the official stance of the California Democratic Party, The Los Angeles Times reported.
In-N-Out, which started in Baldwin Park, California, in 1948 by Harry Snyder and Esther Snyder, now has more than 330 locations across California, Arizona, Nevada, Oregon, Texas and Utah. Most In-N-Out restaurants are in California. 
The company, which displays Bible verses on some of its packaging, has contributed to Republican causes in the past. According to the Sacramento Bee, it donated $30,000 to the California GOP in 2017.
But it also gave the pro-business PAC, "Californians for Jobs & A Strong Economy," $80,000 in 2017. The PAC has worked to elect moderate California Democrats to office, according to the Bee. 
The official California Republican Party Twitter account was among those who panned the boycott campaign. The group tweeted that while Bauman "attacks an all-around great company, which is generous to both parties, CA leads the way in poverty, homelessness, unaffordability, traffic & underperforming schools. Oh, and violent crime is rising. But let's talk burgers instead."
California Republican gubernatorial candidate John Cox also weighed in, sharing a tweet that included a picture of him outside an In-N-Out location.
"There's nothing more Californian than In-N-Out Burger," he wrote. "Great lunch today in #Fresno. If .@GavinNewsom is nervous debating me on CA issues – maybe a friendly Double Double vs Caviar joust?"
In a statement to CNBC, In-N-Out Burger Executive Vice President Arnie Wensinger said the company "made equal contributions to both Democratic and Republican Political Action Committees in the state of California. For years, In-N-Out Burger has supported lawmakers who, regardless of political affiliation, promote policies that strengthen California and allow us to continue operating with the values of providing strong pay and great benefits for our Associates."
Wild Food Crazes: Pickle Juice Slush, Tarantula Burgers
On Twitter, discussion of the donations included plenty of snark amid the debate over whether a boycott was justified. 
"This is the best California publicity Shake Shack could ever ask for," one Twitter user wrote.
@NersesAposhian tweeted: "Wait… does this mean California liberals (basically most of the state) won't eat at In-N-Out anymore? Shorter lines?!"
Another person tweeted, "This really bums me out because I'm a regular customer… BUT I cannot spent money with a company that supports the current GOP! #BoycottInNOut."
An Alabama lawmaker however invited the burger chain to his state with open arms. "Hey #InNOutBurger c'mon to Alabama!" Republican state Senator Phil Williams tweeted Thursday. "We love burgers, and we love #Republicans!"
Check out some more tweets below:
My heart hurts but…#BoycottInNOuthttps://t.co/Rjy29DwFd8

— luweewee (@lu_weewee) August 29, 2018
@innoutburger looks like my family and I will be boycotting your restaurants from now on. You donate to the @GOP, that means you stand with Trump and all his bigotry. #ShameOnYou! #BoycottInNOuthttps://t.co/79wo1kNvxW

— SIMON_LEFISCH (@simon_lefisch) August 30, 2018
Phooey! I've enjoyed the convenience of the drive-thru 3 miles from my house, but no way do they get my money now. #BoycottInNOuthttps://t.co/BQDwEjoFzy

— L.E. Marcus (@ellie_mint) August 30, 2018
Et tu In-N-Out? Tens of thousands of dollars donated to the California Republican Party… it's time to #BoycottInNOut – let Trump and his cronies support these creeps… perhaps animal style!https://t.co/9zkdFaG5CJ

— EricBauman (@EricBauman) August 30, 2018




Source : Nbcnewyork