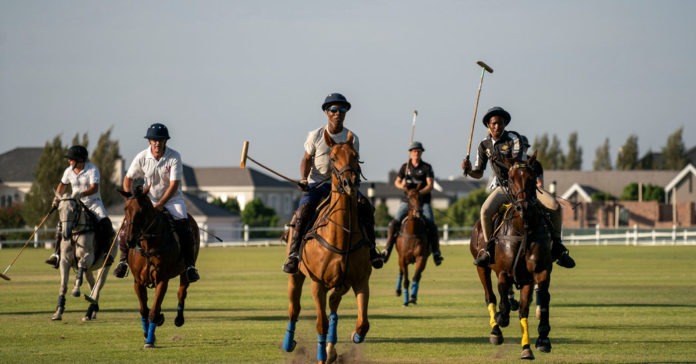 CAPE TOWN — Clifford van der Venter admits his own golf game is "pretty useless." Nevertheless, he was drawn to one of South Africa's most prestigious golf estates, stretching over 2,500 rolling acres with a Jack Nicklaus signature course, two full-size polo fields, three gyms and a winery.
Grapevines flank the boulevards. Zebra and antelope nibble grass on a small reserve.
After a fast-paced career in the corporate world, Mr. van der Venter, 54, enjoys strolling through the grounds of Val de Vie, a gated community 35 miles north of Cape Town that has been judged South Africa's best for the past two years by New World Wealth, a market research group based in Johannesburg. He also feels extremely safe there.
Estate developments — often built in combination with upscale golf courses — are hugely popular among wealthier homeowners in South Africa, consistently outperforming the general market, largely because they offer a combination of amenities and, as at Val de Vie, state-of-the-art security.
An analysis of the sector in 2016 by Lightstone Property, a local valuations firm, identified approximately 6,500 estate developments across the country. These accounted for about 5 percent of all residential homes but more than 15 percent of the market value.
Only the United States, with a population six times as large, has more of what are known there as gated communities.
In a country with a long history of racial turmoil, the South Africa pattern invariably results in communities dominated by white people (only about 10 percent of South Africa's population), with others effectively excluded by income. Mr. van der Venter, a person of color,was a senior executive at Caltex and British American Tobacco, among other companies, before retiring and moving here.
Many of the communities combine armed guards, cameras and electric fences with recreational facilities like golf courses and gyms. Some, such as Raptor's View, near Kruger National Park in the northeastern part of the country, include wildlife reserves.
Basil Weinrich, a real estate consultant from Cape Town, said more than 40 percent of wealthy South Africans — defined as people earning more than about $70,000 a year— now either live or own property on security estates, a figure that is steadily rising.
Crime dominates South African life. On average, 56 people are murdered every day, according to the most recent police statistics, making it one of the most violent countries on earth, according to the United Nations.
The police recorded nearly 230,000 burglaries last year, or 625 daily. Some experts estimate that the true burglary figure is perhaps three times that high. Break-ins and car highjackings can quickly turn almost gratuitously violent, with victims beaten and raped if they do not quickly turn over valuables or open safes. Banks and high-end malls are routinely patrolled by guards holding automatic weapons.
"South Africans consistently rank crime among their top concerns, second only to unemployment,'' said Andrew Faull, a senior researcher at the Institute for Security Studies. But, he added, "although the middle class and wealthy South Africans may feel restricted by fear of crime, they are sigificantly less restricted than the poor majority.''
For people who can afford to move from "bubble of security to bubble of security," he said, life can be "quite easy."
It was almost by accident that Mr. van der Venter became converted to this way of life.
For more than a decade he had owned a sprawling property in Cape Town, not perturbed by its long, dark driveway or ramshackle fencing. Then he took a job in the east coast city of Durban, moving into an estate development popular among his new colleagues.
Soon afterward, he said, he began feeling "mentally free."
No longer did he need to worry about locking his doors at night. His wife and children could walk around the estate after dark. He became aware of a subtle fear that had pervaded his life and was now lifting.
Upon returning to Cape Town, he planned to move back into his old home. "But now you realized you had this fear," he said. "We knew we were never going back."
Instead, in 2010, he and his wife purchased property at Val de Vie near Paarl. It is protected by thermal cameras, 24-hour dog patrols and an electrified, wrought-iron perimeter fence.
"Safety is the main concern, of course, but you also get this incredible lifestyle," Mr. van der Venter said.
Purchased in 2002 as a disused clay quarry, Val de Vie now has 1,500 completed homes, apartments and hotel rooms. A second phase of 1,000 units is under construction, according to the marketing director, Ryk Neethling. Vacant lots typically cost $15 to $20 per square foot, while homes go for $150 to $330 per square foot.
"Many residents who built in Phase One have already invested in Phase Two," said Mr. Neethling, a former Olympic swimming champion, on a recent tour through the development. "They see the dust and construction sites and know that in a few years, it will look like this."
Properties at Val de Vie range from individualized seven-acre small holdings ("Gentleman's Estates") to one-bedroom apartments designed by one of South Africa's most prominent architects, Stefan Antoni. Most properties are family homes with gray roofs and large windows, conforming to a building code that is "flexible but ensures some consistency," Mr. Neethling said.
Nate Foster, a cellphone tower developer from Boulder, Colo., moved into one of these homes in January. With five bedrooms, large glass-walled living areas and a 50-foot swimming pool, it cost less than $1 million. A comparable property back home, Mr. Foster said, would have cost three to four times as much.
He and his wife had been "really resistant" to lifestyle estates since relocating to Cape Town in 2015, Mr. Foster said, wanting "more of a cultural experience." But "the realities of South Africa still exist," he went on. "Keeping one eye open all the time wasn't desirable."
There's also the convenience factor. Mr. Foster, a triathlete, said he can train more easily at Val de Vie before going to work. A new fitness center on the estate, the Yard, has an Olympic-size swimming pool and a gym run by John McGrath, a seven-foot Irishman who used to perform in strongman competitions at Coney Island in New York.
"What's special about this place is the community," said Mr. McGrath, who stays in shape by bending metal wrenches into hoops.
But like Mr. Foster, the overwhelming majority of residents at Val de Vie are affluent and white. About 15 percent are foreigners, mostly from Europe, Mr. Neethling said, adding that between 10 percent and 15 percent are nonwhite.
Adding more affordable housing options to the estate — still beyond the reach of all but the wealthiest South Africans — has helped broadened access without "contaminating" prices, said Mr. van der Venter. In fact, the apartments, introduced in 2014, have been among the most successful developments at Val de Vie, with the highest average value per square foot (approximately $165) and investment returns of 100 percent in just two years.
"I signed up to buy two but backed out," said Mr. van der Venter, who also owns an office block on the estate. "You keep thinking this bubble is going to burst. Now I'm kicking myself."
Even with South Africa's weak economy having strained property prices over the past decade, residential estates continued to perform well, said Andrew Amoils from New World Wealth.
There was "massive growth" in the sector from 2000 to 2008, but it slowed after the global financial crisis, Mr. Amoils explained. Even so, he said, "it still consistently outperforms the general market."
In recent years, there has been a pronounced trend of developers' interspersing townhouses and apartments among larger houses, Mr. Amoils said. Obtaining permission to build new estates had become more difficult, particularly as concern about water use rose amid increasingly frequent droughts, and rising rates and taxes had made big homes less affordable.
Still, there was the safety issue. "People get used to living like this," Mr. Amoils said.
On a recent evening, as the sun set above the polo fields, Chad Marthinussen and Chanell Classen, both 25-year-old doctors, returned to their rental apartment after work. "You can come home from a crazy shift to this prettiness and just switch off," Ms. Classen said.
She grew up in Bonteheuwel, a working-class suburb outside Cape Town. She and Mr. Marthinussen are planning to marry. They both loved the estate's security and relaxed atmosphere, but they also shared some ambivalence.
"If we have kids, we don't know if we'd want them growing up here," Mr. Marthinussen confessed. "It feels like a safe bubble. And that's amazing, but the real world isn't like this."


Source : NYtimes