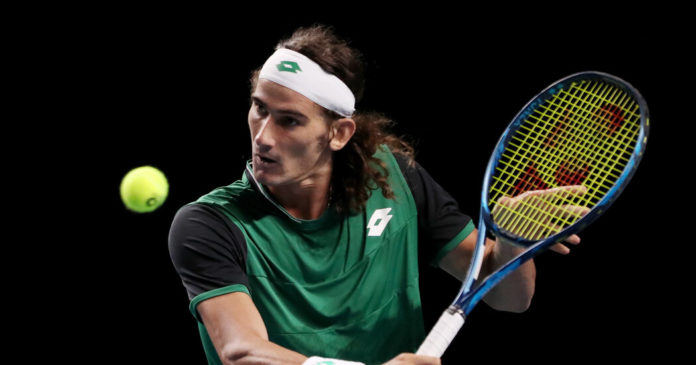 Lloyd Harris has been on a bit of a roll this year.
It's a good thing, too, because if the 24-year-old from South Africa weren't, he might be having a hard time breaking even as a professional tennis player these days. Even with his recent success — which includes making the third round of the Australian Open in February, the final of the Dubai Tennis Championships last month, and the second round at the Miami Open last week — his earnings are hardly the windfall they might have been, because prize money in his sport has been substantially downsized during the coronavirus pandemic and expenses are higher than ever.
Harris, ranked No. 52 in the world, probably will not be able to go home until November. So he has to support himself on the road and pay for his usual coaching and physiotherapy, expenses that can run into the high six figures for a player of his caliber.
"It was definitely tough last year," Harris said last week after a tight first-round win over Emilio Nava. "This year, with the prize money being so reduced, it can really be a struggle."
Professional tennis may be the most economically top-heavy sport in the world. The best players are fabulously wealthy, in part because of lavish endorsement deals, and any player ranked in the top 30 lives very well.
For those ranked between roughly 40th and 70th, a bad few months can cause serious problems. Life for those outside the top 80, and especially outside the top 100, can be precarious.
The pandemic has made things more challenging, as cuts in prize money at most tournaments make each win more essential for players fighting for the extra cash that comes with making each successive round.
At the Miami Open, which concludes this weekend, more than 200 players have been vying for $6.7 million. That is among the largest prize purses outside the Grand Slam events and the tour finals, but it is down nearly 60 percent from 2019, when the purse was $16.7 million.
Heading into the season, the men's and women's tours worked with the players and tournament executives to figure out how to share revenues in an environment where only a fraction of the usual number of tickets can be sold.
The professional tours have tried to structure prize payments so that players eliminated in the early rounds can still make a decent wage..
In Miami, making the second round yielded $16,000 for a player this year compared with nearly $30,000 in 2019, the previous time the tournament took place. The winners will receive just over $300,000, a healthy payday but down nearly 80 percent from 2019. The tours are helping smaller tournaments avoid deficits by funding prize purses through broadcast rights deals and cash reserves.
"It's obviously a very challenging period of time for everybody," said Steve Simon, chief executive of the women's professional tour, the W.T.A. "Our approach was how do we manage this so we have prize money levels in a manner that would support players and make sure our events can operate."
No one needs to take up a collection for players who advance deep into tournaments, but the economics of being a solid professional tennis player can be challenging.
Depending on the country where a player lives, roughly 50 percent of income can go to taxes. A decent coach demands $50,000 to $100,000 a year plus travel costs. Fitness training and physiotherapy over an 11-month season can cost an additional tens of thousands of dollars.
Danielle Collins, the 27-year-old American ranked 40th in the world, trained with a four-person team before the pandemic — a tennis coach, a hitting partner, a physiotherapist and a fitness coach. With the cuts in prize money, though, Collins is now training largely with her boyfriend, Tom Couch, who is her fitness coach.
"We don't have an organization that pays for coaches, and physios and nutritionists like we would if we were on a team," she said. "We have financial responsibilities that we are 100 percent committed to. Having to manage through that with the pandemic and ongoing uncertainty and with the prize money reductions, it's taken a toll."
Also, travel this year figures to be more expensive, given the restrictions and quarantine rules that can change from week to week and country to country.
This month the professional tours will shift to the clay- and grass-court seasons in Europe until mid-July. In typical years, players might return home several times during that period, especially if they lose early in one tournament and have a two-week lag until the start of the next event on their schedules. That might prove difficult this year.
"If you can get to Europe, you might just want to stay there," said Ann Li, a 20-year-old American who recently broke into the top 100.
Housing abroad is complicated. When players are eliminated from a tournament, they lose their free lodging until the next tournament starts.
And the pandemic presents more than logistical challenges.
"We're always at risk of contracting the virus and being in a two-week lockdown in a city far away from home," said John Isner, a veteran player from the United States. "To do that in an environment where the money is much less is very risky on our part."
There is little choice but to keep competing. Endorsement contracts are often laden with incentives that require players to enter a minimum number of tournaments and earn rankings points by advancing. Collins said these deals — New Balance and Babolat are her main sponsors — had helped sustain many players during the past year.
"For players outside of top 100, they might have opportunities to play, but they are losing money by playing," she said.
Harris had to default his second-round match in Miami. In the coming weeks, he plans to use Dubai as a kind of base camp, because if he returned to his home in South Africa, where the virus has been prevalent, he couldn't be sure which countries would permit him to enter later.
He has won nearly $300,000 in prize money this year, bringing his career total to $1.5 million. That may sound like a lot, but Harris turned professional in 2016. He spent far more than he earned during his first four seasons. He was fortunate that his two sponsors, Lotto and Yonex, remained loyal as he grinded through the lower-tier tournaments.
Now, after a busy winter, he is trying to set aside his desire for a break, particularly from the restrictions players must follow while competing.
"Most of the guys on tour have been very selective about where they can play," Harris said.
But he is finally winning more than losing at the top level. He is climbing the rankings and making decent money. For better or for worse, after a short break, he plans to play on.


Source : NYtimes