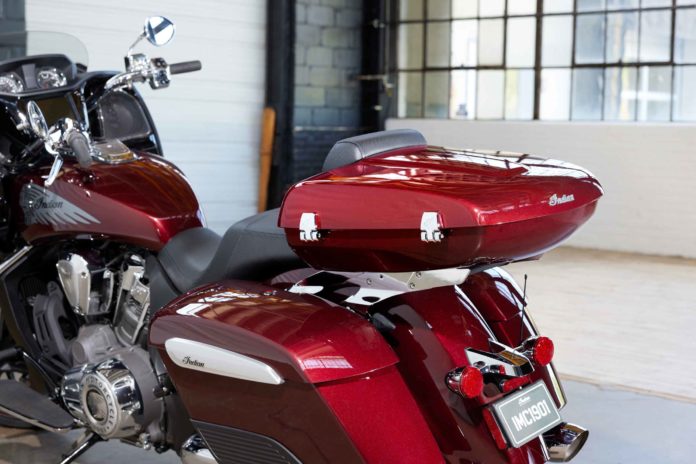 Indian Motorcycle recently released an all-new Quick Release Low Profile Trunk, fit for all heavyweight Thunderstroke and PowerPlus models (Springfield and up). Featuring modern and streamlined style the new trunk easily fits two half helmets, gloves, and a jacket. And with a 22 pound cargo limit, it's ideal for day trips and small adventures. It also looks much more svelte when attached to the Indian Motorcycle baggers.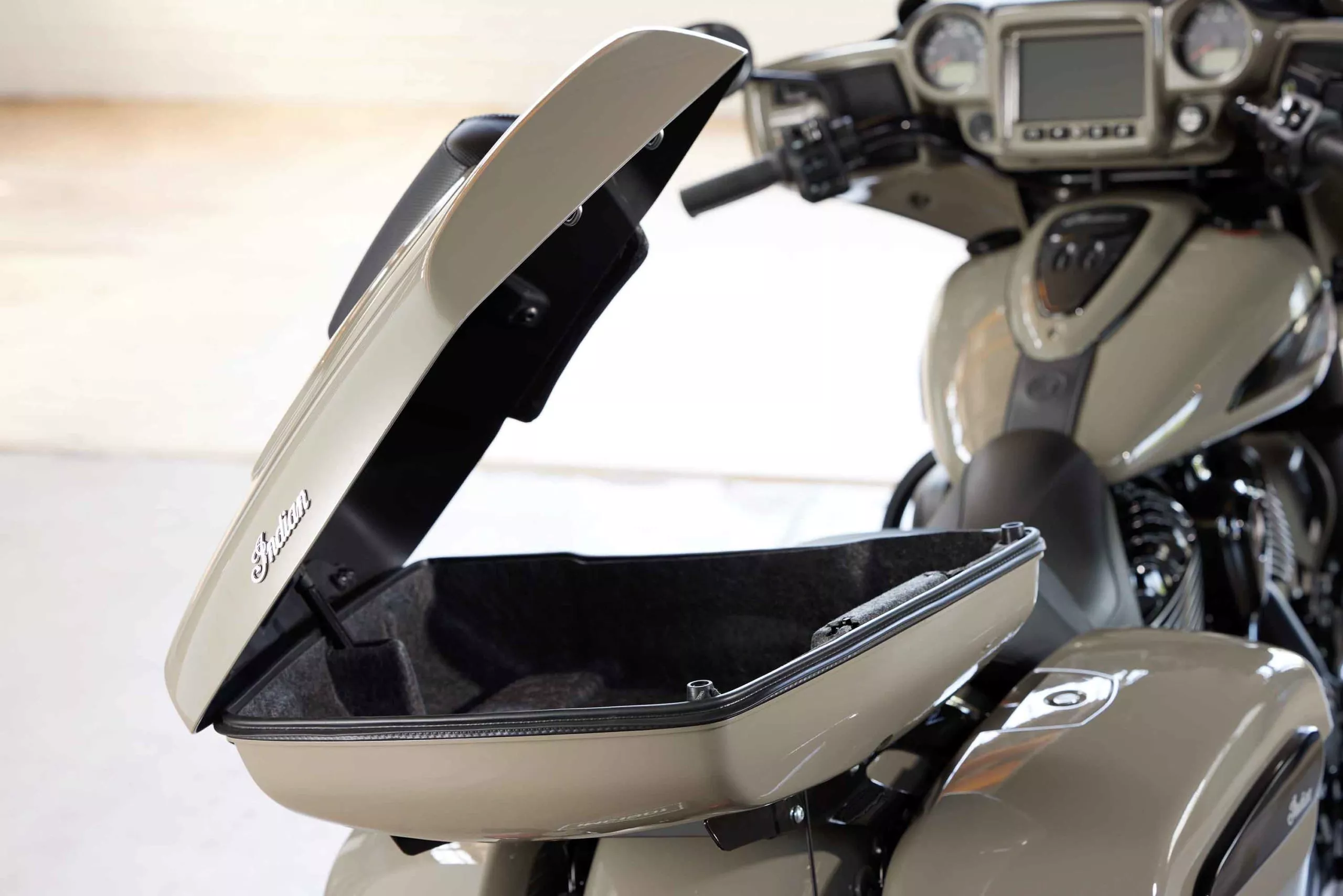 The Low Profile Trunk's Quick Release technology allows riders to easily install and remove the trunk without any tools, solely using the trunk's locks on each motorcycle's saddlebag mounts. This Quick Release Low Profile Trunk is factory engineered to add exceptional style, passenger comfort, and extra storage space to your Indian Motorcycle, while still maintaining a streamlined look. The hinged, lockable lid lifts to the side with the assistance of a gas strut for ease of opening, as well as to stabilize the trunk while open. The trunk bottom is covered with a soft, automotive-quality liner to reduce cargo from moving while riding. The Quick Release Low Profile Trunk's 2800 cubic inch (12.12 gallon) volume easily fits your belongings. Quick Release technology lets you install or remove the trunk quick and easily without tools. Integrated mounting hardware at the base of the trunk locks onto the bike's saddlebag mounts, and when the trunk is removed from the bike, no mounting hardware remains on the motorcycle. No power connection plugs required, further ensuring easy installation.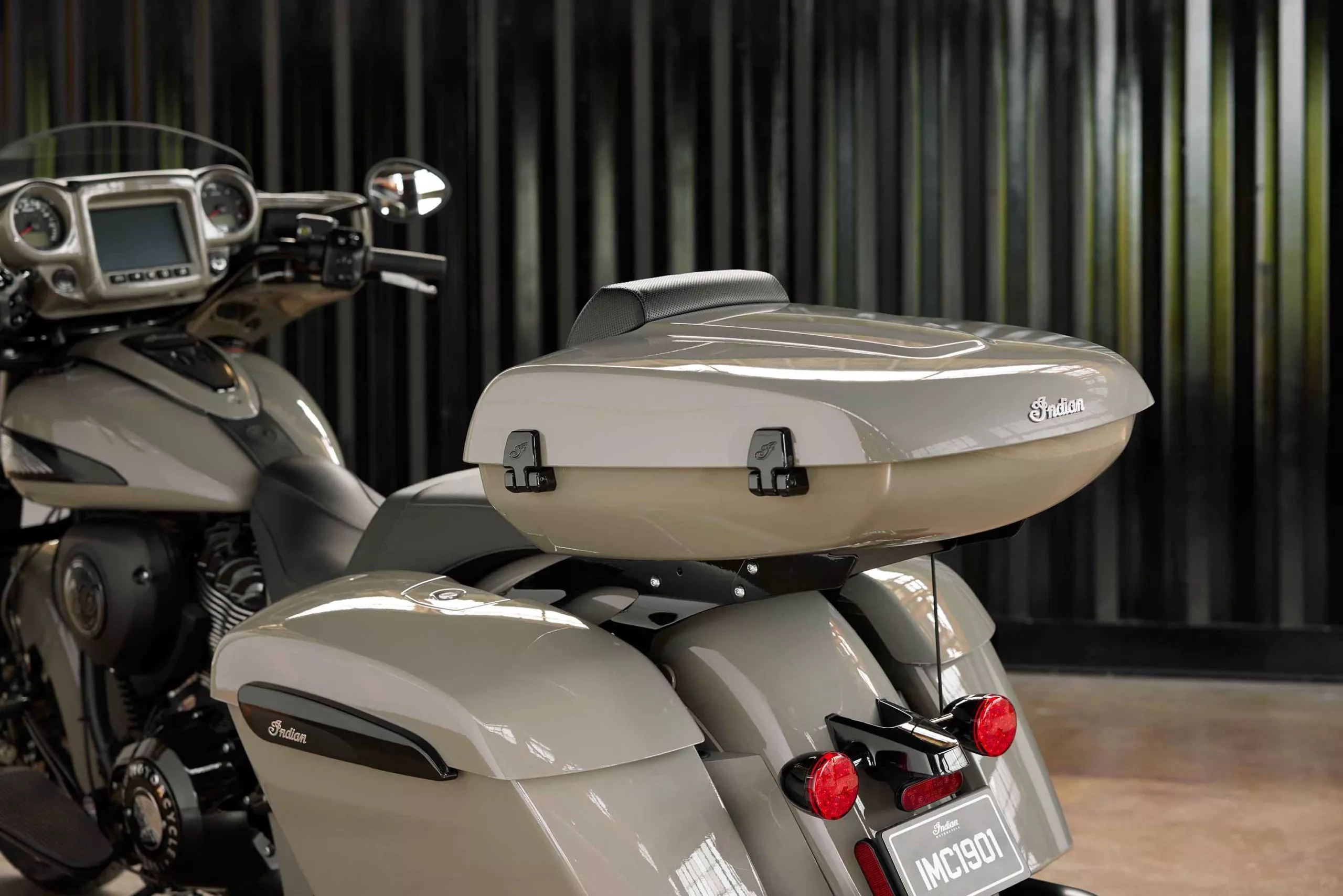 The Low Profile Trunk will be available in a total of 48 colorways. For more information, visit the product page HERE.
Low Profile Trunk: $1799.99
Trunk + Install Kit: $2319.96
Check out Indian's Limited-Edition Baggers HERE.




Source : Hotbikeweb