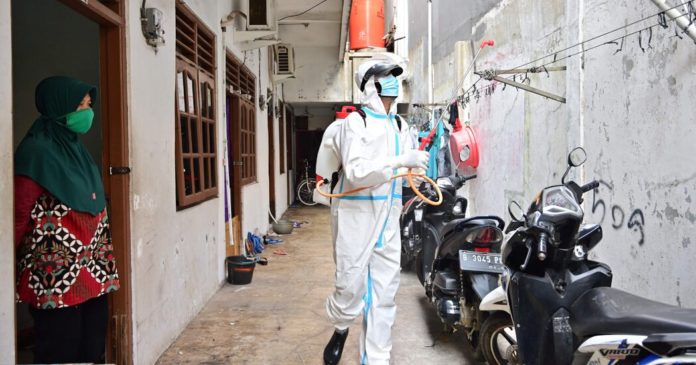 Indonesia, where coronavirus cases have been rising steadily for months, has overtaken the Philippines and now leads Southeast Asia in the number of reported cases and deaths from the coronavirus.
Together, Indonesia and the Philippines account for nearly 90 percent of the confirmed cases in the region, and both countries expect to see their economies contract this year.
As of Friday, Indonesia has reported 353,461 cases and the Philippines 351,750. More significantly, Indonesia's death toll of 12,347 is nearly double that of the Philippines and is the highest in East Asia.
"Indonesia's death rate has always been high, and it shows that we have failed in the early detection of cases," said Dicky Budiman, an Indonesian epidemiologist at Australia's Griffith University. "Indonesia has to change its strategy by increasing testing massively and aggressively."
Because of the lack of testing, he said, many patients come to the hospital only when they are too sick to be helped. The actual number of cases is likely to be two to 10 times higher than the official figure, he said.
The virus in the Philippines remains out of control, he added, but the government there has had more success in containing it by increasing its testing.
As a whole, Southeast Asia's 11 countries have done relatively well in containing the virus. With a population of 655 million, the region reports about 820,000 cases. That is fewer than either California or Texas, which have much smaller populations, although both states have significantly higher testing rates.
Vietnam and Thailand have led the way, and neither country has reported a case of local transmission in weeks. Between them, they report fewer than 4,800 cases and only 94 deaths since the pandemic began.
But other countries, such as Myanmar and Malaysia, have seen a large spike in cases over the past 10 days and have imposed partial lockdowns in some areas. Both countries had limited the virus's spread earlier this year but are now wrestling with the surge in cases even as they face possible leadership changes.


Source : Nytimes