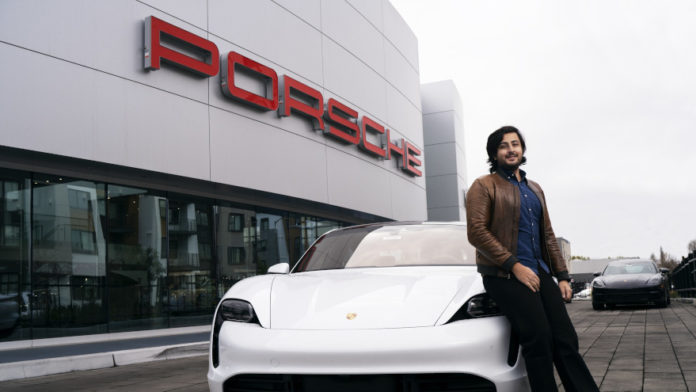 ATLANTA and RICHMOND, Va. – 
Wall Street news updates recently are filled with discussions about how social media triggered significant spikes in a couple of particular stocks.
However, investment in the automotive industry continues to chug along with two developments involving a luxury OEM and a start-up in the vehicle-transport space.
On Friday, Porsche Ventures announced that it has completed an investment in Cresta, a real-time intelligence company for customer conversations that specializes in messaging and voice communication.
And earlier in the week, Social Auto Transport, Inc., a gig economy platform that strives to help dealerships and other automotive companies efficiently move vehicles, announced the closing of its $1.5 million seed funding round.
Social Auto Transport is looking to provide assistance, especially for stores engaged in digital retailing with deliveries culminating someplace else other than the showroom. Founded in 2018, the firm want to help dealerships avoid hassle and decrease the cost of moving vehicles short distances.
The company's flagship product lets dealers offer on-demand service pickup and delivery to a customer's home or office, without the expense of hiring, training and insuring their own staff.
Social Auto Transport said its dealer customers are seeing a significant increase in the average size of repair orders, stemming from the additional time they get to thoroughly diagnose and repair issues without keeping customers waiting in the dealership.
"Working together in the automotive and logistics spaces over the last decade, (co-founder and chief technology officer Rob Newton) and I witnessed firsthand the many inefficiencies in the short-haul transportation of cars," Social Auto Transport co-founder and chief executive officer Nick Mottas said in a news release.
"We built Social Auto to make short-distance car moves quick, easy and affordable for dealers, repair shops and fleet operators," Mottas continued. "Our customers love the convenience of our on-demand, turnkey model, and they consistently benefit from a revenue increase when using our platform."
Social Auto Transport currently operates in the Richmond, Va., and Charlotte, N.C., markets and will use the seed funding to rapidly expand across the U.S., beginning now in Philadelphia and in Atlanta in February.
Following these two launches, Social Auto Transport said will launch in four additional cities over the next two quarters.
According to the news release, the seed funding round was led by Overline, an Atlanta-based seed-stage venture capital firm that focuses on startups in the Southeast. Michael Cohn and Sean O'Brien are managing partners of Overline. Each one offered their perspectives on the investment decision and Social Auto Transport's value proposition.
Cohn said, "We are thrilled to partner with the Social Auto team. We see tremendous opportunity to build a nationwide network for moving cars short distances with highly trained, licensed and insured gig economy drivers. With consumer interest in concierge service offerings increasing dramatically as a result of COVID, we see at-home pickup and delivery quickly moving from a competitive advantage for early-adopter dealers to a competitive must-have."
O'Brien said: "We continue to see tremendous innovation and opportunity in the automotive and logistics industries, which are key focus areas for our fund. We love the value that Social Auto provides to all of its stakeholders, including their dealer customers and consumers, as well as their drivers, who make more on average than when driving for traditional gig platforms — with the added security of a more predictable wage. There are also significant driver benefits that come from moving cars instead of people, which we believe make Social Auto an attractive option for drivers that are uncomfortable transporting strangers and putting significant mileage on their personal cars."
Other investors in Social Auto Transport include Automotive Ventures, Estes Express Lines and Kevin Nolan, founder of Nolan Transportation Group and OTR Capital.
Newton reiterated what the new funding means for Social Auto Transport's future.
"This seed fundraise is wholly focused on helping us push toward new market expansion and penetration," Newton said. "When assessing the viability of a market, we look at factors like number of potential customers and need for our service. Both large, logistically-complicated cities, Philadelphia and Atlanta emerged as high target markets for this next phase of our growth.
"We know that once we get our feet on the ground, our end-to-end turnkey service will become invaluable to local dealers and help us penetrate these cities," he went on to say.
Dealers interested in Social Auto services can learn at www.socialautotransport.com/dealers-overview.
Porsche investment in Cresta
Porsche is certainly accelerating its relationship with Cresta based on the details shared in a news release.
Alongside the investment, the companies said Cresta's software will be rolled out across the online platforms of Porsche Cars North America (PCNA) and Porsche Financial Services (PFS) to create an OEM-wide network that will enhance the customer support experience.
"Porsche and Cresta are a great fit, and more importantly, the solution will directly benefit our customers," said Stephan Baral, head of Porsche Ventures Region USA.
"The rollout of Cresta's software in our digital ecosystem will be a notable change, and the nature of their (artificial intelligence) engines mean the customer experience will only continue to improve," Baral continued. "Being their first automotive partner will allow us to support the Cresta team with further growth in our industry."
The automaker indicated the first area to receive a Cresta-powered AI update will be Porsche Connect, a comprehensive suite of services and apps that supports the features of Porsche vehicles.
The company explained a typical use case would be planning a long journey in the all-electric Taycan through the Charging Planner to calculate the fastest route, including the required charging stops. Perhaps the driver has a question, such as "How do I activate free charging at Electrify America stations?" Porsche said drives will be able to benefit from a new chat function expected to launch in Porsche Connect on smartphones and laptops later this year.
This capability will ensure immediate response and, if necessary, assistance by a service representative, according to Porsche.
Further rollout is in the planning stages to streamline communications across PCNA touchpoints, from discovering your dream car in the Porsche Finder search portal to asking about the details of a current vehicle contract with Porsche Financial Services.
"This partnership happened because of the vision and hard work of the Porsche Ventures team. This is a great opportunity to realize that vision and to prove Cresta's technology with one of the most prestigious, high-performance automotive brands in the world," said Zayd Enam, chief executive officer and co-founder of Cresta.
Enam continued with, "2020 accelerated digital transformation across every industry, led by an overwhelming surge in digital interactions. Cresta enables brands to make the most of and learn from every customer conversation in this fast-changing world."
Enam went on to mention that Cresta's solution can handle inquiries independently and also connect customers with representatives when needed.
Furthermore, he added that Cresta can improve the help provided by customer service personnel who are offered real-time coaching and automated assistance as they interact with customers.
Internal research has shown that Porsche owners expect digital options to connect with the company, including online chat, which is also in demand by dealers.
Porsche Ventures engages with top entrepreneurs across the globe using regional investment teams.
"Through its global presence with different locations in key technology ecosystems, Porsche Ventures is an active part of the international digital scene and extremely well networked," the company said. "This enables promising startups to be identified worldwide at an early stage."


Source : AutoFinanceNews