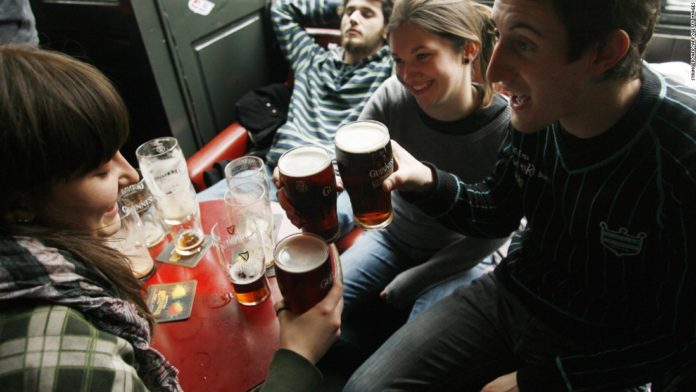 The Public Health (Alcohol) Bill will allow for a series of changes to be implemented nationwide, including the introduction of a minimum price per unit of alcohol, restrictions on advertising, separation of alcoholic products from retail areas inside shops and the introduction of cancer warning labels on containers.
Health Minister Simon Harris hailed the legislation as a positive achievement for the well-being of the entire country.
"For the very first time in our history we are legislating for alcohol as it affects our health and it is right and proper that we do that," Harris said Wednesday.
"We know we have a relationship with alcohol in this country that is not good, that damages our health, that harms our community. This will help to change the culture of drinking in Ireland over a period of time," he said.
The Irish rank 12th in alcohol consumption per adult, according to a 2015 World Health Organization report.
In Europe
, Ireland ranked 5th in 2016 for consumption by people over the age of 15. Binge drinking is prevalent among 39% of adult drinkers, according to a
2017 Irish Health Survey
by the Central Statistics Office.
Excess consumption plays a steady role in deaths related to drunken driving, assaults, suicide and domestic violence nationwide.
Alcohol is the cause of three deaths a day in Ireland, according to a 2016 report from the country's Health Research Board.
Alcohol Action Ireland, an independent national charity for alcohol-related issues, said new legislation would help change the country's drinking culture and reduce harm.
"Soon, Ireland will commence the implementation of the Bill; the measures as designed, when implemented coherently and cohesively, and in a timely manner, will make a significant difference, over time, to reducing Ireland's excessive alcohol consumption, altering our drinking culture and ultimately protect our children," an Alcohol Action Ireland statement said.
Ireland is the second European country in recent months to bring in legislation to curb problem drinking.
In May,
Scotland became the first country
in the world to set a minimum price per unit on alcohol, with its government of the belief that the measure will save lives.
Ireland's Prime Minister Leo Varadkar, who supported the bill, is equally as hopeful.
In a Twitter post Wednesday he wrote, "Decision made today will be remembered by history and will save countless lives."
A
recent study
found that alcohol was the leading risk factor for disease and premature death in men and women between the ages of 15 and 49 globally in 2016, accounting for nearly one in 10 deaths.
Correction: A previous version of this story stated the bill was debated for 1,000 days. The bill was introduced 1,000 days before it passed.


Source : Nbcnewyork