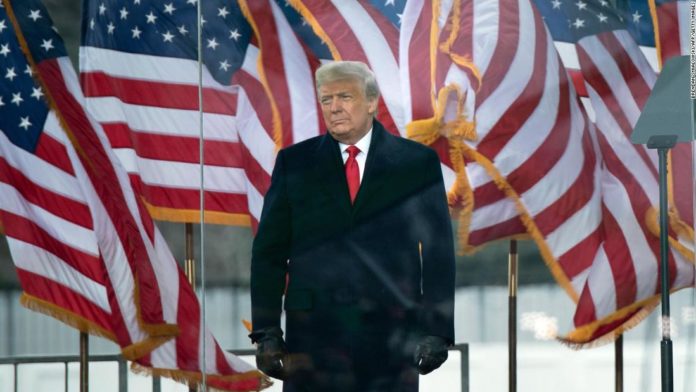 Th
e Democratic-led committee
is acting on multiple fronts but is in a race against time. First, it is confronted by the ex-President's obstruction as he tries to dodge accountability. And haunting the panel's every move is the possibility of a new Republican-led House after the 2022 midterm elections that would likely close it down. The committee was in court Thursday
fighting Trump's bid
to keep documents about what happened in the White House on January 6 on dusty National Archives shelves. It's firing off new subpoenas as it tries to sketch a true picture of what really happened in the days running up to that shocking day. And on Friday,
a key member
of the inner circle that gathered around Trump ahead of those dark hours is expected to show up on Capitol Hill for an interview.
Ultimately, the committee is charged with producing clarity about one of the most aberrant days in American history. Although what happened now feels less alarming, partly because of the repetition of video of Trump supporters invading the Capitol and the attempts by Republicans and conservative media to rewrite history, it is still staggering. An American President refused to accept the result of a fair, democratic election and tried to defy the will of voters by using the power of his office and violence to steal another term.
In an apparently positive sign for the investigators, a federal judge Thursday expressed skepticism over Trump's broad assertions of executive privilege over hundreds of documents related to his actions on January 6 that he is struggling to keep secret.
At a dramatic moment in the hearing on the matter, Judge Tanya Chutkan asked Trump's lawyers why they were arguing that he had the right to stop public access to the records, following the assault on the Capitol.
More subpoenas coming soon
Eastman has emerged as a central figure in Trump's efforts to subvert the constitutional process of certifying a new president and to defy the will of voters with his attempt to cling to power. The conservative lawyer drew up a now-notorious memo with step-by-step instructions about how then-Vice President Mike Pence, who was presiding over the certification process, could throw the election result into the House of Representatives, where a majority of Republican delegations could award the presidency to Trump.
In another development on Thursday that shows the gathering pace of the House select committee's work, its vice chairman, GOP Rep. Liz Cheney of Wyoming, revealed that investigators had interviewed 150 people despite lengthy negotiations with other subpoenaed Trump officials and associates that are delaying testimony.
Trump is also facing scrutiny outside Washington. Investigators in Fulton County, Georgia, are considering whether his pressure on the Peach State's Republican secretary of state, Brad Raffensperger, to find votes to cancel out Biden's win in the state was criminal.
But it's the House committee that represents the last chance for an official accounting of the worst attack on democracy in modern American history. Republicans have sought to thwart the committee every step of the way — even pulling support for a bipartisan deal on an independent 9/11-style commission after Trump loudly complained. While the select committee is led by Democrats, House Speaker Nancy Pelosi also appointed Cheney and Rep. Adam Kinzinger of Illinois to sit on the panel. Both Republicans are staunch conservatives but outspoken critics of Trump's anti-democratic antics — a stance that has ostracized them in their party. Pro-Trump forces plan to challenge Cheney for her seat in Wyoming and she lost a plumb party leadership post in the House Republican conference earlier this year. Kinzinger just announced he would retire at the end of his term after expressing despair over his party's failure to defend the rule of law.
Rep. Jamie Raskin, the lead impeachment manager in Trump's trial earlier this year and a member of the committee, explained on CNN last Saturday why it was so interested in getting the trove of documents.
"We want to document a complete record of everything that was going on, really minute by minute, during the day of the insurrection," the Maryland Democrat said.
Time is running short for committee
It is almost inconceivable that Republicans who have anchored their campaign for 2022 on Trump's base voters would continue to investigate the Capitol insurrection if they take power. And the ex-President's growing attempt to hide his role on January 6 is taking place as he plots a political comeback that could be damaged by a damning report from the committee.
Even if it ends up being frivolous, his legal campaign could delay the turnover of documents, schedules and call lists, including some related to former White House chief of staff Mark Meadows. Biden has refused to shield the documents with executive privilege — a concept meant to offer presidents the confidence that private consultations with advisers on matters of state will remain confidential.
But Trump is also clearly keen to prevent the committee finding out how involved he may have been in planning the Capitol riot and what steps he failed to take to quell it as lawmakers fled for their lives and police officers were beaten up by his supporters. His efforts are a key component of his increasingly likely 2024 campaign, as he eyes another term, which would likely test the strength of democratic institutions even more than his first.
Even if the judge rules against Trump in the case, it is likely the former President will lodge appeals up to and including the Supreme Court.
Former presidents are considered to have some expectation of executive privilege, but the final say on the scope of that protection rests with the person holding the office of the presidency, not with the ex-President. Biden has said he believes that the circumstances of the Capitol insurrection are so grave that Congress has an interest in finding out what happened and so he declined to help Trump's bid to stop the National Archives from releasing the documents.
John Dean, White House counsel to President Richard Nixon and a key witness in the Watergate investigation, said he didn't believe that Judge Chutkan was buying the Trump team's arguments on executive privilege.
Dean thinks that ultimately the courts will not uphold Trump's attempt to assert privilege over all the documents but could narrow the select committee's request.
"I think in the long run there will be a limited right for a former president to withhold documents — otherwise it makes this privilege meaningless — but not an over-broad privilege that Trump is trying," Dean told CNN's Jake Tapper on Thursday.
CNN's Katelyn Polantz, Marshall Cohen, Annie Grayer and Ryan Nobles contributed to this report.


Source : Nbcnewyork