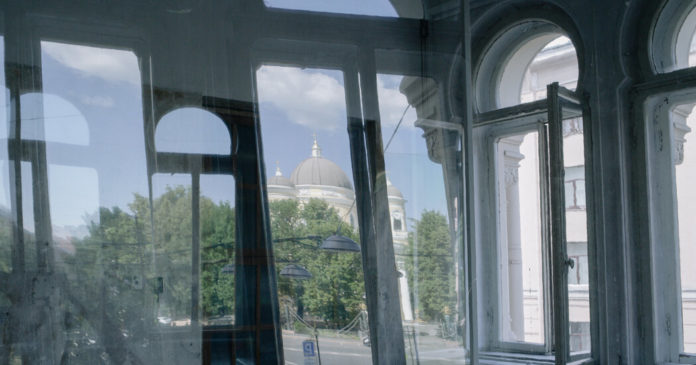 ST. PETERSBURG, Russia — Until he fled the Soviet Union in 1972, the Russian poet Joseph Brodsky lived in a drab communal apartment in St. Petersburg, sharing a bathroom and kitchen with three other families.
Whatever the "despicable aspects of this mode of existence," as Brodsky described it, his home life served his art well, inspiring some of his most intense poetry and other writings. In a well-known 1985 essay, he said that communal living "has perhaps its redeeming side" because it "bares life to its basics: it strips off any illusions about human nature."
Communal living may have been good for his poetry. But it was not so good when the attempts started to turn his home into a museum.
Russia loves to lionize its literary giants, but even the mighty Russian state could not open a museum in a shared apartment with other residents still ensconced in it.
After years of effort, though, a nonprofit foundation managed to get the other tenants out. All except one.
The last holdout was Nina Fyodorova, 81, who had lived in her room her whole life. She was relentless in refusing to leave at any price, saying: "You cannot uproot an old tree!"
But a rare grass-roots project in a country where the government aims to control all spheres of public life succeeded where the Kremlin could not: The privately backed Joseph Brodsky Museum opened in the poet's old living quarters this past December.
"The state usually tries to capture the memory about such important figures as Brodsky," said Yulia Senina, a researcher at the museum, which has become a top attraction in St. Petersburg, Russia's cultural capital. "We are an exception."
Brodsky died in Brooklyn in 1996 at 55, but many lifelong friends in his native city survived him, and, against the odds, they dreamed of opening a museum in a space so influential to his art.
Two of those friends, Mikhail I. Milchik and Yakov A. Gordin, solicited help from Russian corporations and started buying rooms in the communal apartment shortly after Brodsky's death.
Communal apartments were a hallmark of Soviet life — and they remain common for many in Russia's second-largest city. On the outside, St. Petersburg, once the grand capital of a vast empire, is a city of ornate mansions. But inside many of these lavish facades, people are often crammed in dreary rooms with multiple families sharing one toilet.
Brodsky, future winner of the Nobel Prize in Literature, lived in a single room that had been part of a palatial enfilade. After the Bolshevik Revolution, the long row of perfectly aligned doors was filled with brick, creating separate rooms for families.
President Vladimir V. Putin, 12 years younger than Brodsky, grew up in a similar communal apartment just two blocks away — though he had no bath at all and had to use a communal bath house nearby.
In their family of three, Brodsky's parents assigned their son the smaller part of the room. Separating the space into two rooms was not allowed by law, but as he grew older and needed more privacy, Brodsky carved out a small space for himself, by repositioning his family's tall armoires and tearing down a back wall in one of them, so visitors could enter through it.
In his 1985 essay, he wrote: "These 10 square meters were mine, and they were the best 10 square meters I've ever known."
Ten square meters is just over 100 square feet.
After Brodsky's death, the owner of that room, a Georgian businessman, knew its commercial value, if not its artistic one. He requested an exorbitant sum for it — more than $250,000. Once Mr. Milchik had raised that, the businessman raised the price by another $75,000.
By a decade ago, Mr. Milchik's foundation had all the rooms in the shared apartment but Ms. Fyodorova's. It couldn't open the museum without acquiring it, and that final piece of the puzzle proved the hardest to fit.
Even though her room hadn't been Brodsky's, she was a part-owner of the communal spaces the museum needed to operate. And Ms. Fyodorova, understandably, was not eager to have crowds of visitors from all over the world stomping through her kitchen as she cooked dinner or arguing about rhyme by her bath as she washed her hair.
Whenever anyone did try to sneak a peak, Ms. Fyodorova would roar: "Visitors are not allowed!"
Brodsky's friends, some local government authorities and private benefactors made numerous attempts to cajole Ms. Fyodorova to sell, but she remained adamantly in place.
Stuck in this communal quandary, Mr. Milchik and Mr. Gordin experimented with different solutions. They put up webcams in Brodsky's room to let people experience the space online. That wasn't fulfilling enough. In 2015, they convinced Ms. Fyodorova to let them open Brodsky's room for a day to celebrate what would have been his 75th birthday. The line to get in stretched around the block.
The situation remained stuck until 2017, when Maksim Levchenko, a local real estate tycoon, got involved. First, he tried to charm Ms. Fyodorova. He even took out her garbage.
Ms. Fyodorova was steadfast, but she suggested another solution. An adjacent apartment went up for sale, she said, and it would be possible to connect the two and thus let people enter Brodsky's space without intruding on Ms. Fyodorova's privacy.
Mr. Levchenko bought it for $500,000. "You cannot measure it with money," he said of the importance of giving Brodsky's legacy a public space.
The museum was finally possible, but it still lacked items to exhibit.
While Brodsky elected never to return to St. Petersburg, one of his most cherished belongings did. This June, workers reassembled the burly brown desk he had used in Brooklyn.
Some other items were preserved by his hometown friends. In 1984, after Brodsky's parents died, Mr. Gordin collected the poet's books, papers and some furniture.
"In 1984, it was a deeply Soviet time, and we couldn't imagine that there could be a museum there," Mr. Gordin, 85, said. "But I had a strange feeling that it all needs to be preserved."
In 1990, after consulting with Brodsky, Mr. Gordin donated what he had stored to Russian libraries and museums. That created a problem: All items now belonged to the Russian state and couldn't be transferred to a private museum. The Brooklyn desk, lent by another museum, was installed for a temporary exhibition.
Thanks to the poet's friends, however, there are pictures of how the room looked before Brodsky emigrated.
On June 4, 1972, Mr. Milchik followed Brodsky to the airport, where the poet boarded a plane for Vienna.
"At the time, farewell parties resembled funerals," Mr. Milchik, 87, recalled. "We knew we would never see each other again."
Upon his return from the airport, Mr. Milchik, an arts researcher, took pictures of the room. Some photos show withering flowers from Brodsky's last Soviet birthday party, just days before he left.
Having only a few items that belonged to Brodsky, the museum's curators decided to keep his memorial space mostly empty, though there is a library, a lecture hall and space for temporary exhibitions.
The sparseness of the museum hasn't deterred visitors.
Andrei Khapayev, 41, an IT specialist in Moscow, waited for weeks to get tickets. "This space is very important to me," he said.
Despite the success with visitors, the museum's future is by no means secure. Mr. Levchenko owns the apartment through which people enter the memorial room, which in turn is owned by the foundation headed by Mr. Milchik. Their relationship? Tense.
Then there is Ms. Fyodorova. She still resides on the other side of the wall and can turn off the electricity at any moment.
"We are doomed," said Mr. Milchik, "to live in peaceful coexistence."


Source : Nytimes