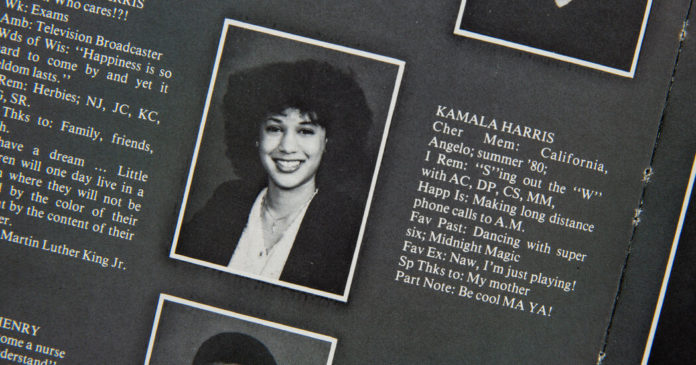 Hi, this is Dan Bilefsky, a Canada correspondent for The New York Times based in Montreal, where Senator Kamala Harris spent her oft-overlooked teenage years.
During Wednesday's U.S. vice-presidential debate, Ms. Harris, a former California attorney general, prosecuted her case against the Trump presidency. But for the past month, I've been trying to understand a different Kamala: the disco-dancing adolescent shaped by her formative years at a multicultural high school in Montreal in the late 1970s.
[Read: In Canada, Kamala Harris, a Disco-Dancing Teenager, Yearned for Home].
The assignment had particular resonance for me because my childhood intersected with Ms. Harris's. While I didn't know Ms. Harris, I grew up in Montreal near Westmount, a few blocks from where she lived with her mother, Shyamala Gopalan Harris, and her sister, Maya. I was in high school around the same era as Ms. Harris. And my father, a kidney specialist, worked at the Jewish General Hospital, where her mother did pioneering breast cancer research.
We also share another connection: While young Kamala was channeling Diana Ross in an all-girl troupe in which her nom de disco was "Angel," I was pretending to be John Travolta, clumsily twirling my older sister to the soundtrack of "Saturday Night Fever."
Two themes stood out as I was reporting the story. One is the infinite influence of mothers in shaping who we become. The other was how the Canadian model of multiculturalism — in which we are part of a mosaic of different cultures rather than a melting pot — embraced a young American girl homesick for California.
Ms. Harris's mother, born in India, had divorced her Jamaican-born husband, a Stanford economist, by the time the family arrived in Montreal when Ms. Harris was 12 years old.
In Montreal, Dr. Gopalan Harris had her own laboratory and worked 10-hour days and on weekends. I discovered a 1985 article in the Montreal Gazette on leading female scientists in Canada in which she was profiled.
"Researchers live under terrible pressure. It's very difficult not to take their work home at night," she told the paper. "Children don't understand work pressures," she added. She credited young Kamala and her sister for forcing her to "turn off at least for a few hours when I got home."
Dr. Richard Margolese, a professor of surgical oncology at McGill University in Montreal, who worked with Dr. Gopalan Harris, told me that she asked to be called Shyamala. Her independent streak left an impression. "Here she was in this strange country, a single mother with two young daughters, doing important breast cancer research in a field where there were not a lot of women at the time," he recalled.
Wanda Kagan, Ms. Harris's best friend from high school, went to live with her family for a time to escape an abusive stepfather. She told me that Dr. Gopalan Harris made sure she received counseling, and treated her like family, including making certain that she and the Harris sisters studied every day after school.
"Her mom sometimes wore '70s bell-bottom jeans. She was sassy but also strict," Ms. Kagan told me. "She was a proud Indian woman."
Ms. Kagan said Ms. Harris was largely sheltered from Quebec's political upheaval when she was at Westmount High from 1978-1981. But she said she believed her friend's progressive politics were influenced by having come of age in a humanistic country with universal health care and less racial strife than the United States.
Her childhood friends recalled a confident young woman who showed seeds of activism, found cultural affirmation in her Black identity and complained about French class.
Mara Rudzitis, an art teacher at Westmount High for 22 years, recalled Kamala sometimes spent her lunch hour making art in the arts and crafts studio, where students would come to paint and make ceramic masks.
"We didn't get the cream of the crop at Westmount High — many of those kids would go to private schools — we got more of the sour cream," she told me. "Kids are very impressionable at that age and Kamala was exposed to people from all walks of life and nationalities."
Ms. Kagan told me that while Ms. Harris was a diligent student, her limited exposure to French before coming to Canada disadvantaged her at a high school where the students in the French immersion section received more attention and resources. Ms. Harris arrived in Montreal knowing a handful of French words learned from ballet classes and was placed in the English section, Ms. Kagan said.
Now, however, Ms. Harris is one of Westmount High's most celebrated alumni (Leonard Cohen also studied there). During a recent politics class there, students debated Ms. Harris's record as California attorney general, including whether she had done enough to mitigate racial disparities in the U.S. criminal justice system.
Members of the class were also giddy that she had walked the same halls.
"The students, especially the Black girls, are motivated by seeing a Black woman from Westmount High running for one of the highest political offices in the world," Robert Green, who teaches the class, told me.
---
Trans Canada
---
How are we doing?
We're eager to have your thoughts about this newsletter and events in Canada in general. Please send them to nytcanada@nytimes.com.
Like this email?
Forward it to your friends, and let them know they can sign up here.


Source : Nytimes