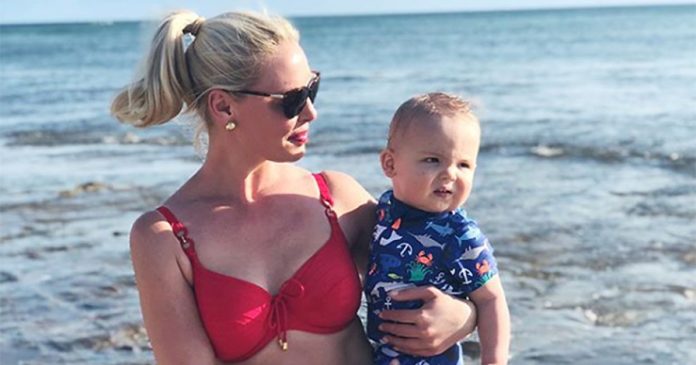 Fun under the sun! Katherine Heigl is enjoying her family vacation in Mexico and she shared some adorable Instagram photos of their trip.
The 27 Dresses star shared multiple photos of herself with husband Josh Kelley, their children and other family members, writing: "Mis Amores…❤❤❤❤❤❤." Heigl wore a blue and white striped two-piece ensemble and proudly showed off her toned physique.
Heigl, 39, shared another series of photos of herself enjoying the beach with her children while wearing a two-piece bikini. "#thoseheavenlydays are plentiful in this extraordinarily beautiful, peaceful serene spot in Mexico. I may never leave…🌴🌞👙🍹," she captioned the post on Monday, March 5, also revealing that it was their first getaway in a couple of years.
"From ❄ to 🌞 First family vacation in two years…man am I grateful to be here!" she captioned other sweet snaps on March 3. "#thoseheavenlydays are sun-soaked ocean views enjoyed with friends and family!"
The Grey's Anatomy alum, who gave birth to son Joshua in December 2016, recently showed off her post-baby weight loss, revealing that she was preparing for her upcoming beach vacation and a new role.
"It's been almost 14 months since Joshua Jr was born and it has taken me about that long to really get back in shape," she wrote in February, along with three progress photos from her transformation journey. "I have a beach vacation coming up, a new job I start filming in April and my deep desire to feel fit, strong and sexy propelling me forward the last two months to finally loose the last of my baby weight and do a deep dive search for the ab muscles I knew were buried under that belly somewhere!"
She added: "I am so grateful I've had a full year to find those ab muscles and get my butt back up where it belongs and wasn't forced by work to snap back into shape but it is time to make the strength, fitness and overall health of my body a priority."
The Ugly Truth star shared that she's been achieving her fitness goals using trainer Kayla Itsines' BBG — Bikini Body Guide — program as she prepares for her upcoming role in Suits. It was announced in January that Heigl is set to join the hit USA series for season 8 after Meghan Markle and Patrick J. Abrams announced their departures.


Sign up now for the Us Weekly newsletter to get breaking celebrity news, hot pics and more delivered straight to your inbox!





Source : USmagazine