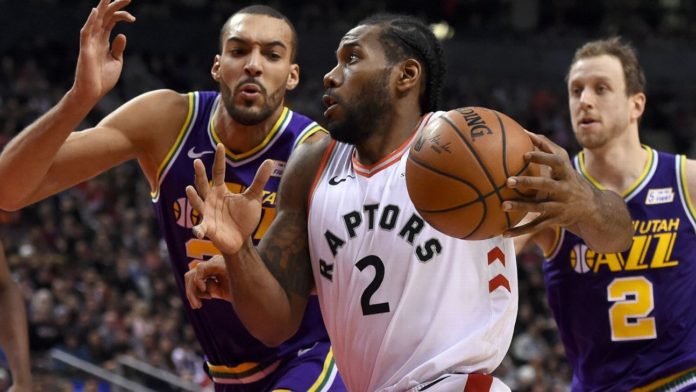 SAN ANTONIO — Toronto Raptors wing Kawhi Leonard acknowledged that "at times" he wishes things would have gone differently during his acrimonious split from the San Antonio Spurs, adding that his time with the franchise "meant a lot" for his development.
But Leonard declined to answer when asked why he wanted out of San Antonio and is unsure how he'll be received Thursday when he faces the Spurs for the first time since the organization traded the forward and Danny Green to Toronto in exchange for DeMar DeRozan, Jakob Poeltl and a 2019 first-round pick.
"I put up blood, sweat and tears wearing that [Spurs] jersey," Leonard said during Toronto's shootaround at the AT&T Center. "I put [in] a lot of work here."
The Spurs traded Leonard in July after the forward requested the team move him, as the sides couldn't find resolution to issues arising throughout a season-long saga that involved the team and player disagreeing on aspects of his rehabilitation from a quadriceps injury.
Asked specifically why he wanted out of San Antonio, Leonard said, "I'm not going to discuss that here today."
But Leonard did admit he wishes the drama between him and the Spurs had played out differently.
"At times, yeah," Leonard said. "But it's a new year, new season. I'm just looking at what is in front of us right now."
And that's a 21-17 Spurs team on a two-game winning streak looking to rise in the Western Conference standings. Leonard will be competing in what's sure to be a hostile environment at the AT&T Center.
The Spurs have put together multiple video tributes for both Leonard and Green to celebrate their contributions to the organization, according to sources. But they're considering not running the tributes if they anticipate an overly negative reaction from the fans to the two-time NBA Defensive Player of the Year.
Leonard isn't worried about the reception, saying that a negative reaction "can only make me a better player."
Green, meanwhile, expressed optimism that both he and Leonard would experience a positive reception in their returns to the AT&T Center.
"I'm waiting to see," Green said. "I hope for one [reaction], predict and guess another. I'm waiting to see just like everybody else. We'll see what the fans show. I guess in the bigger picture, it really is just another game. I think for both sides the guys that have been in the trade and have been moved and played for both organizations, it's definitely probably a little more."


Source : ESPN