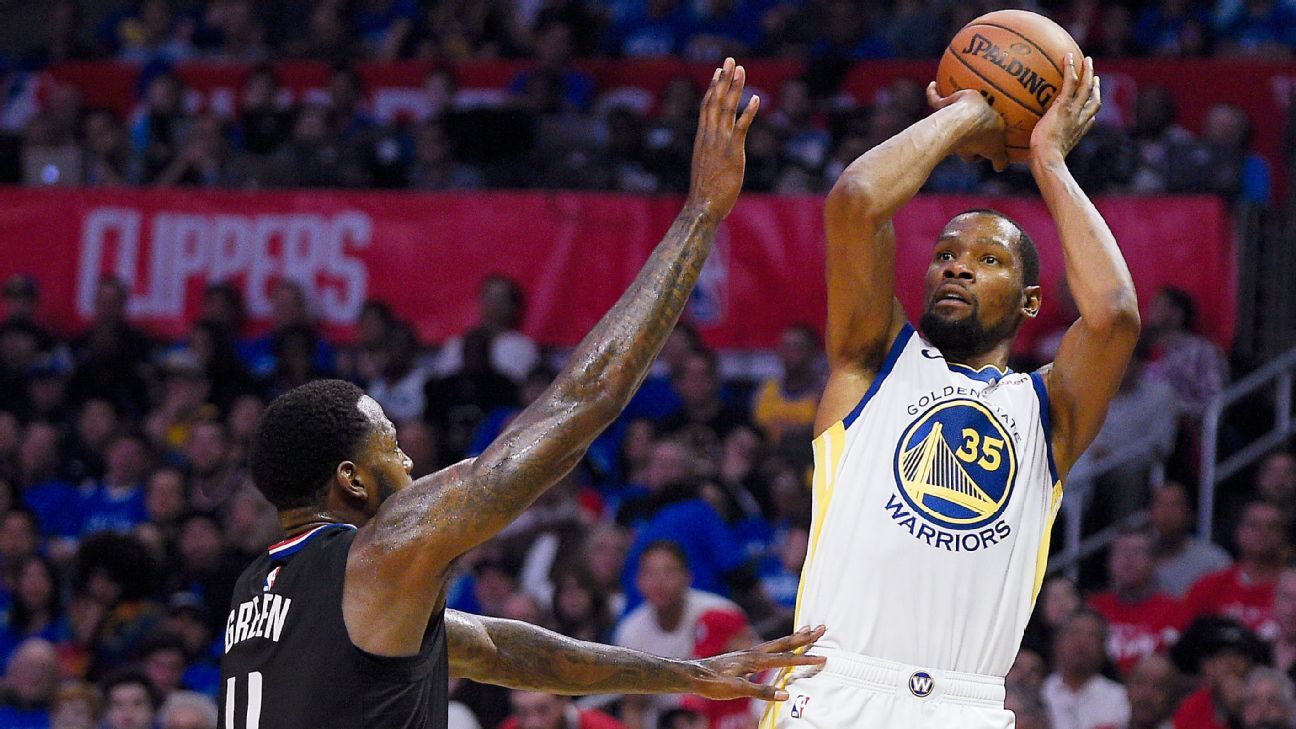 LOS ANGELES — Golden State Warriors superstar Kevin Durant dominated Thursday's 132-105 Game 3 win over the LA Clippers, scoring 38 points, dishing out seven assists and grabbing four rebounds in just 29 minutes.
The game came easy for Durant, who came into the contest very confident that he could take over when needed. After a verbal back-and-forth with Clippers guard Patrick Beverley which resulted in a Game 1 ejection for both players after picking up a pair of late double technicals, Durant chafed at the notion that Beverley and the Clippers were getting into his head following a 31-point second-half meltdown in Game 2.
"I'm not gonna get in the way of the game because I wanna have a little back-and-forth with Patrick Beverley," Durant said after Wednesday's practice. "I'm Kevin Durant. You know who I am. Y'all know who I am."
Durant let his game do all the talking on Thursday as he repeatedly drove by Clippers defenders while knocking down shots from all over the floor. Durant finished 14-for-23 from the field, which is notable because Warriors coach Steve Kerr was hopeful that Durant would be more aggressive after taking just eight shots in the Game 2 loss.
"The guy's the most skilled basketball player on the planet Earth," Kerr said. "There's nobody, there's nobody who can do what he can do. It's the playoffs; defenses are more locked in, they play everybody tougher. I don't know how many shots he got the other night — seven, eight — absolutely he needs to be more aggressive. It's the playoffs and he can get any shot he wants any time. So I want to see him get 20 shots — 30."
Durant's domination opened up the floor for the rest of his teammates as they fed off the ease with which he was controlling the game. The only blemish for Durant came with 8:39 in the third quarter when he was whistled for another double technical foul along with Clippers forward JaMychal Green. Neither player could believe the whistle blew as they were just exchanging a few words, but the new technical gives Durant three technicals in the postseason. Seven technicals in the postseason is an automatic one-game suspension.
With his first basket of the game, Durant passed Magic Johnson to move into 14th place on the league's all-time postseason scoring list. Durant, who now has 3,738 postseason points, is now just 17 points behind Hakeem Olajuwon for 13th on the list.
Durant's 38 points also tie a league record for most points in a playoff game when playing 30 minutes or less, according to Elias Sports Bureau research. Durant joins San Antonio Spurs big man LaMarcus Aldridge as the only two players to accomplish that feat.
With the win, the Warriors lead the series 2-1. Game 4 is Sunday afternoon at Staples Center.


Source : ESPN