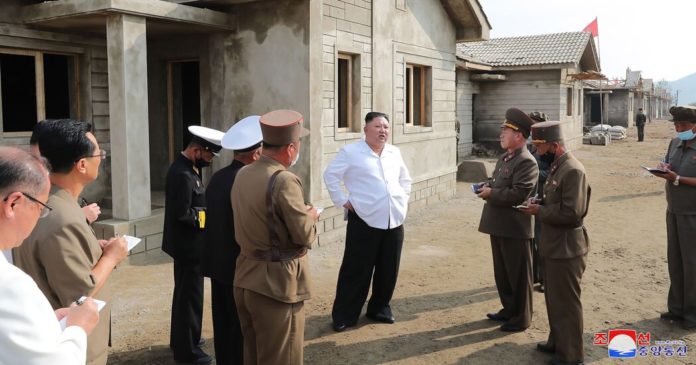 SEOUL, South Korea — North Korea's leader, Kim Jong-un, offered a rare apology on Friday for the killing of a South Korean government official at sea by soldiers from the North, South Korean officials said.
"I am deeply sorry that an unexpected and unfortunate thing has happened in our territorial waters that delivered a big disappointment to President Moon Jae-in and the people of the South," Mr. Kim was quoted as saying in a telephone message delivered to the South through the inter-Korean border.
The South Korean fisheries official went missing from his patrol vessel on Monday, and he was shot and killed in North Korean waters on Tuesday while apparently trying to defect, according to officials in the South. The North Korean soldiers then poured oil on the man's body and set it on fire for fear that he might be carrying the coronavirus, the officials said.
The South's officials said the man had appeared to be trying to defect to the North because he wore a life jacket, but added that they were still investigating his motives.
The killing sent shock waves through South Korea. Mr. Moon and his government immediately condemned the killing, calling it "stunning" and "atrocious" and demanding that North Korea apologize.
With all official channels of communication with the North cut off since June, South Korea sent a message through a cross-border telephone hotline between North Korea and the United Nations Command, demanding that the North explain why it had killed a South Korean citizen.
The contents of Mr. Kim's rare expression of contrition were disclosed to the news media by Suh Hoon, director of national security at Mr. Moon's presidential Blue House.
In the message, officials said, North Korea denied that its soldiers had burned the body of the South Korean man and offered an account that differed from the South's in key details.
When the crew of a North Korean ship found the South Korean adrift on Tuesday, they approached him and asked him to identify himself, according to the North's account. But the man did not respond properly, other than to indicate that he was from the South. When he refused to answer further questions, the North Korean ship moved closer, firing two warning shots, the North said.
Then the man ducked in surprise and appeared to try to escape, the North said.
"Our soldiers fired about 10 shots at the illegal intruder, based on a decision made by our ship's captain and according to operational guidelines of maritime security," the North Korean message said. When the shooting took place, the ship was 44 to 55 yards from the man, it said.
The North Korean ship later found much blood on the floatable device, but not the man himself, according to the message.
"Our military concluded that the illegal intruder was shot and killed, and burned his floatable device according to our epidemiological regulations," it said.


Source : Nytimes