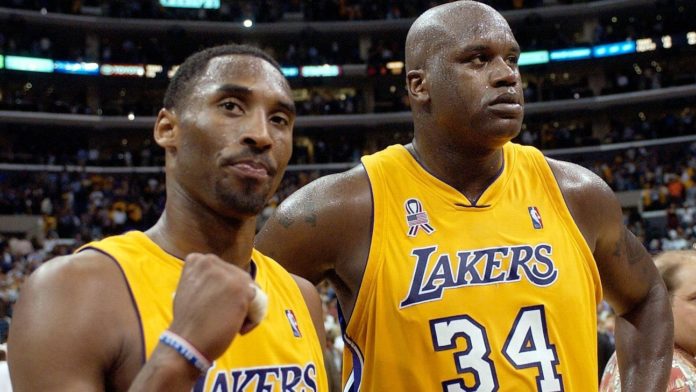 Kobe Bryant would have been happy for LeBron James and Anthony Davis winning the Los Angeles Lakers' 17th NBA title, Shaquille O'Neal told ESPN.
"After all that we went through [in 2020], it was a good ending for them to win the championship," O'Neal said. "I am sure if [Bryant] was still here, he would definitely be proud and showing his love and support on social media."
O'Neal — who is partnering with Pepsi Stronger Together to hold a charitable holiday market at Nashville's Jones Paideia Elementary Magnet School to provide food and entertainment for students and their families on Friday — was happy to see the Lakers, James and Davis win a title after Bryant's death in January, but doesn't want the duo to try to live up to comparisons to him and Bryant. The Hall-of-Fame teammates won three straight championships with the Lakers from 2000 to 2002.
"There will never be the next [Shaq and Kobe]," O'Neal said.
"We don't need them to catch up to us," O'Neal said. "Kobe and myself were not trying to catch Magic [Johnson] and Kareem [Abdul-Jabbar] … Kobe and I, [our] legacy will never be duplicated. Or imitated."
"We don't want to get into the situation where they can be the next us because there will never be a next us," O'Neal added. "Magic and Kareem can never be us. We could never be Magic and Kareem. And we can never be LeBron and AD."
O'Neal also made it clear that Davis is not a center when asked what Davis will face now as a dominant big man defending his first championship.
"Well, I hate when you all put power forwards and big men in the same category," O'Neal said. "You should talk to Tim Duncan. Because power forwards and big men are two different categories. Period.
"But I wish him well. My thing is just stay hungry. Why win one when you can win two, three or four."
The duo are both under contract with the Lakers for at least the next three seasons, with James signed through 2023 and Davis through 2025.


Source : ESPN