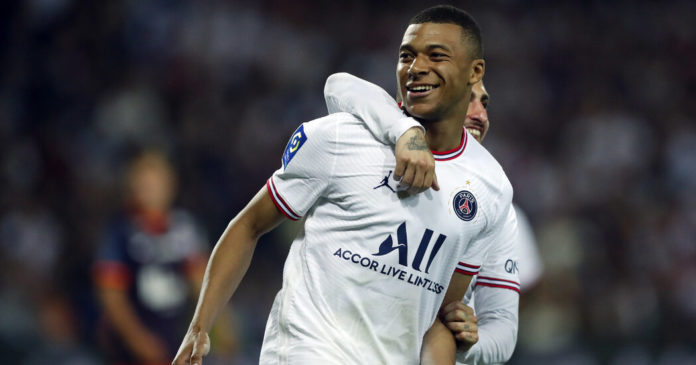 Paris St.-Germain has convinced Kylian Mbappé to sign a new contract, one of the richest in soccer history, that will keep the French striker at the club for the next three years while he pursues a second straight World Cup with France and attempts to end the club's string of failures in the Champions League.
His decision ended Real Madrid's hopes of luring Mbappé, arguably the best young player in the world, to the most successful team in European soccer.
Real Madrid, a 13-time European champion, had made Mbappé a contract offer that would have made the 23-year-old forward the highest paid player in its history. Its offer included a signing bonus of almost $140 million, a net salary of more than $26 million every season and complete control over his image rights.
But P.S.G., the perennial French champion that is bankrolled by gas-rich Qatar, prevented him from leaving as a free agent by offering even better terms. P.S.G. offered a similar fee but a far higher base salary (also after taxes), keeping him in a team that already includes the Argentine star Lionel Messi and the Brazilian forward Neymar, who was acquired by P.S.G. for a world-record fee of $263 million in 2017.
P.S.G. is expected to announce Mbappé's decision to re-sign with the club as soon as Saturday night. Mbappé informed Real Madrid earlier Saturday that he would not be coming.
P.S.G.'s success in convincing Mbappé to stay is the latest sign that the dominance of global soccer once in the hands of legacy clubs like Real Madrid, Barcelona and Manchester United has now shifted into the hands of a few Gulf-backed teams. P.S.G.'s confirmation that it had retained Mbappé came just over a week after Manchester City, owned by the brother of the ruler of the United Arab Emirates, confirmed that it had acquired Erling Haaland — a prolific Norwegian goal-scorer whose signature was considered by many an acquisition as highly sought-after as Mbappé's.
But unlike Haaland, whose contract had to be acquired by Manchester City for an eight-figure transfer fee, Mbappé's expiring contract in Paris made him a free agent, effectively able to choose from among the highest bidders for his prodigious talents. The unusually brief length of his new contract at P.S.G. — three years — suggests he could already be planning his move, and his next payday.
Amid an economic downturn caused by the coronavirus pandemic, few teams but the wealthiest elite have been able to make the type of marquee signings that were once a staple of every soccer off-season. But Mbappé had made no secret of his desire to move to Real Madrid from P.S.G., and the Spanish powerhouse went all out to recruit him. His expiring contract in Paris also meant he was a free agent, available without a multimillion-dollar transfer fee.
In addition to the nine-figure signing bonus and the stunning annual salary — a huge offer even by Real Madrid's standards — the club also was said to have offered Mbappé 100 percent control over his image rights, a lucrative revenue stream that Real Madrid typically shares with its roster of stars.
But P.S.G. and its Qatari owners managed to offer an even better deal in a transfer soap opera that has dragged on for more than a year, ever since Real Madrid first tried to extract Mbappé from Paris with the offer of a record transfer fee.
Last summer, Real Madrid and its president, Florentino Pérez, were so intent in making Mbappé the centerpiece of the club's efforts to return to the top of domestic and European soccer that they committed to pay more than $212 million for the forward, even though he would have been available as a free agent again this summer.
For P.S.G., retaining Mbappé provides a welcome highlight in a season that has been played against a backdrop of uncertainty after yet another failure in the Champions League. The club was eliminated early in the knockout stages — ironically by Real Madrid, which will face Liverpool for the trophy in the final next Saturday — even though it had added several A-list talents in the preseason, including Messi, who joined from Barcelona on a rich contract of his own.
P.S.G.'s strategy of bringing the most exciting talents, whatever the cost, has had mixed results. The team continued its dominance of the French league, the weakest of the five major European competitions, with yet another title, but success on the continental stage has continued to allude it, raising questions about the teams durability in the toughest games.


Source : NYtimes