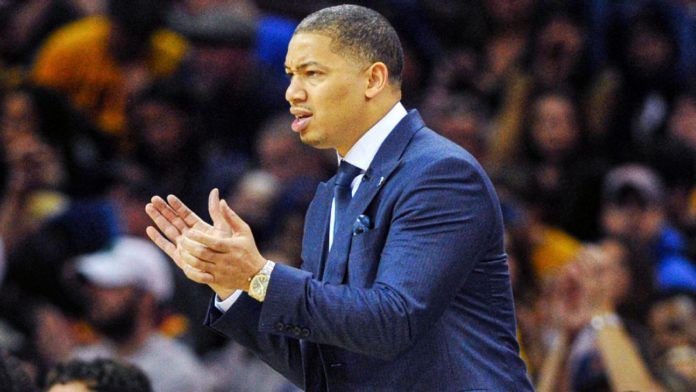 LA Clippers coach Ty Lue said he doesn't "give a damn" if anyone thinks his team purposely tanked the final two games of the regular season to drop to the fourth seed in an attempt to avoid the possibility of playing the Los Angeles Lakers in the first round of the playoffs.
The Clippers rested stars Kawhi Leonard and Paul George, other starters and rotation players in losses to the lottery-bound Houston Rockets (17-55) and Oklahoma City Thunder (22-50), dropping from third to fourth in the Western Conference playoff seeding. That prompted plenty of chatter and criticism that the Clippers (47-25) were trying to avoid a potential first-round matchup with the Lakers.
Entering Sunday's games, the defending champions had a chance of reaching the No. 6 seed and a first-round matchup with the No. 3 seed before finishing seventh and landing in the play-in game against the Golden State Warriors.
"I don't give a damn what anybody else thinks on the outside," Lue said Tuesday when asked about the noise over the Clippers aggressively pursuing rest for starters and landing on the side of the West playoff bracket that they wanted. "We decided to go health over anything else. We finally got our team healthy, and that is what we focused on."
Lue later added: "Whatever people say on the outside, I don't care. I don't read Twitter, have Twitter and Insta-twit, all that. I don't care about all that. I am my own man and I do what I want to do, that's how I live my life."
The Portland Trail Blazers' win over the Denver Nuggets on Sunday night relegated the Lakers to seventh. The Clippers' loss to a Thunder team that had lost 23 of its previous 24 games ensured that the Clippers would be fourth. Denver finished third due to its tiebreaker over the Clippers.
The Clippers face the Dallas Mavericks for the second straight year in the first round. If they eliminate Dallas again, the Clippers will face the winner of top-seeded Utah Jazz against the eighth seed, which will be determined by the play-in tournament.
For the second straight season, the Clippers had their continuity and chemistry disrupted throughout the campaign by injuries to Leonard, George, Patrick Beverley, Serge Ibaka and Marcus Morris Sr., among other key players.
Determined to have a longer postseason run than last year, when the Clippers blew a 3-1 series lead to the Nuggets in the second round, Lue rested his stars and key players while playing other starters or rotation players in the final two regular-season games. Center Ivica Zubac started the past two games but played a total of three-plus minutes. After the opening tip against the Thunder, Zubac fouled immediately so he could come out of the game.
Lue said he will take health over rust any day.
"If you look at our Cleveland days, none of our starters played the last two games of the season," said Lue, the former Cavaliers coach. "We took health, and that is the most important thing to me."


Source : ESPN