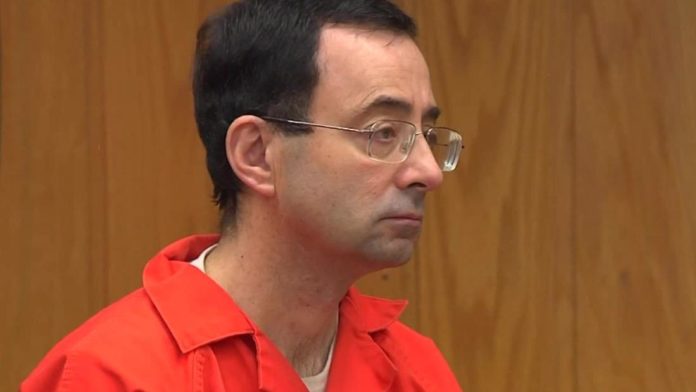 The terms of the settlement include $425 million paid to current claimants, and $75 million set aside in a trust fund to protect "any future claimants alleging sexual abuse by Larry Nassar," according to a joint statement from plaintiffs' attorney John Manly and Michigan State University.
Michigan State University is expected to pay the $500 million out of pocket and then sue their insurance company to get the money back, according to a source with knowledge of the settlement.
The settlement only deals with accusations against
Michigan State
. It does not address lawsuits against USA Gymnastics, the US Olympic Committee, gymnastics coaches
Bela and Martha Karolyi
or other parties.
The settlement in principle was agreed to by Michigan State's board of trustees in a conference call Tuesday night, the statement said.
"This historic settlement came about through the bravery of more than 300 women and girls who had the courage to stand up and refuse to be silenced," Manly said in a statement.
"It is the sincere hope of all of the survivors that the legacy of this settlement will be far-reaching institutional reform that will end the threat of sexual assault in sports, schools and throughout our society," he added.
"We are truly sorry to all the survivors and their families for what they have been through, and we admire the courage it has taken to tell their stories," Breslin said. "We recognize the need for change on our campus and in our community around sexual assault awareness and prevention."
"The settlement is a win for us and (I) appreciate that it is a step in the right direction, but I'm disappointed in the lack of compassion from MSU and that their tone toward the survivors has not changed," she said.
USA Gymnastics said it was "very encouraged" by the settlement, as it continues its mediation efforts to reach a resolution in the lawsuits it faces.
"USA Gymnastics remains dedicated to creating a culture of empowerment for the young men and women who are pursuing their gymnastics dreams today while honoring those who have gone before them," the organization said in a statement. "We are focused on doing everything we can to prevent this from happening again by making bold decisions and holding ourselves to the highest standards."
Michigan State's role
Nassar admitted in court to using his position as a trusted medical doctor to sexually abuse young girls and women who came to him for medical care for about two decades. He was sentenced to more than 100 years in prison.
The university has maintained that no official believed Nassar committed sexual abuse until newspaper reports were published in summer 2016. Any suggestion that the university engaged in a coverup is "simply false," a school statement said.
Michigan Attorney General Bill Schuette appointed a special prosecutor to investigate the university and find out who knew what, when and what they did about it.
"It is very important to see resolution on the civil side, and I hope this provides some sense of relief and closure for the survivors," Forsyth said. "That being said, my investigation is still open and ongoing."
Abuse survivors react
Thomashow also said there was more work left to be done.
"This was never about money. It was always about shifting culture from enabling abuse to empowering survivors," she said. "This fight is far from over. It has only just begun."
Lindsey Lemke said the money from the settlement would go toward counseling and therapy.
"This has been a very long and exhausting road, especially for those who have been so vocal from the very beginning of this case," she said. "This settlement from Michigan State is a huge victory for the survivors as it (is) the real first sign of accountability that we've seen."
CNN's Amanda Watts, Jean Casarez, Elizabeth Joseph and Sonia Moghe contributed to this report.


Source : Nbcnewyork