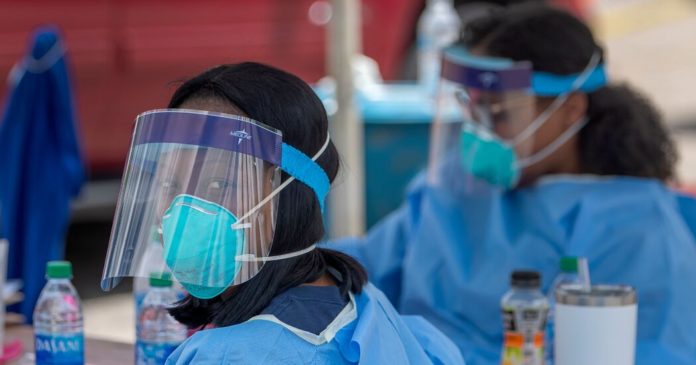 Latino and Black Americans died in disproportionately high numbers relative to the general population from May to August this year, according to a report issued by the Centers for Disease Control and Prevention on Friday. Latino deaths rose by more than 10 percent over that period, the largest increase of any group.
The trendline is not new. Early numbers had shown that Black and Latino people were being harmed by the virus at higher rates.
The report notes that of the 114,411 coronavirus-related deaths reported to the C.D.C.'s National Vital Statistics System during that time frame, slightly more than half were white; about a quarter were Latino and nearly 19 percent were Black, figures that are far higher than their portion of the general population (about 18 percent for Latinos and 13 percent for Blacks).
Regardless of race and ethnicity, those aged 65 and older represented the vast majority — 78 percent — of all coronavirus deaths over those four months.
The geographic impact of coronavirus deaths shifted from May to August as well, moving from the Northeast to the South and West. And though the virus moved into parts of the country with higher numbers of Hispanic residents, the report's data showed that alone does not entirely account for the increase in percentage of deaths among Hispanics nationwide.
"Covid-19 remains a major public health threat regardless of age or race and ethnicity," the report states. It attributes an increased risk among racial and ethnic groups who might be more likely to live in places where the coronavirus is more easily spread, such as multigenerational and multifamily households, as well as hold jobs requiring in-person work, have more limited access to health care and who experience discrimination.
In July, federal data made available after The New York Times sued the Centers for Disease Control and Prevention revealed a clearer and more complete picture of the racial inequalities of the virus: Black and Latino people have been disproportionately affected by the coronavirus in a widespread manner that spans the country, throughout hundreds of counties in urban, suburban and rural areas, and across all age groups.


Source : Nytimes