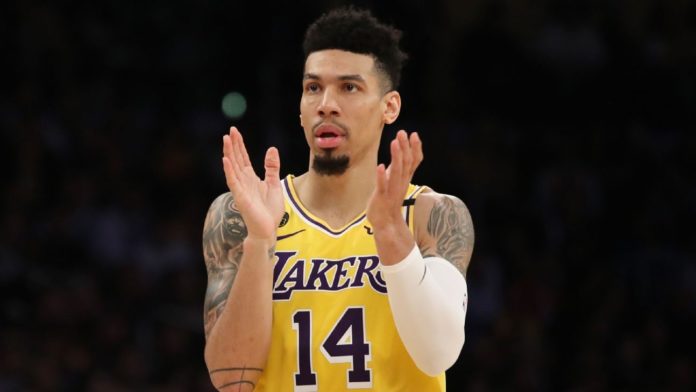 LAKE BUENA VISTA, Fla. — Los Angeles Lakers guard Danny Green said he and his fiancée have received death threats on social media in the aftermath of his missed 3 late in Game 5 of the NBA Finals that could have helped L.A. win the championship.
After Blair Bashen, the former Purdue volleyball player whom Green proposed to this summer, posted about the vitriol she was receiving, he reached out with concern.
"I had to ask, are you getting death threats? And she said, 'Yeah, you are too,' and I was like, I don't know, because I don't really pay attention or care," Green said after shootaround Sunday ahead of Game 6. "Nor am I upset, shaken or worried about it. I'm just not one of those types of people. I probably should be a little more paranoid or safe about things."
The 33-year-old Green, who signed a two-year, $30 million deal with L.A. last offseason, said social media bullying has been a part of his Laker experience that he's learned to block out.
"I've been conditioned to everything that I've gotten throughout the whole year and throughout most of the bubble season on social media, it was nothing new to me so it didn't really matter," he said. "It didn't phase me. Didn't care. Just ignore it. Those people's opinions don't matter to me. The only people in that that locker room and on this roster are the opinions that are relevant and that matter to me. And if they're still confident in me and still encouraged and still believe in me and believe in us, that's all that matters to me: That we can get this thing done.
"All the rest is background noise and nobody cares about it when it's all said and done. All they care about is who wins at the end of the day, the end of the season, who is the last team standing. And if we can get that job done, all the other irrelevant, negative noise doesn't matter."
With the Lakers trailing by one, Green missed an open 3 from the top of the key off a LeBron James pass with 7.1 seconds remaining in Game 5. Markieff Morris corralled the rebound and threw the ball out of bounds with 2.2 seconds left, trying to find Anthony Davis with a pass.
Green, who had been on the bench from 3:42 remaining in the fourth quarter until subbing in with 16.8 seconds left to be a part of the play that led to his miss, said he could have been more locked in.
"Basketball-wise, it was a good look. I had more time than I realized, should have took more time, probably rushed it a little bit, a little off balance," he said. "But we got a good look, we got a second opportunity and if I could get that play back again, I'd give anything to get that shot back again. Trust me."
Kyle Kuzma said that Green's shot didn't receive any extra attention in the team's film session as they picked apart what went wrong in Game 5.
"We didn't really talk about it too much," Kuzma said. "Because honestly, in the grand scheme of things, if you hit a shot, obviously you do win but at the same time, we kind of beat ourselves throughout the game to get to that point, to get to that certain situation in the game. You don't really think about it too much because obviously it was the right play, it was the right shot and we just live and die with that."
Speaking about dire consequences takes on a different meaning after the threats Green and Bashen received since Friday, of course. However the 11-year veteran remained remarkably placid, all things considered.
"I'm just not one of those guys who's going to live my life that way worried about what other people say, think or do. I'm usually protected. I'm usually safe. I'm usually OK, and confident and secure in my own mind in my own home," he said.
"It's a basketball game. People are emotional, fans are emotional. I hope they don't take it that seriously. I hope they are that passionate about voting or getting justice for these people who deserve justice or get some better change along in the country. But it's a basketball game at the end of the day and I know that they're just taking out their emotions and they need somebody to blame and it came down to that last play and of course, I'm the easy target."
ESPN's Ohm Youngmisuk contributed to this report.


Source : ESPN