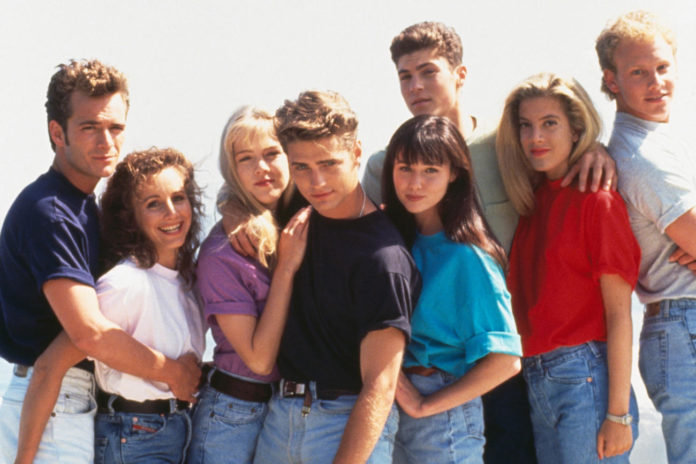 Luke Perry may have been planning to make a cameo on that Beverly Hills, 90210 revival after all.
Fellow 90210 star Brian Austin Green joined the chorus of people commemorating the late actor when he spoke about Perry in an episode of his … with Brian Austin Green podcast. Green revealed that prior to Perry's unexpected death, the two had spoken about the possibility of Perry appearing on the classic teen drama's Fox revival.
"I called him when we were talking about the reboot because he knew early on that he was doing Riverdale and so he couldn't do the reboot, which was a shame," Green recalled. "But we thought, if the reboot's doing really well he can always come back and he can do a couple episodes, we'll figure it out."
"That's so low on the totem pole, but it's a shame for fans that they don't get that send-off of Dylan McKay like they want," said Green, who added that he had a similar exchange with Shannen Doherty.
Looking Back at Luke Perry's Most Memorable Roles
The revival of 90210 was first announced in early February by Tori Spelling, who noted at the time that Perry's Riverdale schedule would be a hindrance to his involvement. When the project was officially confirmed by Fox later that month, Perry and Doherty were the only members of the original cast who weren't confirmed to return. Green, Spelling, Jason Priestley, Jennie Garth, Ian Ziering, and Gabrielle Carteris were all expected to reprise their iconic roles from the hit '90s teen drama.
Perry suffered a stroke the day of the announcement, and he passed away the following week, on March 4. The actor, who starred on Riverdale as Fred Andrews, was 52.
Green said that after Perry's death, he and other members of the 90210 cast reunited at Carteris' home for the first time in decades to remember their co-star. "It was very mixed emotions because you were happy to see everybody," he said, "but what a horrible reason to have to see everybody again."




Source : TVGuide