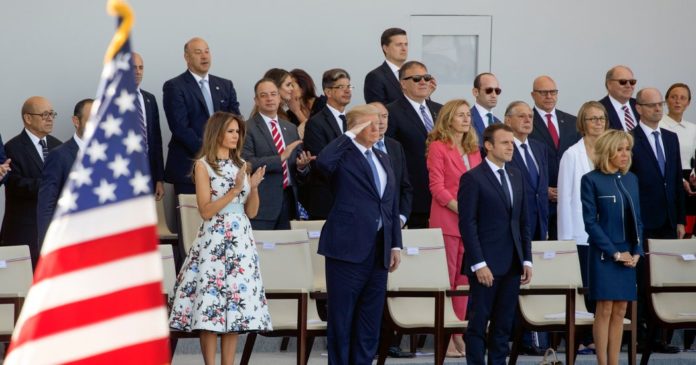 And the verdict on the French president's subtle calculus toward Mr. Trump is distinctly mixed. Almost alone among Europe's leaders, Mr. Macron has struck an apparent rapport with the mercurial American president, who has taken pride in testing, even alienating, some of the United States' oldest and truest allies.
Mr. Macron has made a gamble, given Mr. Trump's unpopularity, that he can court him but not be tarnished by him — or even that he can burnish his own reputation as a leader who is so psychologically astute that he can gain the ear of an American president who is in many respects his polar opposite.
A year into a sustained charm offensive, Mr. Macron has won a trip to Washington, occasioned by an invitation from Mr. Trump for a formal state visit, the first the American leader has extended during his presidency.
But other than that, he has little to show for his courtship of Mr. Trump. Mr. Macron has gotten "nothing" was the unsparing judgment of Denis Lacorne, who teaches at Sciences-Po in Paris and is among the most seasoned observers of Franco-American relations.
Mr. Macron pitched hard to bring Mr. Trump around on climate change, the antinuclear proliferation deal with Iran and trade tariffs on steel and aluminum, Mr. Lacorne noted.
But the American president withdrew from the Paris climate accord; is on the verge of abandoning the Iran deal and potentially could force the Europeans to leave it, as well; and is moving ahead with tariffs on aluminum and steel that will hurt some European allies.
"You don't see concrete results," said Laurence Nardon, the director of the North America program at the French Institute of International Relations.
But Mr. Macron, in her view, may get something intangible. "What Macron gets is that he is seen as being close to the U.S. and even to Trump, and that gives his presidency and France bigger clout," Ms. Nardon said.
Mr. Macron has built a career out of offering respectful, flattering attention to older power figures. Mr. Trump is only the latest in a succession of such men — François Hollande, the former French president; Jacques Attali, a former presidential counselor — Mr. Macron has cleverly used and then leapfrogged over.
The French leader had the insight that Mr. Trump would be thrilled by the military might, pomp and circumstance of France's annual Bastille Day Parade, with its show of military hardware, and invited him to share a front-row seat last July.
Mr. Trump was so taken with it, he ordered up one of his own for this year, now tentatively scheduled for Nov. 11, Veterans Day, but with details still in flux.
The French president also took Mr. Trump and his wife to dinner in a formal restaurant in the Eiffel Tower, a canny recognition of Mr. Trump's attraction to glitz.
No one should confuse Mr. Macron's attention to Mr. Trump's likes and dislikes with a genuine bromance, however, and Mr. Macron's staff bristles at the suggestion that the two are friends.
Asked at a media luncheon about purported closeness between the two leaders, Benjamin Griveaux, the government's spokesman, responded: "I don't think they are buddies. The goal is not to have affectionate relations, but to establish some sort of personal connection."
Mr. Macron himself makes selective criticisms of Mr. Trump as if to send a clear signal to the French that he is not naïve. He said publicly that Mr. Trump had made a mistake to deride Haiti and African nations as "shithole countries."
His tone in talking about the Iran nuclear nonproliferation pact and the Paris climate accord brushes aside Mr. Trump's positions. "There is no Plan B," his aides say of the Iran deal, echoing Mr. Macron's frequent comment about the climate pact, "There is no Planet B."
The Janus-faced approach — at once warm and friendly to Mr. Trump but at the same time keeping his options open — in some ways reflects the French love-hate relationship with the United States.
France disdains America's brashness and unilateralism but also admires its popular culture and the fluidity of a society where it is easier to rise to wealth and power than in France.
In foreign policy, France's independent line, forged by the former president and general Charles de Gaulle, was clearest in France's refusal to go along with the American invasion of Iraq.
More recently, however, France and the United States have found themselves on the same page when it comes to terrorism and working closely together on the problems in North Africa, as well as in the Middle East.
So as genuine allies on the defense front, Mr. Macron "has to try" to bring Mr. Trump along, Ms. Nardon said.
If he can move Mr. Trump a little on policy, so much the better, but as Mr. Macron has said himself, Mr. Trump is not easy to persuade.
"Sometimes I manage to convince him, sometimes I fail," he told a BBC interviewer in January.
The accommodating dynamic between the two men, and perhaps the limits of the relationship, were evident during their joint appearance at the Élysée Palace in July before the Bastille Day celebration.
As they stood side by side, there was a lot of shoulder-patting back and forth. But Mr. Trump's breezy suggestions of acquiescence to the French point of view — on climate change, for instance — turned out to be no more substantive than the off-the-cuff way in which they were delivered.
"Something could happen with respect to the Paris accord," Mr. Trump said. "We'll see what happens." Nothing ever did.
The risk, said Thomas Guénolé, a political scientist who follows geopolitics closely and teaches at the University of Paris-East at Créteil, is that Mr. Macron gives too much to Mr. Trump and gets little in return.
"Emmanuel Macron doesn't risk being unpopular for trying to get things from Donald Trump and trying to negotiate with him," said Mr. Guenolé.
"The problem would come if, like Tony Blair, he tried to get things by developing a strong relationship with the U.S. president, but afterward got too little," said Mr. Guenolé, referring to the former British prime minister who allied himself with President George W. Bush's decision to remove Saddam Hussein and found himself and his country mired in a yearslong war in Iraq.
Mr. Guenolé, Ms. Nardon and other analysts say that Mr. Macron is taking advantage of the vacuum left in Europe by Prime Minister Theresa May's preoccupation with how to get Britain out of the European Union and Chancellor Angela Merkel's focus on maintaining an unwieldy coalition in Germany.
In a way, that fits well with the Trump White House.
"France's cooperation with the United States has always been pragmatic," said Alexandra de Hoop Scheffer, a senior trans-Atlantic fellow and director of the Paris office of the German Marshall Fund.
"So in a certain way, the French pragmatic way mirrors Trump's transactional approach," she added. "It's why they can succeed in getting along while they have very deep policy disagreements."
If the rhetoric is stripped away, Mr. Macron in fact has set rather modest goals, although the show of friendship with Mr. Trump can be distracting, she said.
"It's to keep the U.S. engaged in the international system, the multilateral system, and not give the U.S. the sense that the Europeans are trying to isolate Washington," she said.
Mr. Macron will be in Washington for three days, with a State Dinner planned for Tuesday and a speech to a joint session of Congress on Wednesday. Still, a senior aide at the Élysée tried to lower expectations.
It would be a mistake to judge the success of the trip by what the French president could get from Mr. Trump, the aide said. Instead, the visit will allow time for the two leaders to luxuriate in the pomp and circumstance that they both enjoy and for them to talk in a more personal way with their wives present.
In a January television interview, Mr. Macron waxed about how the two men talked often and how he felt "attached" to Mr. Trump. But when the interviewer questioned how he could be friendly with the American president, Mr. Macron laid out his colder, strategic assessment.
"The United States is the premier power; it is our most important partner in multilateral endeavors; it's our first partner in the fight against terrorism; it is important for collective security," he said.
"We can be angry with the United States, we may disagree about the methods as we do on Iran, but at the end, we are in agreement," he said.


Source : Nytimes