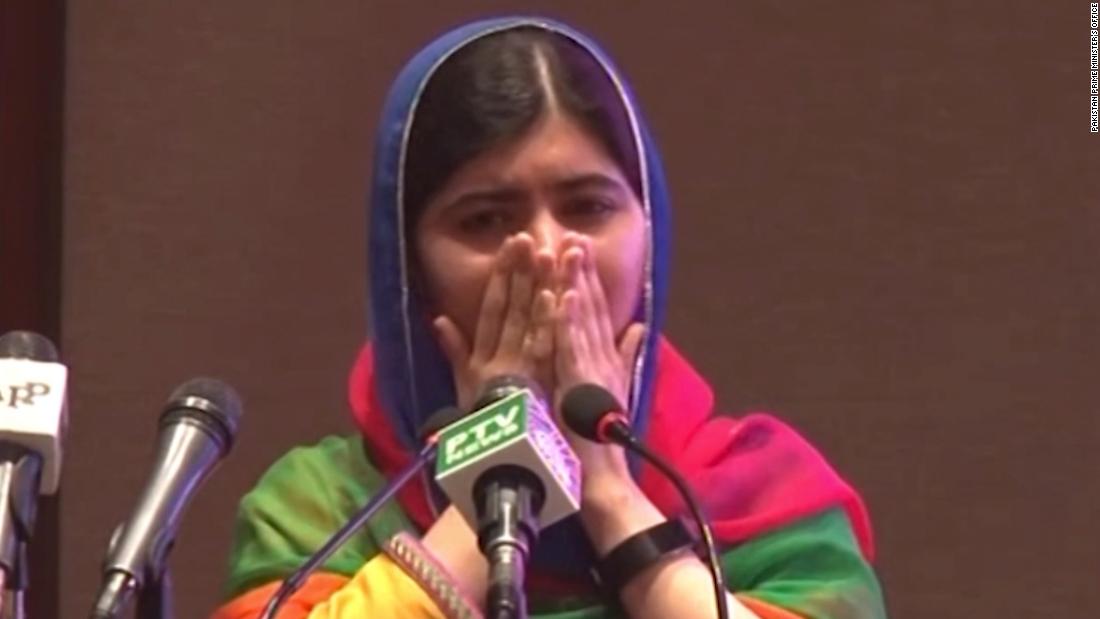 Yousafzai, 20, arrived by helicopter and went straight to her old house in Mingora in the Swat valley. She will also be visiting her old school where she will be meeting current pupils.
Her arrival in her hometown comes during her first visit to Pakistan since she captured worldwide attention after a member of the militant group shot Yousafzai and her classmates as they sat in a school bus in 2012.
Yousafzai arrived in Pakistan on Thursday at Benazir Bhutto International Airport flanked by heavy security in the early hours of Thursday morning, CNN affiliate Geo TV reported.
News of her surprise return made instant headlines in the country, where many see her as a hero while others consider her an agitator who should be silenced.
From a young age, she was an advocate for girls education, writing online about the intimidation efforts of the Pakistani Taliban in Swat Valley, in the country's north.
Survivor to global figure
In 2012, bullets struck the then 14-year-old in the head and neck, leaving her in critical condition. Her two classmates suffered nonlethal injuries.
Severely wounded, Yousafzai was taken by helicopter from one military hospital in Pakistan to another, where doctors placed her in a medically induced coma so an air ambulance could fly her to Great Britain for treatment.
Little more than a week after being shot, Yousafzai got back on her feet again, able to stand when leaning on a nurse's arm at Queen Elizabeth Hospital in Birmingham, England.
Her ordeal captured attention worldwide and created a wave of goodwill toward her and her cause.
The United Nations launched a campaign for girls' education named "I am Malala," which former UK Prime Minister Gordon Brown guided as special envoy on global education. And it declared November 10 Malala Day — a day of action to focus on "Malala and the 32 million girls like Malala not at school."
Yousafzai founded the Malala Fund, which invests in local educational initiatives for girls in Pakistan, Afghanistan, Nigeria and Kenya, and in Jordan, where it focuses on Syrian refugees.
In 2014, she was awarded the Nobel Peace Prize jointly with Kailash Satyarthi for activism on behalf of children's rights.
She began studying at Oxford University in the UK last year, but in her most recent public interview, she told talk show host David Letterman about how she missed "the rivers and mountains" of her home in Swat Valley and all she wanted was for her "feet to touch the ground of home.


Source : Nbcnewyork