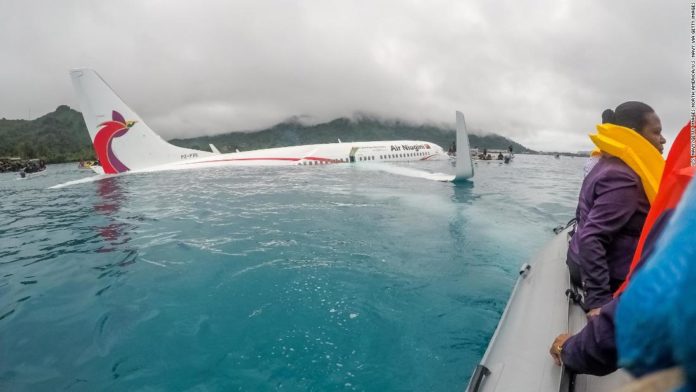 Earlier reports stated that all passengers and crew had safely been evacuated.
But in a statement published on Saturday, Air Niugini said that they "are working with local authorities, hospitals and investigators to locate this passenger who was aboard" flight PX073.
The statement added that Air Niugini was working with the missing passenger's embassy and travel operator to contact his family and that locating him remains the company's "primary concern." The airline did not give the nationality of the missing person.
The Air Niugini Boeing 737-800 aircraft carrying 47 people — 35 passengers and 12 crew members — plunged into the water after it "landed short of the runway," at the international airport on Weno, the main island of Chuuk state in Micronesia.
Within minutes, local fishermen were on the scene with a flotilla of small motor boats to rescue people.
Bill Jaynes, managing editor of a Micronesia-based newspaper, was on the plane when it hit the water.
"It's just surreal. I thought we landed hard until I looked over and saw a hole in the side of the plane and water was coming in, and I thought, well, this is not, like, the way it's supposed to happen," he said in a
video posted to Facebook.
Jaynes said people on the plane were in water up to their waists and used the emergency exit to escape.
Photographs and video footage posted online showed small fishing boats surrounding the stricken, semi-submerged plane, ferrying passengers to safety.
James Yaingeluo, one of the first to arrive at the scene, said the plane landed more than 500 meters short of the runway.
"Luckily, it happened during the daytime," he said. "When the plane came to a stop all the civilian boats came to help transport passengers to dry land."
"Once the doors opened everybody fought to get out," he added. "All the passengers were scared and in shock."
"The airline is making all efforts to ensure the safety and immediate needs of our passengers and crew," Air Niugini said.
The airline said it had received reports that "the weather was very poor with heavy rain and reduced visibility at the time of incident."
Passengers and crew were taken to the hospital for checks and no serious injuries were reported.
The runway, like others in the north Pacific, is relatively short at 1,831 meters, surrounded on three sides by water, AFP reported
Air Niugini lists only one 737-800 among its fleet of 21 aircraft on its official website.


Source : Nbcnewyork