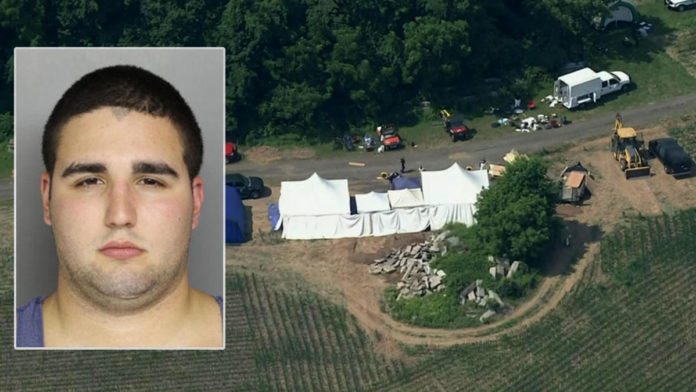 Cosmo DiNardo received four consecutive life sentences Wednesday morning after pleading guilty to killing four young men and burying their bodies on his family's sprawling suburban Philadelphia farm.
Twelve family members of the men killed -Dean Finocchiaro, Thomas Meo, Mark Sturgis and Jimi Taro Patrick – at times angry and other times tearfully grieving, read emotional victim impact statements before Judge Jeffrey Finley. Their sorrow filled the courtroom for nearly two hours. 
"I'm going to ask him to do something, that every day he wakes up in jail, please say a pray for Jimmy's mother," Sharon Patrick, Jimmy Patrick's grandmother, said as DiNardo sat with his head down just feet away. " Please pray for me that I'll be able to forgive you."
Others were more blunt.
"You're the perfect example of starting at the top and working their way down to the gutter," Mark Potash, Mark Sturgis's father, told DiNardo. "You brought shame and embarrassment to your family name."
Thomas Meo's mother, Melissa Fratanduono, called DiNardo "a f—— piece of s—."
Before he was sentenced to life, DiNardo apologized to the families in a brief statement. 
"I'm so sorry," he said. "If there was anything I could do to take back the things that occurred, I would. I'm so sorry."
Judge Finley was unmoved. 
"Your apology at least from my perspective comes across as false and insincere," he said.
He said he spent some time in the last week listening to DiNardo's confession to law enforcement following the heinous slayings.
"The tone of your voice stood out as having such a total and complete disregard to the value of human life," Finley said. He added that if DiNardo were to ever be released from prison, he would kill again 
"I try to think of something to say to you and to them to make sense of all this, to bring peace to them," Finley told DiNardo. "Nothing I say will do that."
Police found the bodies of the missing men after a grueling, five-day search in July 2017. Three were lit on fire and placed in an oil tank converted into a pig roaster. One was buried in the ground. 
DiNardo, 21, had lured the men, ages 19 to 22, to his family's 90-acre farm under the guise of making marijuana deals. Each meeting turned into an ambush and then a bloodbath.
His cousin, Sean Kratz, also 21, will appear in court at 2 p.m. He is expected to plead guilty to at least one count of murder. 




Source : Nbcnewyork