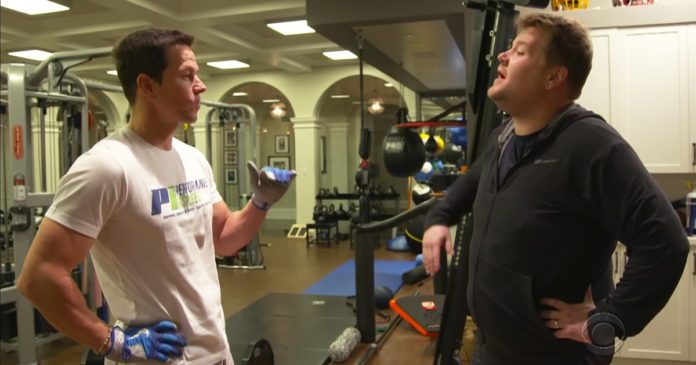 James Corden joined the growing club of Hollywood stars who have trained with the formidable Mark Wahlberg in the 4 a.m. hour.
On the November 14 episode of The Late Late Show With James Corden, the host hilariously showed up to Wahlberg's home to take part in his infamous 4 a.m. workout. As Us previously reported, the actor's Instant Family costar Octavia Spencer is also doing Wahlberg's workouts — and is happy with the results.
Corden, on the other hand, barely made it through the one session. "It's 10 to 3 in the morning. According to Mark Wahlberg's Instagram schedule, he's praying right now," Corden said on his way to the actor's house in the pre-taped segment. "And so I'm praying that he cancels."
No such luck. The two stars started with a stretch session before moving onto the treadmill, barbells, a vertical climber and more tough exercises.
To be fair, the 47-year-old Mile 22 star did warn the host that it was going to be hard. "The workout's gonna suck," he said. "It's gonna suck, I just gotta be honest with you. But when you have a shake and some turkey burgers after you'll feel great. And you're gonna go out and attack the rest of the day." To which Corden quipped, "I'm gonna go back to bed!"
The one part Corden, 40, liked: The jumping lunges. "See now I feel like I'm in a boy band and I'm enjoying it," he said of the strength-building cardio move.
Though he often gets teased for his dedication to the gym, Wahlberg told Us this spring that he looks forward to his predawn sweat sessions: "I love getting in a 4 a.m. workout to jump-start my day," he told Us. "I feel like crap until I can get to the gym." Staying fit also keeps him ready for life, he added: "You have nothing without your health. And happiness is limited if you don't feel good about yourself."


Sign up now for the Us Weekly newsletter to get breaking celebrity news, hot pics and more delivered straight to your inbox!



Want stories like these delivered straight to your phone?
Download the


Us Weekly iPhone app now!




Source : USmagazine