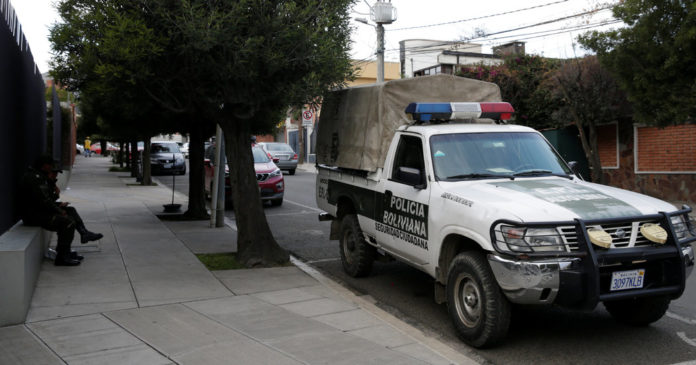 LA PAZ, Bolivia — Amid a political crisis that has consumed the country for more than two months, the Bolivian police have stepped up their presence around the Mexican embassy, which has given refuge to allies of the country's former president, Evo Morales.
The Mexican government said the operation was "clearly meant to intimidate" people at the embassy, and that it represented a "siege" against individuals seeking protection under international law.
Roberto Velasco, a spokesman for Mexico's foreign ministry, said about 70 Bolivian police officers were posted in the vicinity of the embassy on Tuesday, more than doubling the typical police presence in the area. He also said the officers had been recording embassy employees and attempting to search their vehicles.
The former Bolivian government officials who have sought refuge at the embassy include Mr. Morales's chief of staff and his former ministers of defense, justice and culture, among others, according to Mr. Velasco.
An official in the government of Bolivia's interim president, Jeanine Añez, said in a statement that the actions were meant to prevent Mr. Morales's allies from fleeing the country.
"We will not allow this," said Wilson Santamaría, a recently appointed security minister, calling the allies of the former president "fugitives."
Bolivia has been in a state of turmoil since October, when Mr. Morales claimed that he had won a disputed election. Soon, thousands of Bolivians were protesting in the streets and the military turned against him. He then fled to Mexico.
Mr. Morales, a leftist and the nation's first Indigenous president, was replaced by Ms. Añez, a little-known senator who took office holding aloft a large Bible and promising to "bring back" democracy and tranquillity to Bolivia.
Mr. Morales has since left Mexico for Argentina, where the government has granted him asylum.
The government of Ms. Añez responded by issuing a warrant for Mr. Morales's arrest, charging him with sedition and terrorism.
Cesar Del Castillo reported from La Paz, Bolivia, and Julie Turkewitz from Medellín, Colombia.


Source : Nytimes