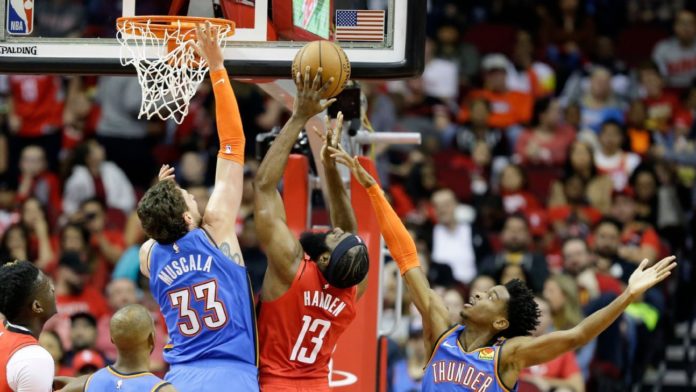 HOUSTON — There were no puns intended with the stormy metaphors used by some members of the Houston Rockets after their fourth-quarter collapse in a 112-107 loss Monday to the Oklahoma City Thunder.
Forward Danuel House Jr. described it as feeling like the Rockets were in a "dark cloud" after their fourth consecutive loss and fifth in six games. This might have been the most painful defeat of Houston's midseason funk, considering the Rockets blew a 15-point lead with less than seven minutes remaining.
"Right now, we're in a period where if something is going to go bad, it goes bad," Rockets coach Mike D'Antoni said. "When it rains, it pours, and it's pouring.
"We can choose to fight back, to get up. That's a choice; it's our choice. You can choose to not listen to the noise. You can choose to look at yourself and do better. I'll do the same, and if everybody does the same, we're fine. But if we don't do that and we start listening and start questioning this and that, then we have problems."
The Thunder outscored the Rockets by a 41-20 margin during the fourth quarter, when Dennis Schroder scored 15 of his 23 points and Danilo Gallinari scored 12 of his 25. The Rockets shot just 36% from the floor in the final frame, including 1-of-11 from 3-point range.
Houston superstar James Harden had a historically horrible shooting performance, making only one of his 17 3-point attempts, matching his own NBA record for most missed 3s in a game. He spent 25 minutes after the loss shooting on the Toyota Center court, trying to work his way out of his slump. He's shooting only 34.8% from the floor and 23.9% from 3-point range during the Rockets' 1-5 slide.
But Harden, who also had two costly turnovers just before the Thunder took the lead for good with 1:13 remaining, blamed Houston's disastrous defense down the stretch for this loss.
"We didn't really shoot the ball well the entire game, but defensively, we were engaged and locked in, and we were on a string," said Harden, who finished with 29 points on 9-of-29 shooting. "That last seven minutes, it wasn't the same."
Rockets guard Russell Westbrook defiantly attempted to put a positive spin on Houston's performance against his former team. Westbrook, who — with a 32-point, 11-rebound, 12-assist outing against his former team — joined LeBron James as the only players in league history to record a triple-double against all 30 teams, dismissed a question about how much concern there was regarding the Rockets' funk.
"Honestly, I thought we played a good game," Westbrook said. "We played a good game for the most part. Obviously, the last six minutes, we didn't play our best basketball, but I thought that we had pretty much control of the game. So there's some good that we can take out of this game."
Harden acknowledged that the Thunder's comeback and Saturday's home loss to the Los Angeles Lakers, when Houston saw its six-point halftime lead evaporate while being outscored 32-17 in the third quarter, were particularly hard to stomach. Yet, he insisted the Rockets' psyche has not been damaged by their recent woes.
"You're playing well, playing well and then just stop doing the things that get us the lead," Harden said. "Sooner or later, we're going to put a four-quarter game together and build off that. We're more than capable. We show really good signs. We just have some lapses."
Those lapses have led to the Rockets' unraveling recently and to the apparent need for a reversal of karma.
"When you get in a funk and you start to lose, then sometimes it takes some good stuff to happen to win and get that feeling," D'Antoni said. "Now, it's like, if we're going to walk under a window, a piano is going to fall out."


Source : ESPN