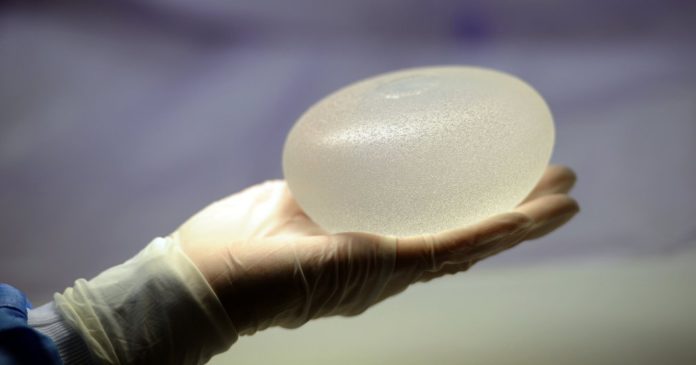 The lymphoma is more likely to occur in women with implants that have a textured coating, as opposed to a smooth cover, the agency said. No connection has been found between the disease and what is inside the implants — salt water or silicone. Nor is the lymphoma associated with breast cancer: It is just as likely to occur in women who chose implants for cosmetic reasons as in those who received them during reconstructive surgery after breast cancer.
Textured implants have roughened surfaces that may act as an irritant in some women, provoking inflammation that can lead to lymphoma, researchers say. Another theory is that the texturing might trap bacteria, and that a chronic infection could also bring on the cancer.
Doctors and patients sometimes prefer textured implants because they are less likely to shift out of position than smooth ones, as tissue grows into the roughened surface and holds the implant in place. In the United States, most implants are smooth; textured ones are more popular in Europe.
The lymphoma "appears to currently develop exclusively in women with textured implants," according to the American Society for Aesthetic Plastic Surgery.
But the F.D.A. said it could not state conclusively that textured implants were the sole cause of the disease, because there was not complete information in every case on what type of implants were used. Implants often have to be replaced, and if a woman with lymphoma has had both types of implants it may be hard to tell which is to blame.
A "consumer update" by the F.D.A. on Wednesday describes the lymphoma but makes no mention of texturing or its role in the disease. An agency spokeswoman, Stephanie Caccomo, said the F.D.A. would "take another look at" the update, adding, "Our goal is not to gloss over anything, but to be consumer friendly."
Mark Marmur, a spokesman for Allergan, a major manufacturer of breast implants, said by email that the company was paying for research by outside investigators into causes of the lymphoma, working with plastic surgery societies on improved surgical techniques, adding information about the disease to its labeling and website, and giving surgeons educational materials for patients. He also said that on Jan. 1, Allergan changed the warranty on its textured implant to cover treatment for Allergan patients who received a diagnosis of the implant-associated lymphoma on or after that date, regardless of the implantation date.
A request for comment to the other major manufacturer of breast implants, Mentor, was not answered in time for publication.
The case count is uncertain, the agency said, noting that the F.D.A. depends on voluntary reporting that "may contain incomplete, inaccurate, untimely, unverified, or biased data." Indeed, a registry called Profile, being compiled by professional societies in plastic surgery, is reporting higher figures — about 500 cases worldwide, and 16 verified deaths, including five deaths in the United States.
In an interview, Dr. Binita Ashar, director of the division of surgical devices in the drug agency's Center for Devices and Radiological Health, said that the Profile registry might include data that the F.D.A. had not yet received, and that the agency and professional groups were collaborating to obtain more accurate information about the disease.
Compared with the number of women with breast implants, the number of lymphoma cases is very small. In the United States, about 300,000 women a year get implants for cosmetic reasons, and another 150,000 for reconstruction after cancer surgery. Worldwide, about 10 million women have implants.
Dr. Ashar said that in response to concerns expressed by women who have had the lymphoma, the F.D.A. has changed the language on its website to refrain from calling the disease "rare." Instead, the agency gives the odds that it will occur in a woman who has textured implants: from 1 in 30,000 to 1 in 3,817.
"It is a broad range but we're trying to be transparent in what we know," Dr. Ashar said, describing the disease as "very uncommon."
Advocates for women with the disease, who have met several times with F.D.A. officials, said they had hoped that the agency would discourage the use of textured implants.
But Dr. Ashar said that although the F.D.A. wanted women to know that the lymphoma was more likely to occur with textured implants, there was not enough data for the F.D.A. to advise against them. Decisions about implants should be made by patients and their doctors after a thorough discussion of what is known, she said, adding, "I don't think we have much more to offer beyond that at this point."


Source : Nytimes