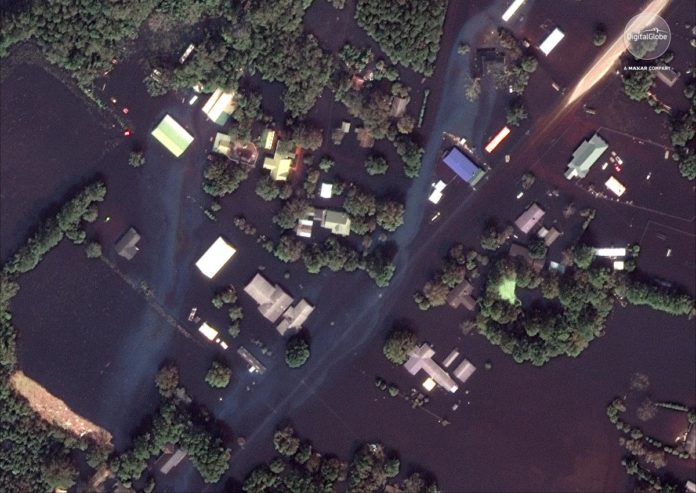 KINSTON, N.C. (Reuters) – The major coastal city of Wilmington, North Carolina remained cut off by floodwaters from Hurricane Florence on Thursday and more than 200 roads across the state were closed or blocked as residents struggled to recover from the epic storm.
Though Florence has moved to the northeast and largely dissipated since making landfall as a Category 1 hurricane last Friday and dumping some three feet of rain on parts of the Carolinas, in some areas rivers were still rising.
"Danger still exists. We are getting our feet under us and setting things right," North Carolina Governor Roy Cooper said in a Twitter post. "We WILL rebuild. Yesterday we were promised federal help, and we will ensure those in Washington keep their promise."
Several rivers in North Carolina showed major flooding and some had still not crested as of Thursday evening although others had begun to recede, according to the North Carolina Department of Public Safety.
Curfews remained in effect in several areas and residents were advised that it was not safe to return to Wilmington, the state's eighth largest city and home to over 100,000 people, because the few roads that could be opened even briefly were needed for emergency crews and utility workers.
"Just because rain isn't falling, doesn't mean waters aren't rising. New closures are expected today. Remember to NEVER try and drive through flooded roads," the North Carolina Department of Transportation said on Twitter.
In Lenoir County, North Carolina, where the rising Neuse River has flooded some roads, emergency medical workers have been running a "mobile disaster hospital" to provide urgent care to residents cut off from the nearest hospital.
AT LEAST 36 DEAD
Tripp Winslow, medical director of North Carolina Emergency Medical Services, helped set up the mobile emergency room during a downpour on Saturday night. They have received 20 to 30 patients a day so far, he said, but expect to be busier as the river crests.
"Once we get isolated we expect to see more," he said. "No pun intended, it's a fluid situation."
Winslow said some patients have hurricane-related problems after going days without power or drinkable water.
At least 36 deaths have been attributed to the storm, including 27 in North Carolina, eight in South Carolina and one in Virginia.
Some 4,700 people had been rescued by boat or helicopter in North Carolina alone since the storm made landfall, twice those as in Hurricane Matthew two years ago, and about 10,000 people remain in shelters, according to state officials.
More than 121,000 customers were without power across North Carolina, and more than 2.1 million customers across the southeast United States were affected by the storm, according to utilities.
Duke Energy Corp (DUK.N) started to return its Brunswick nuclear power plant in North Carolina to service on Thursday. The company shut both reactors at the 1,870-megawatt facility before Florence hit the coast near the plant in Southport, about 30 miles (48 km) south of Wilmington.
One megawatt can power about 1,000 U.S. homes.
As floodwaters continue to rise, concerns are growing about the environmental and health dangers lurking in the water.
The flooding has caused 21 hog "lagoons," which store manure from pig farms, to overflow, creating a risk that standing water will be contaminated, according to the state's Department of Environmental Quality. North Carolina is one of the leading hog-producing states in the country.
Several sewer systems in the region also have released untreated or partly treated sewage and storm water into waterways over the last week, local media reported.
South Carolina Governor Henry McMaster said the state's financial losses from Florence are estimated at more than $1.2 billion, according to local media.
In a letter sent to the state's Congressional delegation on day after President Donald Trump visited the region, McMaster asked for help in securing $540 million in federal aid.
Reporting by Anna Mehler Paperny in Kinston, North Carolina; Additional reporting by Jeff Mason in Conway, South Carolina, Brendan O'Brien in Milwaukee, Scott DiSavino in New York and Dan Whitcomb in Los Angeles; Writing by Dan Whitcomb; Editing by Larry King, Bill Trott and Michael Perry


Source : Denver Post