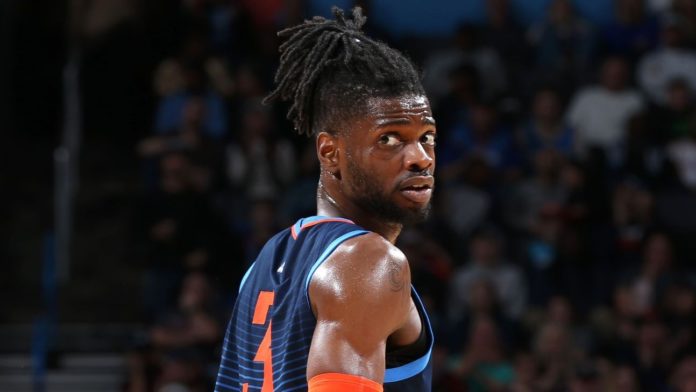 OKLAHOMA CITY — Thunder center Nerlens Noel was taken off the court on a stretcher midway through the third quarter Tuesday night after his head hit the floor on a hard fall.
Noel was taken to OU Medical Center, but the team did not have any further details on his condition, Thunder coach Billy Donovan said after Thursday's 119-117 loss to the Minnesota Timberwolves.
Noel went up to contest a dunk by Wolves forward Andrew Wiggins when he caught an elbow to the face and landed hard on his right side. As Noel hit the floor, his head also bounced off the hardwood. He appeared to go unconscious as he laid under the basket for several minutes, and players and Thunder medical personnel gathered around him with visible concern.
Noel was moving as staff attended to him, and he appeared to regain consciousness as he was taken off the floor on a stretcher.
Noel was called for a foul on the play; after a review, no additional fouls were called.
A skirmish broke out a few minutes later between Thunder guard Dennis Schroder and Wolves guard Jeff Teague.
Schroder was upset with Wolves players who were talking among themselves and laughing while Noel was on the floor. Schroder stared at the Wolves players and yelled in their direction, "What are you laughing at?"
After play resumed, Schroder and Teague had to be separated. Following a review, Schroder was called for a technical foul, while Teague received two T's, leading to an automatic ejection.


Source : ESPN