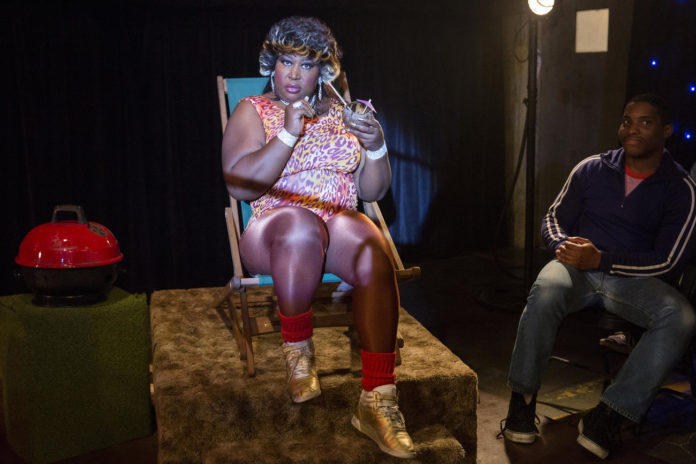 Now Playing
Watch GLOW Season 2 Trailer
Next Up
Watch Riverdale Season 3 Comic-Con Trailer
That awkward moment when you have everyone's attention and … well, nothing happens.
Netflix hosted a Television Critics Association (TCA) summer press tour panel for GLOW — its hit series about the Gorgeous Ladies of Wrestling, of course — and while many were expecting that the streaming service would announced that a third season would be coming soon, that's not what happened.
"These panels are usually to announce a Season 3, unfortunately we don't have a Season 3 [yet]," Carly Mensch revealed during the panel, breaking hearts. On the bright side, she and co-creator Liz Flahive have talked about what they'd like to do if they they go-ahead for the next season — in Las Vegas.
"We have a lot of dreams for how we're going to shoot the show. We're not going to give away exactly what our intentions are," Mensch said. "[But], Las Vegas has changed a lot since 1986, so unfortunately a lot of locations we'd like to shoot in are not there anymore."
Instead, the cast and showrunners spent their time talking about the second season, which is already old news at this point, and Twitter was not having it.
They used the show's own GIF-able moments to revolt.
The fact that Netflix hasn't renewed #GLOW for Season 3 officially yet is a PROBLEM. *give us confirmationnnnn* pic.twitter.com/78t0sNJ0CH

— Allison Keene (@keeneTV) July 29, 2018
And the fact that the EPs themselves didn't even know if it'd happen yet was crazier than Sheila's makeup and hair routine.
Why on earth are the people at #GLOW still waiting to hear if they've been renewed for Season 3? #TCA18 #Netflix

— Hank Stuever (@hankstuever) July 29, 2018
The timing was so, so perfect for some Season 3 news, guys.
So #GLOW has a #TCA18 panel but #Netflix hasn't even ordered Season 3 yet. How awkward is that?

— Jeff Luckett (@A_JayLuck) July 29, 2018
In the spirit of the show, people were pretty much ready to fight.
Also no Season 3 announcement for #GLOW yet #TCA18 pic.twitter.com/2qvikQfXl8

— Marcus Jones (@MarcusJonesNY) July 29, 2018
All hope is not lost, of course.
no announcement for GLOW season 3 doesn't mean there wont be one. @netflix but c'mon, thats one of your best shows out there, GIVE US MORE

— cpw382kf39 (@qjc10491tpck) July 29, 2018
But the crowd was about as stunned by this missed opportunity as the moment when Liberty Belle got a little too patriotic with Zoya on-stage.
Everybody in this room, I think, wants a third season of GLOW, and I'm kind of surprised that Netflix isn't announcing it today (which in no way means it won't happen). #TCA18

— Linda Holmes (@lindaholmes) July 29, 2018
Glow is currently streaming on Netflix.




Source : TVGuide