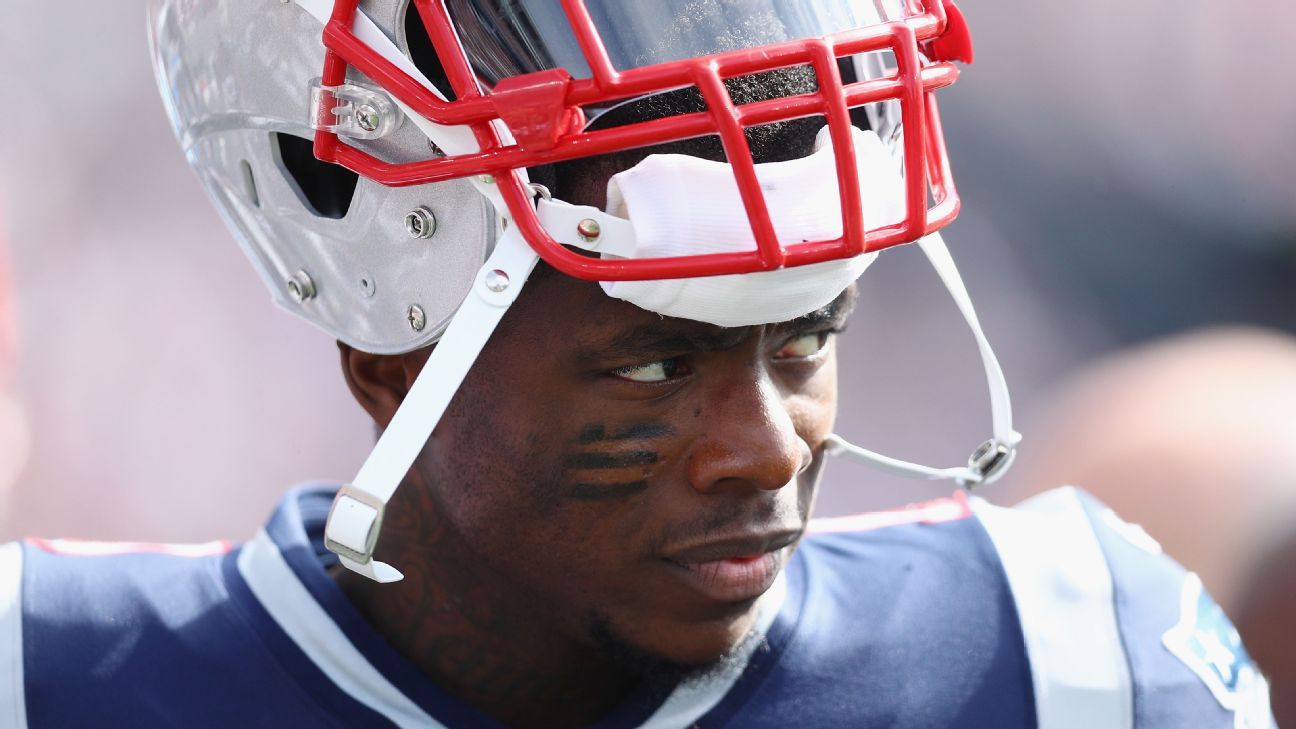 FOXBOROUGH, Mass. — Wide receiver Josh Gordon addressed reporters Sunday for the first time since he was traded to the New England Patriots two weeks ago, vowing to make the most of his fresh start after having been with the Cleveland Browns since 2012.
"I have no doubt I can take advantage of this opportunity," he said after the Patriots' 38-7 victory over the Miami Dolphins on Sunday, in which he made his debut with the team and finished with two catches for 32 yards.
"I'm more than blessed and extremely grateful to be put in this scenario, and the only thing right for me to do is take full advantage of it. I'm loving it, the guys here are great. It's a real home environment and I feel as comfortable as ever here."
Gordon's locker is directly next to Tom Brady's, and Gordon relayed that having the quarterback's backing has meant a lot to him.
"He's been rooting for me and it's been awesome to have his support and his love, as well as the rest of the teammates and staff here," said Gordon, whose struggles with substance abuse are well documented . "Tom's a passionate guy and I love that, and I love the game of football. I think we're going to mesh just fine."
Gordon has been limited in practice with a hamstring injury, and he was charted on the field for just 18 offensive snaps on Sunday (including penalties). He was part of the starting lineup as part of a one-receiver package, and caught a 13-yard slant from Brady on third-and-6 to extend an opening drive that culminated in a field goal.
In the second quarter, Gordon drew an illegal contact penalty on cornerback Xavien Howard on third-and-7, which extended that drive and ultimately led to a touchdown.
He also was credited by running back James White for holding his block on White's 22-yard touchdown run, and later added a 19-yard catch on third-and-3 in the third quarter. Gordon dropped one pass, but the play was nullified by an offsides penalty.
"He kind of got us going in certain areas," Brady said. "It was great to have him out there."
Gordon, who fielded just three questions after the game in a news conference kept short by the club, called it an "awesome experience."
His emergence came on the same day that tight end Rob Gronkowski was knocked out of the game in the third quarter with an ankle injury. Gronkowski retreated to the locker room and didn't hold his regular postgame news conference, as there was no official update from the team on his status.
Gordon's contributions were a notable topic among players in the locker room after Sunday's victory.
"He's a good football player with a lot of great skills, and he's working really hard at trying to do his job," receiver Chris Hogan said. "He's holding himself accountable to learn this offense as quick as he can."
Added safety Devin McCourty: "As far as being surprising, I saw him in another jersey and he was tough to play against, so he's one of those guys that when you get him, you're happy he's on your team."


Source : ESPN