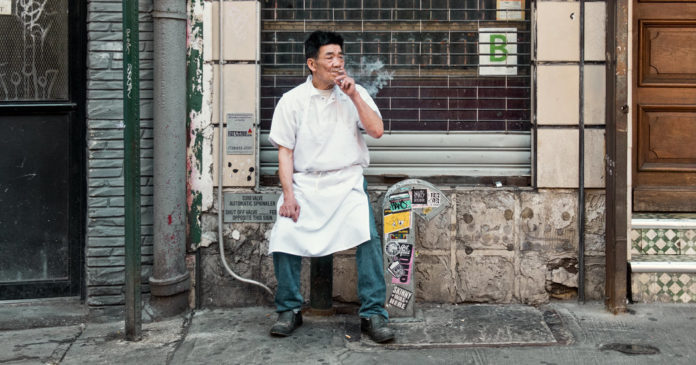 Reflecting a global trend, Chinese men in New York City smoke at much higher rates than men or women in any other ethnic group — and deaths from lung cancer among them have soared.
As a result, the city's health department launched a public service ad campaign this month aimed specifically at Chinese men.
In its video, various men pose with their children, or in the arms of wives or girlfriends. Then, slowly, the men fade away into wisps of gray smoke.
"Every cigarette puff reduces your years shared with your loved ones," the announcer says in Mandarin. "Stop wasting your precious life, and quit smoking now."
Lung cancer deaths among Asian men in the city have increased 70 percent in the last 15 years, and smoking rates among them have risen even as they have declined among other ethnic groups, the health department said.
A department study of the health of Asian New Yorkers released in March found that 23 percent of local Asians smoked, versus 18 percent of whites, 17 percent of Hispanics and 14 percent of blacks.
But breakdowns by ethnicity and sex tell a more complex story. Korean and Chinese people smoke at higher rates than average, while South Asians and Filipinos smoke less often. At 27 percent, Chinese men are the city's heaviest smokers, while only 4 percent of Asian women smoke.
Two factors push up smoking rates among Chinese men in New York, said Regina F. Lee, who chairs the Asian-American Smoke-Free Community Partnership.
Cultural norms from China persist in the city because many Chinese residents are foreign-born, she said: "Sixty percent of men there smoke, while there is a stigma to women smoking."
Also, it has long been hard for Chinese-speakers to get the help the city offers to smokers, including free nicotine patches and gum. Anyone calling the quit-smoking hotline usually got an English-speaker and had to wait while a translator was found.
"So we were delighted when the health department proposed this," Ms. Lee said.
The hotline mentioned in the ad (1-800-838-8917) is part of the national Asian Smokers' Quitline, which is funded by the Centers for Disease Control and Prevention and offers help in Mandarin, Cantonese, Korean and Vietnamese.
A 2015 study published in the Lancet found that Chinese men smoke a third of all the cigarettes in the world, and that by the year 2050, three million of them will die each year of smoking-related causes.
But antismoking efforts in China face a delicate political situation. More than 7 percent of the government's revenue comes from its monopoly ownership of the Chinese National Tobacco Corporation.
In New York, recent antismoking ads in English and Spanish have been much grimmer, showing people dying in misery or with amputated fingers.
"The health department did focus groups and decided to start with a slightly softer approach," Ms. Lee said. "No one knows how the community will react."


Source : Nytimes