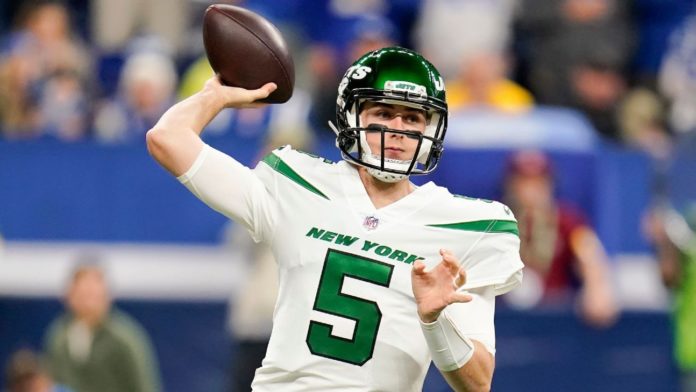 New York Jets quarterback Mike White, one of the NFL's hottest stories after a historic starting debut last Sunday, didn't get a chance Thursday night to continue his storybook run.
White left the 45-30 loss late in the first quarter after injuring his right forearm. He was replaced by journeyman Josh Johnson, their third stringer.
Starting for the injured Zach Wilson, White was hurt on a 19-yard touchdown pass to rookie Elijah Moore. He banged his forearm on the left arm of defensive tackle DeForest Buckner, who was pass rushing.
The Jets can't catch a break.
White, a relatively anonymous, former practice-squad player, electrified the Jets and their fan base in a 34-31 win over the Cincinnati Bengals. He passed for 405 yards and three touchdowns, setting the league record for most completions (37) by a quarterback in his first start. On Wednesday, his game-worn jersey was displayed in the Pro Football Hall of Fame.
He kept the momentum alive against the Colts, completing seven of his first 11 passes for 95 yards and a touchdown. He left a terrific scoring drive, hitting four passes for 72 yards. He hit Moore on back-to-back plays for 26 and 19 yards.
And then White was gone, relegated to the medical tent for an examination. He was listed as questionable but didn't return to the game.
The well-traveled Johnson, who has played for 13 teams, hasn't seen significant action since 2018 for the Washington Football Team. He threw four passes last week in a brief appearance for White, who went out for a few snaps with a sore neck.
Johnson finished Thursday's game 27-of-41 for 317 yards, three touchdowns and an interception.
Veteran Joe Flacco, acquired last week in a trade, was inactive for the game. The plan was to make Flacco the backup during Wilson's injury, but coach Robert Saleh decided to go with Johnson for the second straight week as the backup.
Wilson (knee) is expected to practice next week. Saleh has remained non-committal on his quarterback plans.


Source : ESPN