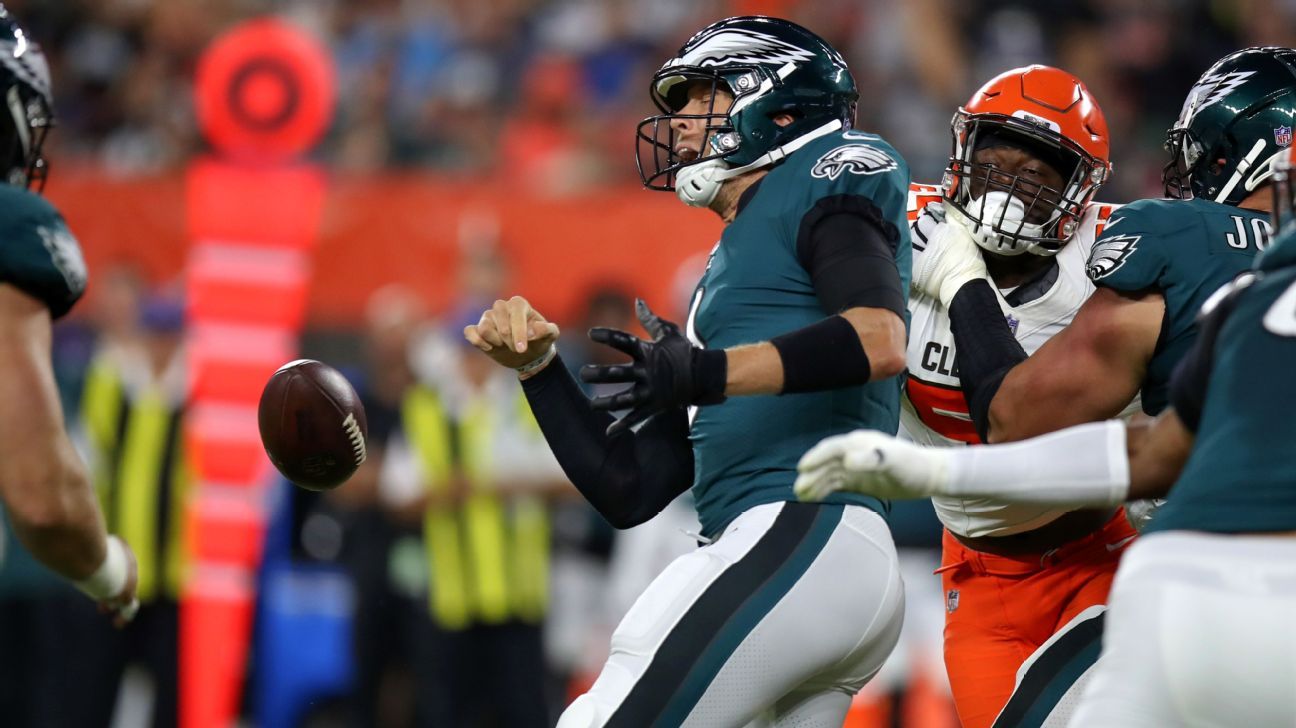 Nick Foles has learned not to be too hard on himself when his play ebbs, noting that "if you're too hard on yourself all the time, you're going to crumble."
He's gained plenty of perspective over his roller-coaster of a six-year career, and has his Super Bowl MVP performance right in his rearview mirror if he ever needs another dose of it.
But this preseason has not gone as hoped.
Foles followed up a rocky debut against the New England Patriots with an even rockier outing against the Cleveland Browns Thursday night. He threw two interceptions, lost a fumble and was touched down for a safety after tripping in the end zone in a 5-0 loss. He finishes exhibition play 16-of-26 for 171 yards with no touchdowns, two interceptions and two fumbles lost while being sacked six times.
"I'm just making mistakes," Foles said. "I have to go look at the film. For me, it is just getting back in rhythm, playing ball. We had an opportunity to win [Thursday], that's on me. I made too many mistakes at critical times that hurts us as a team. I clean that up we win this game."
Foles has made some uncharacteristic miscues, including in the red zone late in the second quarter when his throw in the direction of tight end Zach Ertz was easily picked by an awaiting Jamie Collins.
Coach Doug Pederson chalked some of that up to Foles potentially putting a little too much pressure on himself to make a play to get a struggling offense going. He also pointed out that they are still keeping it vanilla schematically and aren't utilizing the run-pass option plays that Foles thrives at. Pederson made it clear that his frustration is not with Foles alone.
• How Dalton TD pass became $450K miracle
• Buffalo recalls New Year's miracle
• Stafford: Best QB never to win playoff game
• No retirement tour for 'ageless' Gore
• Clinton-Dix excited again to come to work
• Steelers duo the very best of 'ends'
"First of all, I'm disappointed in the offense, not one player," he said. "So don't put this all on Nick. I'm disappointed in the offense. It's not what you want, obviously in the third preseason week.
"When you don't score and you play the way you played on offense, being an offensive guy, I'm not very jovial in [the locker room]. I'm not patting guys on the back."
While Foles is rightly drawing the most attention, the offense as a whole has been lackluster all preseason. In three games, the first unit failed to score a single point. That group will not see action again until the regular-season opener on September 6.
Granted, the personnel could look much different by then. Plenty of veterans have been held out because of injury or for rest, including running backs Jay Ajayi, Darren Sproles and Corey Clement, receivers Alshon Jeffery and Nelson Agholor and left tackle Jason Peters. (Peters' replacement, Halapoulivaati Vaitai, has really struggled.) The bulk of that group is likely to return for the opener and will provide a shot in the arm. If there's a concern, it's that it could take some time for this unit to establish a rhythm given how much time key players have missed this summer.
Then there's Carson Wentz. He looked very good in a pre-game warm-up Thursday night and continues to aim for a Week 1 return. He has still not been cleared for contact by the medical staff, however, and the sand is nearly through the hourglass. This time next week, the team will kick preparations for the Falcons into overdrive and will want to know definitively which QB will be under center.
Foles is widely considered the best backup in the league, and could be called on early to get the Eagles' title defense off on the right foot. He'll need to snap out of this funk to do so.
"Obviously, I haven't been myself. And I expect a lot of myself," he said. "I've got to keep looking at it, keep learning. I've played this game a long time, so I know how to address this and keep moving forward, keeping that positive outlook."


Source : ESPN