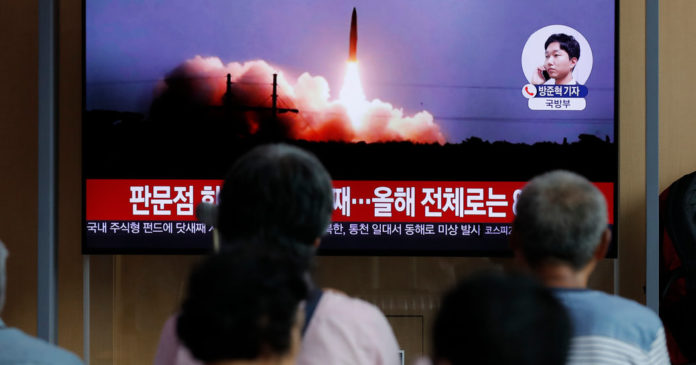 SEOUL, South Korea — North Korea launched two projectiles yet again off its east coast on Friday, a day after President Moon Jae-in of South Korea urged it to stop weapons tests and return to the negotiating table.
The two projectiles were launched from Tongchon in the southeast of North Korea, the South Korean military said in a statement.
South Korean defense officials said they were analyzing data they acquired through radar and other intelligence-gathering equipment to determine what type of projectiles were launched.
The launching on Friday was the sixth time North Korea has tested short-range ballistic missiles or other projectiles since late last month.
It also came a day after Mr. Moon urged North Korea and the United States to resume dialogue to try to narrow their differences on how to denuclearize the North so that the South Korean leader could push his ambitious plan to integrate the economies of the two Koreas.
"Even if there is a cause for dissatisfaction, making dialogue difficult by spoiling the mood or erecting barriers is by no means a desirable course of action," Mr. Moon said on Thursday during a nationally televised speech. "If there is dissatisfaction, it too should be raised and discussed at the negotiating table."
North Korea blamed a joint military exercise between South Korea and the United States when it started conducting its latest series of weapons tests last month. It mainly blamed South Korea for the exercise, saying that it could resume a dialogue with Washington, but not with Seoul, once the joint military exercise ends later this month.
North Korea has been less amenable to negotiating with South Korea, which it accused of failing to carry out the ambitious inter-Korean economic projects that its leader, Kim Jong-un, and Mr. Moon agreed to pursue in meetings last year. In recent months, it has used increasingly insulting language to attack Mr. Moon, who has helped arrange meetings between Mr. Kim and President Trump.
Despite widespread skepticism over inter-Korean relations, Mr. Moon said in his speech on Thursday that despite "a series of worrying actions taken by North Korea recently," the momentum for dialogue remains unshaken. He said South and North Korea could prosper together in an integrated "peace economy" if the North chooses "economic prosperity over its nuclear program."
"The international community has also promised to assist its economic growth if it abandons its nuclear program," Mr. Moon said. "New markets and opportunities will open up for both South and North Korean businesses."
But hours after Mr. Moon's speech, North Korea said it had nothing to talk about with South Korean authorities.
An unnamed Northern government spokesperson said in a statement carried by the North's official Korean Central News Agency on Friday that Mr. Moon's remarks were so preposterous that they would "make the boiled head of a cow laugh." The spokesperson said the joint military drill between the South and the United States was clearly an exercise to "annihilate" the North. The North also accused South Korea of continuing to build up its arms behind the mask of talking peace.
Earlier this week, South Korea's military unveiled multibillion-dollar plans to build new warships and develop precision guided weapons. Its midterm military spending plans were announced amid growing fears over North Korea's expanding missile capabilities.
In the weapons tests since late last month, North Korea has unveiled two new short-range ballistic missiles and a new guided multiple-tube rocket launcher.
Mr. Trump has shrugged off North Korea's recent weapons tests, calling them "smaller ones" that involved neither nuclear explosions nor intercontinental ballistic missiles. On Saturday, he even said North Korea's leader, Kim Jong-un, had sent him a letter with a "small apology" explaining that North Korea was conducting tests to counter the American military exercise with South Korea that Mr. Trump has himself criticized as too expensive.
But analysts said that the new missiles left little doubt that despite Mr. Trump's insistence that his on-again, off-again diplomacy with Mr. Kim is making progress, the North has continued to modernize and expand its missile capabilities. All three of the new missile and rocket systems tested by the North marked significant advances for the country's military, they said.
They all used solid fuel and were fired from mobile launchers. Such missiles and rockets are easier to transport and hide, especially in a mountainous country like North Korea, and take less time to prepare for launching than the North's old missiles that used liquid fuel, they said.
The weapons also appeared to be maneuvered during their low-altitude, high-speed flight, making it more difficult for South Korean and United States missile defense systems to intercept them, the analysts said.


Source : Nytimes