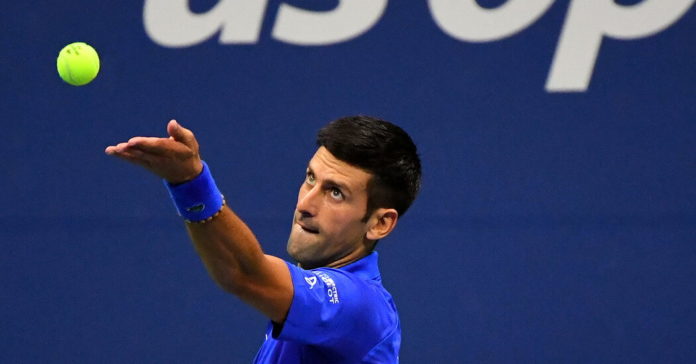 It has been more than half a century since a man completed tennis's Grand Slam, and that man is ready for company.
"I don't own the club; I've just enjoyed belonging to it," Rod Laver, 83, said in a telephone interview last week from his home in Carlsbad, Calif. "If someone comes along to win all the four, I'd be the first to congratulate them."
The moment could be near. Novak Djokovic won the first three Grand Slam tournaments of the year and needs only to win the United States Open, which began on Monday in New York, to join Laver in the club.
It is undeniably exclusive. The four major tournaments — the Australian Open, the French Open, Wimbledon and the U.S. Open — are all more than 100 years old. But only five players have achieved the Grand Slam in singles by winning all four majors in the same year: Don Budge in 1938, Maureen Connolly in 1953, Laver in 1962 and 1969, Margaret Court in 1970 and Steffi Graf in 1988.
"Being able now to put myself in a position to win four out of four is honestly incredible, and I'm really stoked about New York," Djokovic said in an interview before the draw was released. "I can't wait."
Technically, Djokovic already has won "four out of four" over two seasons in 2015 and 2016. Though that was rare and remarkable, it was not a Grand Slam, which by tradition and the constitution of the International Tennis Federation requires that the four titles be won "in one calendar year."
"You've got to do it in the calendar year," Laver emphasized. "Start at the Australian in January and finish up in New York in September. That, for me, is a Grand Slam."
For a period in the late 1970s and early 1980s, the Australian Open came last, taking place in December. But for peak Laver, it was the first leg, and the wiry and driven Australian left-hander nicknamed Rocket is the only player to have achieved the Grand Slam twice in singles. He did it once as an amateur in 1962 and once, more impressively, as a professional in 1969 against deeper fields that included major singles champions like Ken Rosewall, John Newcombe, Arthur Ashe and Tony Roche.
"I just look at those opponents, that kind of opposition at the time, and I feel like it's the standout Grand Slam of them all for men or women," said Steve Flink, the American tennis historian and author of "The Greatest Tennis Matches of All Time."
Laver is also the only player to have saved a match point on the way to a Grand Slam in singles, escaping against his Australian compatriot Marty Mulligan in 1962 in the quarterfinals of the French Championships.
"A Grand Slam takes some good fortune, and I was fortunate that day," Laver said.
The term Grand Slam entered sports in the 20th century via contract bridge, a card game in which a grand slam meant winning the maximum 13 tricks.
In baseball, it came to mean a home run with the bases loaded, and in 1930, Grand Slam became a part of golf's lexicon when Bobby Jones won the four major tournaments of that era.
It was only a matter of time before other sports embraced the concept. In 1933, when the Australian tennis star Jack Crawford won the first three major tournaments, journalists used the term as he tried to win the U.S. Championships.
John Kieran, a longtime sports columnist for The New York Times, wrote that "if Crawford wins, that would be something like scoring a grand slam on the courts."
Crawford almost did, reaching the final and taking a two-sets-to-one lead over Fred Perry, the British star, before Perry took complete command to win the title.
Five years later, Budge, a redheaded Californian with a big serve and dreamy backhand, chased the Grand Slam in earnest, spurning big offers to turn professional at the end of 1937.
"He was determined to try and go out and win the Slam in '38," Flink said. "Some people were telling him, don't do it, you could get hurt, you could ruin your lucrative pro career."
At that stage, turning professional would have made Budge ineligible for the Grand Slam tournaments and restricted him to the barnstorming circuit. But Budge, determined to chase his goal, remained an amateur and secured the Grand Slam with relative ease against often-overmatched opponents. His health and the logistics were more daunting. He had an abscessed tooth for much of the season that left him vulnerable to illness. The trip by boat to Australia to start the year took several weeks. And at the U.S. Championships, where Budge was set to face his unseeded friend and doubles partner, Gene Mako, in the final, a hurricane delayed the match for nearly a week.
Despite all that time to ponder the stakes, Budge beat Mako in four sets and completed tennis's first Grand Slam.
It has remained a rare feat. Connolly, a teen prodigy from San Diego, had the most dominant run to a Grand Slam. She was nicknamed Little Mo because her deep and penetrating groundstrokes reminded the sportswriter Nelson Fisher of the firepower of the battleship U.S.S. Missouri, which was nicknamed Big Mo. Connolly lost just one set in the four majors in 1953. She might have won a second Grand Slam but was out of the game by age 19 after a horseback riding accident. She died of cancer at 34.
Court and Graf, the other women in the club, routinely outclassed their opponents in their Grand Slam seasons. But Court, a powerful Australian, had an enormous scare: tearing ligaments in her ankle during her quarterfinal victory at Wimbledon against Helga Niessen Masthoff. A doctor suggested she withdraw from the tournament. But Court, with the Grand Slam at stake, pushed on, receiving painkilling injections in the ankle before the semifinal against Rosie Casals and the final against Billie Jean King.
"I had no doubt that this feisty little player who played sublime tennis while chattering away eccentrically was the biggest hurdle to clear if I was to win the Grand Slam, and so it proved," Court wrote in her 2016 autobiography.
Court beat King, 14-12, 11-9, in one of the best major women's finals. Court went to New York, ignored medical advice to withdraw, and won the U.S. Open after another painkilling injection, defeating Casals in a three-set final.
She thanked the officials, Casals and "the Lord" and returned to the locker room, where she had a beer with her husband, Barry.
Court, like Laver, targeted the Grand Slam before the season. Graf did not. 1988 was her breakthrough year, and her overwhelming success surprised Graf, a self-contained champion who did not embrace the spotlight but whose foot speed, forehand power and crisply sliced backhand set her apart.
Since then, only Serena Williams has come close to a Grand Slam, winning the first three majors in 2015 before losing to Roberta Vinci of Italy in the U.S. Open semifinals in one of tennis's biggest upsets.
Williams's inability to seal the deal — she would have faced another Italian outsider, Flavia Pennetta, in the final — or play her best showed how expectation builds during a Grand Slam chase.
Though Williams twice won four majors in a row — the so-called Serena Slams — the Grand Slam hunt generates higher levels of start-to-finish pressure. Players know that if they lose at the Australian Open to start the season that the Grand Slam is unattainable that year.
"That's the way it was devised and the way it was understood from the beginning," Flink said. "I don't see any reason to retrofit it. Budge, Court and Laver all knew when their starting point was and weren't going to say, 'Well, I lost the first one but maybe I can win the next one and still get four in a row early next year.' No, the quest was done until the following year."
Martina Navratilova maintains that she did complete the Grand Slam, even if she didn't win all four in the same year. Navratilova won six straight majors in 1983 and 1984, a year in which she won an astounding 74 straight singles matches. To drum up interest in the sport, the International Tennis Federation had declared in 1982 that four majors in a row amounted to a Grand Slam, and Navratilova received a million-dollar bonus from the I.T.F. when she achieved that feat at the 1984 French Open.
But there was resistance to the concept. The I.T.F. soon retreated and has reverted to defining the Grand Slam as a calendar-year achievement. Navratilova is not on the short list.
"Looking back now, yes, of course, I wish I had done it in the calendar year because then I'm on the same level in every way with Rod and Steffi and Margaret, but at the time it was not judged that way," Navratilova said in an interview last week.
What also has changed is that when Laver won his Grand Slams, three of the four majors were played on grass with only the French Open staged on clay. But the U.S. Open switched to hardcourts in 1978 and the Australian Open did the same in 1988, so Graf had to achieve her Grand Slam on three surfaces.
"A lot of players couldn't play that well on grass, so I had an advantage in that area, and maybe the fact I was a left-hander on grass was a little bit of an advantage, too," said Laver, referring to his excellent sliced serve wide in the ad court.
Djokovic is the first man since Laver to win even the first three legs of the Grand Slam: an indicator of the depth of the challenge. If Djokovic, 34, finishes the job in New York, he will be the oldest player to achieve the Grand Slam in singles. Laver was 31 when he won the U.S. Open in 1969.
"It's quite a milestone, and there's a reason why no other male tennis player in the Open era has managed to win all four Slams in the same season," Djokovic said. "The game has been improving every decade and obviously it's not comparable to the tennis of 40 or 50 years ago, because of the technology of the rackets. They used to play with wooden rackets. We have so much more advantage and help coming from the rackets and just the pace and just generally the game itself has transformed a lot. But that probably makes it more challenging and difficult to win it."
And yet Laver found it challenging in 1969. He had to win a marathon five-set semifinal over Roche at the Australian Open. He had to rally from two sets down in both the second round of the French Open, where he beat Dick Crealy, and Wimbledon, where he beat Premjit Lall before holding off Stan Smith in five sets and Ashe and Newcombe in four-setters. At the U.S. Open, Dennis Ralston pushed Laver to five sets in the round of 16.
"All it takes is one bad day and it's gone," Laver said.
He was once convinced that Roger Federer would be the one to join the Grand Slam club, but Rafael Nadal's clay-court prowess snuffed out most of Federer's best chances and quite a few of Djokovic's, too. Nadal has won the French Open a record 13 times.
"So unless Nadal does it, those are 13 years nobody is doing the Grand Slam," Laver said with a laugh.
Astonishingly, given their stature, neither Nadal nor Federer has won even the first two legs of a Grand Slam.
"Even getting it to the final leg is a great achievement," Laver said. "I know Novak's shoulder has been bothering him recently. That's just one of the things that can go wrong, but, yes, I think he has every chance to pull off a Grand Slam and win the U.S. Open."
If he does it, Laver plans to be the man to hand him the trophy. He will be in New York for the men's semifinals and final at the invitation of the United States Tennis Association.
"I'd like to be there to see if he can win it," Laver said. "It's been quite a long wait."
Cindy Shmerler contributed reporting.


Source : NYtimes