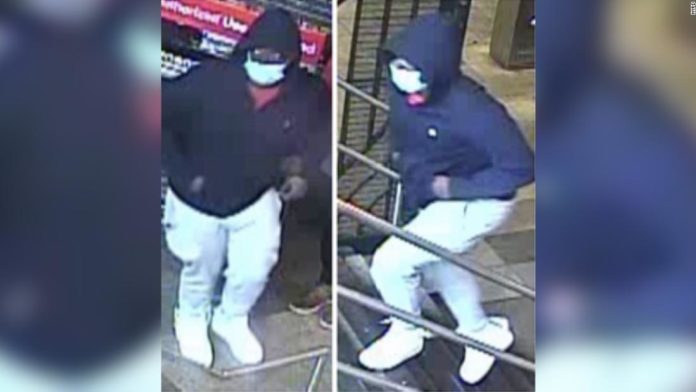 "We need all eyes on this," police
Commissioner Keechant Sewell said in a tweet
. "(NYPD detectives) need your help identifying & locating this man who is wanted for homicide in the tragic, senseless shooting of a man on a "Q" train that was approaching the Canal/Centre St. station on Sunday."
In the images, the suspect is wearing a surgical mask, white shoes, gray sweatpants and a dark-colored, hooded sweatshirt. An NYPD official previously described the suspect as a "dark-skinned male who is heavyset with a beard."
The release of the photos came a day after Daniel Enriquez, a 48-year-old Goldman Sachs employee from Brooklyn, was shot in the chest as he sat in the last car of the Manhattan-bound train. The shooting happened while the train was traveling on the Manhattan Bridge from Brooklyn into Manhattan, said a law enforcement official.
The subway has been the setting for a series of disturbing crimes in recent months that have
rattled the public's confidence
in the safety of the transit system.
Witnesses to Sunday's shooting told NYPD investigators the suspect was walking back and forth in the same train car and "without provocation, pulled out a gun and fired it at Enriquez at close range as the train was crossing the Manhattan bridge," said NYPD Chief of Department Kenneth Corey.
The shooter and the victim had no interaction on the train before the shooting, and it appeared there was no dispute, a law enforcement official with knowledge of the investigation told CNN. While there were other people in the train car, Enriquez was the only person who was injured, said Corey.
When the doors opened at Canal street, the shooter ran out of the subway car and out of the station and remains at large, the official said.
Officers responded to the Canal Street station at about 11:42 a.m. and found Enriquez with a gunshot wound to his torso. First responders rendered aid and transported him to Bellevue Hospital, where he died of his injuries, Corey said.
NYPD officers rode the Q train on patrol three different times before the shooting took place Sunday, the official said.
Enriquez had worked for investment bank Goldman Sachs for nearly a decade since joining its Global Investment Research division in 2013, the company said.
"Daniel Enriquez was a dedicated and beloved member of the Goldman Sachs family for nine years," Goldman Sachs Chairman and CEO David Solomon said in a statement. "He worked diligently to support our Macro Research team in New York and epitomized our culture of collaboration and excellence."
"We are devastated by this senseless tragedy and our deepest sympathies are with Dan's family at this difficult time."
CNN's Natalie Andes, Matt Egan and Liam Reilly contributed to this report.




Source : CNN