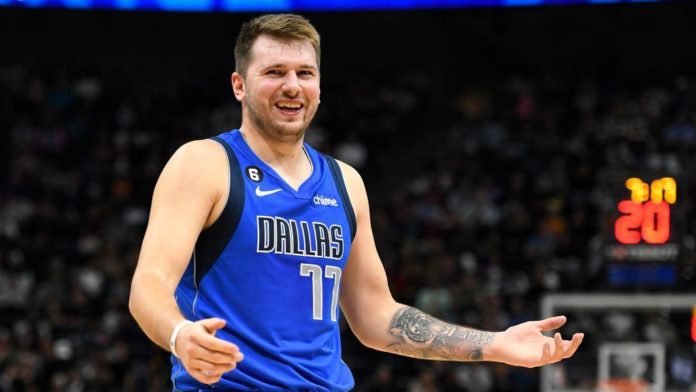 It's been decades since the NBA has been this competitive — at the top and bottom of the league.
The season tips off Tuesday with no consensus title favorite. Depending on what sportsbook you look at, the Boston Celtics, Golden State Warriors, Milwaukee Bucks or Los Angeles Clippers are the favorites to win the championship. None of them have odds better than 5-1. According to ESPN Stats and Information, it's the first time in 35 years that the preseason favorite has had odds this long.
The race at the bottom is equally as competitive. Five teams — the Oklahoma City Thunder, Indiana Pacers, San Antonio Spurs, Houston Rockets and Utah Jazz-have season-win totals of less than 25. That's the most in any 82-game season in the last 20 years, according to sports betting archive SportsOddsHistory.com.
Each of the bottom five team's title odds, which are as long as 2,000-1 at some sportsbooks, reflect a better chance at earning a lottery pick and a shot at coveted prospect Victor Wembanyama than winning a championship. Spurs coach Gregg Popovich has characterized his team's title chances as "not likely," and the Jazz's current win total of 23.5 at Caesars Sports is 25.5 fewer wins than they won last season. Utah traded away stars Donovan Mitchell and Rudy Gobert in the offseason.
Bookmakers and bettors now have to gauge just how bad these teams will be.
"A common misnomer with tanking in the NBA is that all aspects of the team, including the players, will try to lose on purpose. This is absolutely not the case," Sam Garriock, trading manager for PointsBet, told ESPN. "It is purely driven by the front office and oftentimes the coach, who are deciding who will be held out or shut down. Because of this, we take the same approach to booking these games as we would any other, where team ratings are a factor of individual ratings and expected minutes played."
Garriock noted, however, that tanking teams have a bigger impact on in-play wagering and "will cough up leads at greater rates than typical double-digit dogs."
Over the past three seasons, the teams that ended with five worst records during the regular season covered the spread in approximately 45.7% of games, excluding pushes.
---
NBA Notable Bets Season Preview
Most bets to win the NBA title at Caesars Sportsbook
1. Warriors
2. Celtics
3. Lakers
Fewest bets to win the NBA title at Caesars Sportsbook
1. Hornets
2. Wizards
3. Pacers
• The Los Angeles Lakers (27-1) have attracted twice as much money wagered as any other team to win the NBA title at FanDuel.
• More bets have been placed on the Denver Nuggets (20-1) to win the championship than any other team at PointsBet.
Three largest NBA title bets reported by Caesars Sportsbook
• $50,000 on Warriors (+550) to win a net $275,000
• $10,000 on Lakers (+2,200) to win a net $220,000
• $6,000 on Celtics (+600) to win a net $36,000
Doncic racking up MVP bets
• Dallas Mavericks superstar Luka Doncic is the consensus favorite to win MVP this season at sportsbooks. Doncic has attracted three times as much money as any other player on the board at Caesars Sportsbook.
NBA oddsmaker's surprise team
• "I'm high on Sacramento," Jeff Sherman, a respected Las Vegas bookmaker who oversees NBA odds for the SuperBook, said.
"I played them over 32.5 wins. I just think the Kings with their personnel, the free agency moves and draft pick … I like Keegan Murray a lot … that they're going to be in every game every night, whether it's against the top teams or the bottom teams."
Pop's betting advice
• Popovich gave bettors some preseason advice last month: "I probably shouldn't say this, but I'll say it anyway," Popovich told reporters during a Sept. 26 press conference. "Nobody here should go to Vegas with thought of betting on us to win the championship.
"And I know somebody is going to say, 'Gosh, what a Debbie downer. There's a chance. What if they work really hard?' It's probably not going to happen."
Oddsmakers agree with Popovich and have the Spurs listed as long as 2,000-1 to win the title, but a select few bettors didn't take the veteran coach's advice. Sherman said the SuperBook has a "few hundred dollars' worth of tickets" on the Spurs to win the championship, and at Caesars Sportsbook, San Antonio attracted more bets to win the title than the Trail Blazers, Pistons, Jazz, Rockets, Magic, Pacers, Wizards and Hornets.
The Spurs' season-win total is 22.5, the lowest of any team at BetMGM sportsbooks, where 80% of the money bet on San Antonio's wins is on the under.
Rockets fuel betting interest
• More money has been bet on the under on the Rockets' season-win total than has been bet on any other NBA futures offering at PointsBet. The Rockets opened at 27.5 and have been bet down to 23.5. Approximately 95% of the money bet on Houston's win total is on the under, with the bulk of it placed at under 27.5.
The second-most heavily bet futures bet at PointsBet? The Pelicans' over on their season-win total, which opened at 43.5 and has been bet up to 44.5.
• In PointsBet's yes/no odds to make the playoffs, the Pistons have attracted the most Yes bets at +700. There have been no bets on them to miss the playoffs at -2,000.
Player props
Betting on individual performances-over/under on points scored or rebounds, for example-continue to become an increasingly popular way to bet on the NBA. Bettors often build multi-leg parlays on player props from the same game, wagering on several player performances or in-game events (team to win first quarter, for example) at long odds. In general, most sportsbooks require to receive playing time for bets to be valid.
Here is an overview of the NBA's player resting and injury reporting policies.
NBA's resting policy
• Teams are prohibited from resting healthy players for "high-profile, nationally-televise" games.
• Teams should not rest multiple healthy players for the same game.
• Teams should not rest healthy players on the road, "absent unusual circumstances."
NBA's injury reporting policy
• Teams are required to designate participation status of players-out, questionable, available– by 5 p.m. (local time) on the day before a game, except on the second day of back-to-back games. Designations must be made by 1 p.m. on the second day of back-to-back games.
• Injury reports are posted here on the NBA's website. It is not uncommon for injury statuses to break in the media prior to being posted on the league's website. The status of players considered questionable or game-time decisions are often decided upon during pregame shootarounds. It is not unusual to see injury information hit the betting market, causing lines and totals to move, before it reaches the public sphere.
• Teams must update a player's participation status immediately when a final decision is made on the player's availability if their participation status changes.
Notable career highs/lows scoring vs. teams [average points scored per team]
High: Cavaliers – 29.6; Celtics – 28.8; Bucks – 28.7
Low: Pistons – 23.9; Clippers – 24.0; Rockets 25.2
High: Clippers – 32.4; Suns – 31.6; Lakers – 30.4
Low: Grizzlies – 13.3;Raptors – 21.3; Nuggets – 21.3
Luka Doncic
High: Pistons – 32.4; Clippers – 31.4; Wizards – 30.6;
Low: Heat – 20.8; Timberwolves – 22.2; 76ers – 22.3
Steph Curry
High: Wizards – 28.6; Trailblazers – 27.7; Raptors – 26.7
Low: Bucks – 20.0; Lakers – 21.0; Spurs – 21.5
High: Spurs – 27.4; Lakers – 25.6; Trailblazers – 25.6
Low: Heat – 15.4; Thunder – 16.5; Kings – 17.3
NBA betting stats of note
• Favorites have covered the spread into 50.2% games, excluding pushes, over the last three regular seasons.
• 51.0% of games have gone under the total, excluding pushers, in the last three regular seasons.
• Road teams have covered the spread in 51.3% of games, excluding pushers, over the last three regular seasons.
Top 3 teams against the spread at home
[last three regular seasons]
Hawks 59.5%
Grizzlies 58.5%
Warriors 55.0%
Worst 3 teams against the spread at home: [last three regular seasons]
Rockets 37.2%
Magic 37.5%
Nuggets 42.1%
• Games averaged a three-year low 221.2 points last regular season.
• The average margin of victory last season was 12.4 points, a three-year high.
Coaching ATS stats of note
Best coaches against the spread on 0 days rest
Tom Thibodeau 56.7%
Dwayne Casey 54.2%
Tyronn Lue 53.6%
Worst coaches against the spread on 0 days rest
J.B. Bickerstaff 39.0%
Steve Clifford 42.6%
Mike Brown 45.4%
Best coaches against the spread in October/November games (minimum 50 games)
Steve Kerr 54.7%
Dwayne Casey 54.0%
Rick Carlisle 53.5%
Worst coaches against the spread in October/November games (minimum 50 games)
Tyronn Lue 40.3%
Tom Thibodeau 45.1%
Doc Rivers 45.6%
Coaches with highest percentage of "OVERS" (minimum 100 games)
Chris Finch 59.3%
Steve Nash 52.6%
Nick Nurse 52.3%
Coaches with highest percentage of "UNDERS" (minimum 100 games)
Steve Kerr 54.1%
Billy Donovan 53.6%
Tom Thibodeau 53.5%
*ESPN Stats and Information researcher Nick Mazone contributed to this article.


Source : ESPN