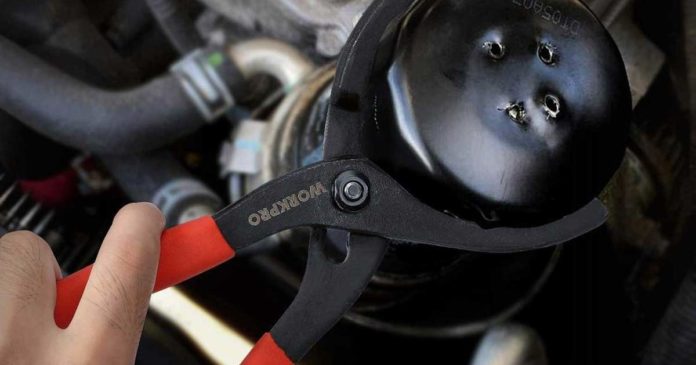 Oil changes are essential in the lengthened life and performance of your trusty motorcycle, and having the right tools to handle the job at home is key. Have you ever tried to remove a sticky oil filter without a specially designed wrench? Unless you have a Hulk-like grip and are extremely flexible, it might be nearly impossible to do, especially if the filter is slippery from dirt and oil. Skip the drama and get yourself an oil filter wrench to keep around the garage. They really do come in handy, and you'll end up using it more than you think when it's in easy reach—which can save you money over having it done at a shop. Like any other tool, there are different design nuances between these options, so we've gathered a group of oil filter wrenches that will help you maintain your bike for the long haul.
As Easy As Pliers
Those who like the familiar function and feel of pliers will appreciate the design of Workpro's 12-inch adjustable oil filter tool. The Permalock fastener eliminates nut and bolt failure, and fits filters from 2-3/4 inches to 4-1/2 inches in diameter. The high carbon steel will live up to the pressure of everyday use, and the soft, nonslip grip offers extended reach and leverage when and where it's needed most.
Versatile And Tough For Multiple Uses
Easily claw your way through your next oil change with this oil filter removal tool. The "claw" portion of the wrench has three geared metal prongs and accommodates a ratchet driver to tighten its grip around the oil filter body. This design allows for a firm, tight grip on filters that are especially tight or oily. As an added bonus, this package comes complete with a 1/2-inch to 3/8-inch socket adapter and five pairs of nitrile rubber gloves so you don't have to put off changing your bike's oil any longer.
The Right Fit For Small Jobs
This oil filter wrench shines where more traditional wrenches might fall short in the case of a tighter space. Motivx Tools' oil filter can easily be used to remove a filter when it can only be accessed from the end, which completely eliminates the need for side access. The thick, solid steel top plate won't bend or break under pressure, and the heavy-duty jaws are just as sturdy. The integrated sharp teeth help create a firm bite to remove even the most stubborn oil filter.
When You Need Real Torque
Gearwrench's heavy-duty band-style filter wrench is designed for high torque requirements, and is made to function with the use of a 1/2-inch square drive tool (it is not intended for use on power tools). The 1-1/2-inch wide bands offer increased strength over narrower wrench designs, and allow for a better grip area for ease of filter removal.
Minimal Design With Maximum Grip
Perfect in taking up minimal storage space, and super easy to travel with, the Lisle heavy-duty oil filter strap wrench is a highly effective and reliable tool to have around. The heat-treated alloy yoke and strong web strap will take a beating and keep on working for you. The strap filter wrench is used with 1/2-inch drivers to remove and install oil filters and other items up to 6-1/2 inches in diameter. The 3-5/8-inch-long yoke fits into tight spots, allowing the strap wrench to always come through in a pinch.




Source : Hotbikeweb