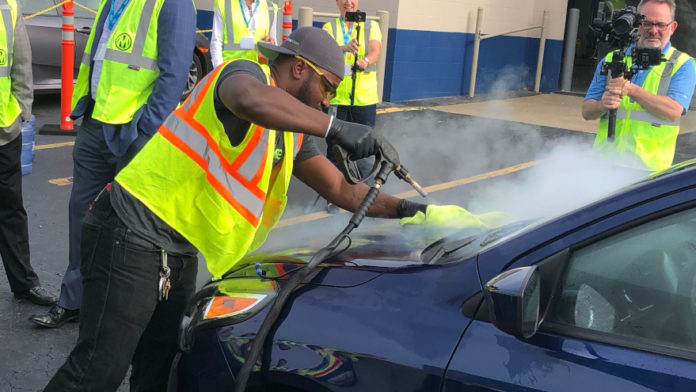 ATLANTA  – 
Tim Echols, now a commissioner on the Georgia Public Service Commission, was 11 years old and selling boiled peanuts at his family's auto auction, then known as Bishop Brothers Auto Auction.
 "As I roamed this lot, talking to car dealers, learning that if burned the peanuts, they would ask me for a refund, and that was no good," Echols said, speaking before a crowd gathered on the very same spot as that auction. 
"And then eventually, they let me drive a car here. My first day, backing the car out, I hit another car and drove it off the wash ramp," he said. "And so, I didn't have a lot of great luck in learning to drive here.
"But you know what? I learned from my grandad about being an entrepreneur," Echols said. "I learned about making a deal. I learned about working hard. It was a lot of great lessons."
What perhaps many entrepreneurs learn along the way is how to adapt to change.
And change in automotive is perhaps felt the strongest around mobility, where new ownership models and vehicle technologies are changing the landscape and infrastructure of the car business, including wholesale.
'Right at the cusp' of tech changes
Echols was speaking at grand opening of Cox Automotive Mobility Group's Manheim Metro Atlanta Fleet Hub earlier this month.
His family's auction was purchased by Manheim in 1988, and that same auction (which became Manheim Metro Atlanta) was converted into a mobility fleet servicing center that serves as the hub location for Pivet.
Pivet is the Cox Automotive Mobility Group's brand that provides a network of end-to-end mobility fleet services.
Such moves are emblematic are the changing nature of the business for companies in automotive, even those with as deep a history and breadth of services in the auto industry as extensive as Cox Automotive and its parent Cox Enterprises.
"Just when we thought we had it all figured out, again, a whole new wave of technology, a whole new wave of innovation came along," Cox Enterprises president and chief executive officer Alex Taylor told the crowd.
"And we are right at the cusp of it today, as we speak," Taylor said. "The next wave of automotive mobility technology is coming our way."
That includes autonomous and electric vehicles, he said, along with artificial intelligence, predictive analytics, alternative vehicle ownership/usage models and more.
"There's a lot of new technology coming our way, and this place is a place that is beginning to respond to those changing needs," Taylor said. "It will be a long time before all these cars out here are driven by robots and autonomy, but in the meantime, there are things that need to happen."
And that's where the Manheim Metro Atlanta Fleet Hub comes into play.
During the tour, attendees (which included a group of reporters) made stops at three stations that illustrate the various services of the Manheim Metro Atlanta Fleet Hub:
— Imaging, advanced driver-assistance systems and telematics
— Mobile car care performed by RideKleen, a mobile car care company that Cox Automotive purchased in October
— A driver's lounge for Lyft drivers
"As we move towards the direction that Alex (Taylor) brought up around autonomous and electric … we do have a core belief that more and more vehicles will be owned by fleets," said Alex Fraser, who is the general manager of Atlanta Market Fleet Services for the Cox Automotive Mobility Group.
That could include vehicles in fleets for subscription programs, autonomous driving, ride-hailing and beyond.
"We also know that about 60% of maintenance on personally owned vehicles goes undone," said Fraser, who will present a workshop on "Mobility Services Driving the Fleets of the Future" at the Automotive Intelligence Summit next month in Raleigh, N.C. 
Not tending to maintenance needs might be acceptable (though not recommended) for individual owners, fleet owners do not have that choice. They must performance maintenance.
"Because up time equals revenue, down time equals expense," Fraser said. "And so, as we move towards (more of a) fleet ownership model, we have to service those fleets."
Such services could include detailed cleaning. Or services around ADAS and telematics.
Investing to prepare for future
It's up for debate when some of this evolution, particularly around autonomy, is going to gain significant market share.
"All I know is we're not going to be caught flat-footed," Cox Automotive president Sandy Schwartz told a group of reporters after the event, calling the hub a "demonstration center."
"The purpose of this (hub) is to A) hone our skills and to B) start understanding a lot of the things that, quite frankly, nobody understands … this is going to get us off the ground and it's also pushing us to invest money and to figure out the future."
The initial hub location made sense, given its proximity to Hartsfield-Jackson Airport, downtown Atlanta and in an area of town where greater access to vehicles is needed, Schwartz said.
As far as future locations, Cox Automotive isn't pigeon-holing itself into establishing all of its mobility fleet servicing centers at Manheim locations, though using the auctions is an option.
"I think some might be attached to auctions, but we're not saying it's got to be in the auction," Schwartz said.
Still, Manheim's legacy within Cox Automotive certainly provides a template on ancillary services like reconditioning as well as maintenance/repair that have to happen with mobility fleets.
"There's one thing I would just tell you about Manheim — and look I love all my children equally at Cox Automotive — but, you know, we love the dirty work. We love getting our hands on cars. We love cleaning cars … and not a lot of people like doing that," Schwartz said. "And so, one of the things I know is that we can be part of this future because these cars are going to have to get worked on.
"I keep thinking about my grandchildren, and maybe my great-grandchildren someday," he said. "I have no problem putting them in an autonomous vehicle if it's safe, but I'm not going to put the in a car that's dirty or a car that hasn't been vetted or a car where the LIDAR hasn't been adjusted.
"I think that there's a whole new world that we really haven't conquered yet that's going to have to happen before we get to that next level," Schwartz said. "We want to be part of it."
The Cox Automotive president and his team certainly have a precedent for keen eyes when investing to prepare for the future technology changes.
Schwartz tells the story of when he took the helm at Manheim in 2011, Cox Enterprises chairman Jim Kennedy asked him to evaluate, over a three-month period, whether the auction chain was an entity Cox should keep or sell.
"I went in, and I came back to him two months later, and I said: 'This is a great business. And it'll be a great business for a long time. But we need to invest $300 million (over) the next three years in technology,'" Schwartz said.
He added: "And I think anybody would tell you — not only our business, but our competitor's business — the auction business is still a good, strong business for may years to come. It's going to change, but it is."


Source : AutoFinanceNews