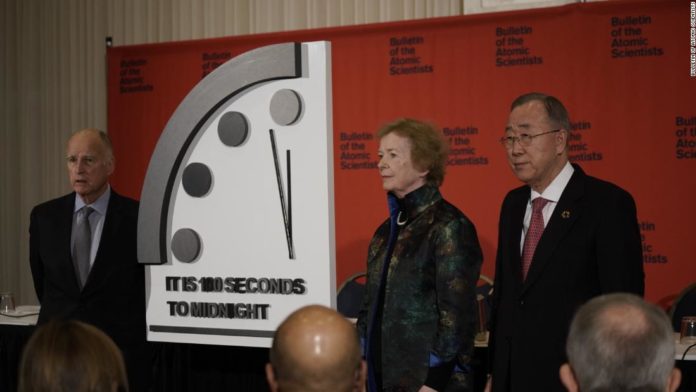 Even so, we face fundamentally greater threats to humanity than this pandemic. We refer to the catastrophic dangers which nuclear weapons and climate change pose — dangers that preceded this pandemic and will persist long after it ends. Unfortunately, and unlike the priority given to developing a vaccine against the virus,
little progress
was made to reduce the danger of the world's nuclear weapons arsenal or to effectively slow the carbon emissions warming our planet in 2020. The sudden appearance and confused response to the virus makes all too clear how ill-prepared the world can be when it has to deal with an unprecedented threat of global magnitude.
This is why the Bulletin of the Atomic Scientists announced Wednesday that the hands of the iconic Doomsday Clock remain at
100 seconds to midnight
— as close to the end of humanity as the clock has ever been. The temptation, of course, in a dark hour is to cling to even the faintest signs of light and hope. And the truth is that there are some encouraging signs now emerging. However, we continue to teeter at the brink and moving the Clock away from midnight would provide false hope at a time when urgent action is what is needed.
In 2020, the nuclear powers continued their blind and bellicose march toward catastrophe — with the recklessness of spending to
"modernize" weapons systems
matched only by recklessness of world leaders' rhetoric. As we see it, the potential for the world to stumble into nuclear war increased last year. Despite this looming danger, there is
little dialogue
, but lots of accusation and blame shifting.
The now widespread and wanton disregard for science and the large-scale embrace of conspiratorial nonsense — often driven by political figures and partisan media — undermined the ability of responsible national and global leaders to protect the security of their constituents in 2020.
We will be watching these developments closely in the year ahead, but this is no time for celebration. We remain perilously close to catastrophe. The pandemic laid bare our shared vulnerability. Now, the question is whether we choose to recognize that vulnerability with respect to the climate and nuclear threats. The imperative must be to rise above narrow nationalism and embrace planetary realism, recognizing that nations, no matter how different, share profoundly common interests.
It remains 100 seconds to midnight, the most dangerous situation that humanity has ever faced. It is time for all to take the actions needed to — quite literally — save the world.


Source : Nbcnewyork