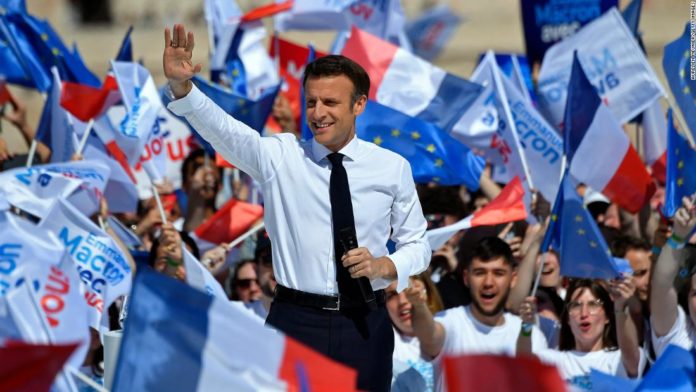 The outcome of the contest between the two — France's youngest leader since Napoleon and the three-time aspirant to become the nation's first female President — was never a lock for either candidate. After a hard-fought first round among 12 candidates two weeks ago, the
top two faced off
in the runoff Sunday.
Voters simply opted, in these challenging times, for a safe middle ground rather than a firebrand far-right candidate who promised to rip up the economy and society and pivot France ever closer to Russia — all in the interest of change that the French have never truly embraced. What Le Pen did do for most of her determined supporters was to demonstrate that she could be "presidential" — but president of a France where a majority of the French people are unlikely to aspire to living.
The size of Macron's margin, despite the high abstention rate — the highest in at least two decades — could give him a substantial boost toward a definitive majority in the National Assembly
when elections to fill its 577 seats
are held in June.
Once the victory celebrations are over, the reelected President will have a full plate — and much of the world will be looking to him to set an agenda. Macron still has two more months as the titular leader of Europe in the rotating system that allows each EU country a six-month term. Hopefully, he will use that term wisely, continuing to rally the continent to stand up to Putin.
And at home, Macron will continue struggling with escalating inflation — matched across Europe — that is already requiring the continent's leaders to find some path through the impact of any new energy sanctions that may be levied on Russia.
In Asia, Macron will certainly seek to play a leadership role in steadying the increasingly fraught relationship between the EU and China. Both sides' eagerness to expand trade has fallen afoul of human rights abuses and China's continued support of Russia during its war with Ukraine.
Fresh from presidential victory, Macron is still faced with his greatest challenge if he is to be able to move forward with his broad menu of initiatives — another national election in June when voters will choose a new National Assembly. Many of those arrayed against Macron in the presidential contest will be seeking to unseat the comfortable legislative majority he has enjoyed. In many respects, this vote could be of greater long-term significance for Macron, France and its place in the world than the presidential race.
The United States would do well, then, to cherish this victory.


Source : Nbcnewyork